'Bachelor In Paradise': Here's How Hannah and Dylan Deal With The Haters
Hannah Godwin and Dylan Barbour are a popular Bachelor In Paradise couple. Much of Bachelor Nation was rooting for them from the beginning of their season. When they ended up together, incredibly happy and engaged, the show's fans were thrilled.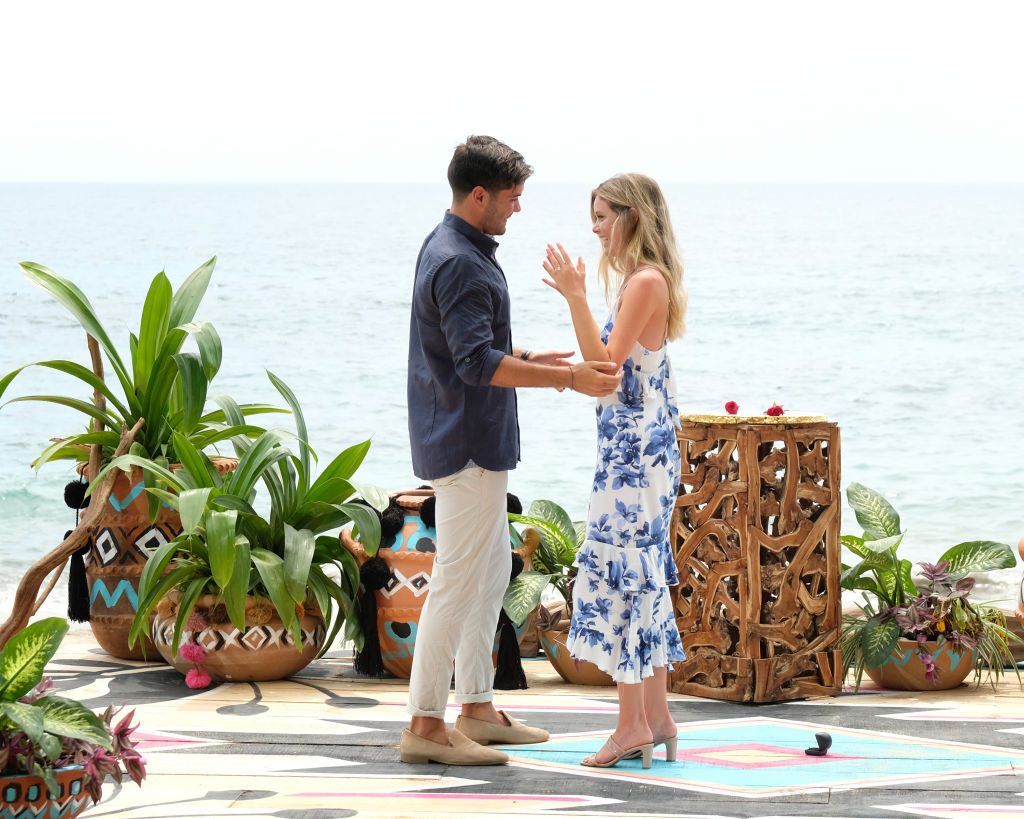 But, with fame, without fail, also comes criticism.
Dylan and Hannah have their fair share of haters, as is the case with every reality star.
Dylan and Hannah have different approaches to handling their haters
In the midst of their soaring happiness, how do they deal with the negativity?
In a recent interview with Glamour, Dylan said he's not immune to the negative comments that sometimes suggest that Hannah can do better.
"It can get to you, definitely," he said. "If thousands and thousands and thousands of people are saying 'You're too good' or 'You suck' or things like that, it's totally messed up."
He handles the negative comments he receives with a sense of humor.
"I'll retweet stuff. I always like it," he says. "I think it's hilarious because then they'll be like, 'Oh, my God, I can't believe you responded. Hey! What's up?' To them, it doesn't really mean anything. They just want a reaction."
Hannah, on the other hand, doesn't like to interact with the negativity she receives. She chooses to block certain words in her Instagram comments.
"I had to block certain words on my comments," she said during the same interview. "After I posted this one picture I was like, 'You know what? I'm just going to block out negativity.' It's just crazy."
Like the negativity, the fame doesn't get to Dylan and Hannah either
Since getting engaged on Bachelor In Paradise, Dylan and Hannah have soared to new reality star heights. Both of their social followings have increased greatly, which comes with new business and advertising opportunities.
But just as Hannah blocks out the negativity from her Instagram feed, she's making a point to not get "so wrapped up in" the Bachelor fame.
"You will talk to people, and you can tell they're just, like, so wrapped up in it. That's what's weird," she said.
Dylan agreed, adding: "People have an agenda from time to time."
Thankfully, they have each other to keep them grounded.
"When we're with each other, it makes it all seem so less crazy," said Hannah.
Dylan agrees.
"When stuff gets weird, I know I can just come talk to her, and it's all good," he said.
Despite the weird stuff that comes along with falling in love on a TV show, Dylan and Hannah agree that there are definite benefits to the way they got together. A big one being: they can watch themselves fall in love whenever they want to.
"It makes it, at least for us, a lot more special because we can rewatch it," said Dylan.
"It's cool to watch our love story," Hannah added.
Read more: 'Bachelor In Paradise': Dylan Was Nervous Hannah G. Was Going To Turn Down His Proposal