'Bachelor in Paradise': Here's How Katie Morton and Chris Bukowski are Doing Now
Wondering how 'Bachelor in Paradise' stars Katie Morton and Chris Bukowski are doing now? Here's an update on the reality stars.
Summer might be over, but the contestants on Bachelor in Paradise Season 6 live on. It's been weeks since the dramatic reunion aired on ABC. And as viewers look forward to the upcoming season of The Bachelor featuring Peter Weber, many fans are still asking about the couples who found love in Mexico. So how are Katie Morton and Chris Bukowski doing after Bachelor in Paradise? A lot has happened since the ABC reality series stopped filming.
Are Morton and Bukowski still together after 'Bachelor in Paradise'?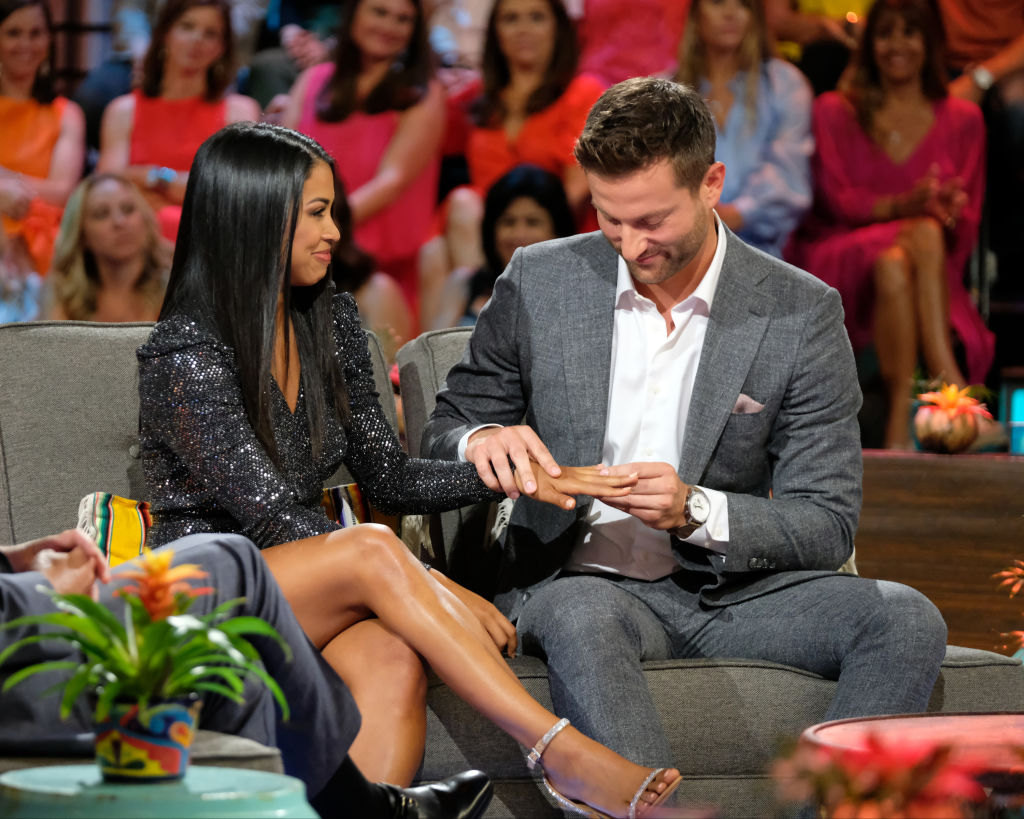 At the Bachelor in Paradise reunion special, Morton and Bukowski revealed their relationship was "rocky." However, they were still together and engaged. "I don't want to end things," Morton said, per People. "I'm just conflicted. I want it to get better but I want him to want it to be better."
But, have things gotten any better since the Bachelor in Paradise reunion special was filmed on Aug. 27? According to Morton, yes.
When speaking with E! News on Sept. 28, Morton shared her thoughts on the finale. "It was what it was," she said. "It was real, it was honest. I have no regrets. It's different to see yourself in that environment."
The reality star also gave an update on her relationship with Bukowski. "We are doing so great now and so I'm happy," she confirmed. "That totally was a growing and turning point for our relationship."
Morton then touched on the work the couple has put in towards making it work. "We've always been growing," she explained. "Not just the taping of it but also the showing of [the episode]. We just keep growing through all these things. It's all very real."
Morton and Bukowski are dealing with a long-distance relationship
Now, it seems Morton and Bukowski are in a good place together. They also appear to be gearing up for a life of normalcy — post-Bachelor franchise.
"I know that that seems unconventional considering we signed up for a reality TV show and it's like, that's not normal," the 26-year-old told E! News. "But you know what, we deserve to have this time to ourselves in private because everything's been so public. So, we're taking things slow and we're finally living things day by day."
Meanwhile, when speaking with Us Weekly, Morton shared the details of their long-distance relationship. "Chris travels a lot and so do I, so we're going to first try and figure out what our individual lives look like right now," she said. "Everything is so busy and hectic. Then [we'll] try and see what cities we're spending the most time in, what cities we love the most, what makes the most sense for us and do it naturally — not try and force anything."
Bukowski also brought up the challenges of their long-distance relationship. And it goes without saying the couple isn't ready to jump right into marriage just yet — at least not until they figure out their living situation.
"I'll be honest with you — and these are honest conversations that Katie and I have — I don't think we're talking about a wedding right now," Bukowski told Us Weekly. "I think the living situation and meshing our lives together is the most important thing right now."
Following the Bachelor in Paradise reunion, fans were understandably worried about Morton and Bukowski. The couple experienced a rocky — and very public — beginning after the ABC reality series wrapped. But, it looks like they're finally on the road to a better relationship. And of course, Bachelor Nation is cheering them on to succeed.
Check out Showbiz Cheat Sheet on Facebook!