'Bachelor in Paradise': How Wells Adams and Sarah Hyland Knew They Were Soulmates
Fans of Modern Family and Bachelor in Paradise's cutest bartender started rooting for Sarah Hyland and Wells Adams to get together ever since they started flirting on Twitter in 2017. Hyland-Adams shippers got their wish when they posted a Stranger Things couples' costume together on Halloween that same year, and this year they locked it down with a beachside engagement.
But how did Adams and Hyland first know that a permanent Modern Family and Bachelor in Paradise crossover was in the works? Here's how they say they discovered they were soulmates. Hint: It all started with a purse.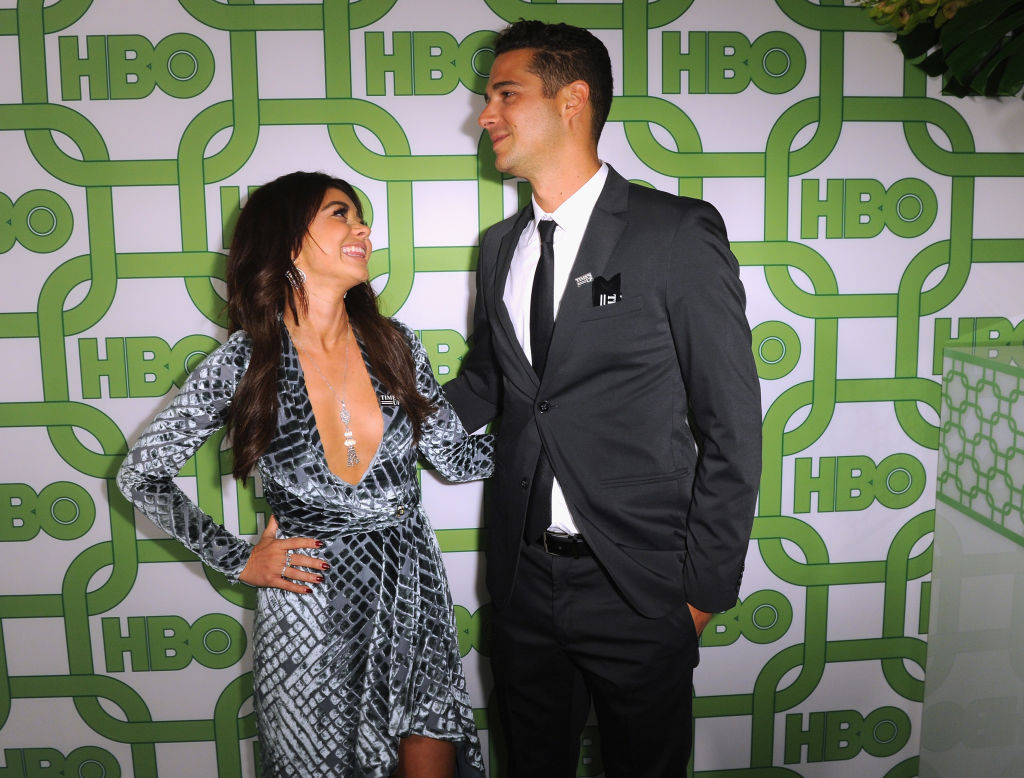 Hyland's love for Adams started with a purse on the dance floor
Hyland and Adams both say they knew they were going to get married the night they first met in person. Adams exclusively revealed to Elite Daily that he was supposed to take the Modern Family star out for a drink, but the night was getting long and she invited him to pop into the elite Evening Before The Emmys party.
Adams was a little intimidated at first, as he told the outlet: "Literally every famous person on every amazing television show was at this party, and it was terrifying for me because I didn't even, at the time, live in LA."
Adams kept his cool, though, and it looks like his chill paid off. He told Elite Daily that he saw Hyland dancing and told her, "Give me your purse, I'll hold it while you dance with your girlfriends." That was the moment that, for Hyland, it seems like everything came together. Adams explained that Hyland had dated men who were "intimidated by her success" in the past and that his small, humbling gesture was more than refreshing.
For her part, Hyland confirmed her husband-to-be's story on Instagram back in September 2018.
Celebrating the one-year anniversary of her fateful first date with the Bachelor in Paradise bartender, Hyland wrote, "1 year ago today, You asked to hold my purse when I was dancing. In that moment you took my heart. You then gave me my last first kiss. And in that moment you took my breath away. I love you to Pluto and back @wellsadams ❤️ *YES PLUTO IS A PLANET. IT WILL ALWAYS BE.*"
Adams knew the 'Modern Family' star was the one that same night
Adams revealed to Elite Daily that it wasn't just Hyland who knew she'd met the one that night. Adams, too, fell head over heels for his bride-to-be right away.
After the pair rode home post-party and kissed passionately in the car, Adams told the outlet that he joked to the driver, "Let's go around the city again." It was then, he says, that he knew he'd met his forever person.
He also gushed about his love-at-first-sight with Hyland on their second anniversary earlier this month. The Bachelor alum wrote sweetly as part of a longer anniversary message on Instagram, "I knew I was gonna marry her the 1st night I met her."
The pair recently celebrated their engagement with a first-date throwback
Adams famously DMed Hyland asking her out for tacos and tequila.
The couple celebrated their upcoming wedding with a tribute to their first date, serving tacos and tequila (along with a Prosecco and beer bar) to guests like Modern Family's Jesse Tyler Ferguson and Ty Burrell, Adam DeVine (Workaholics) and Chloe Bridges (Pitch Perfect), and Insatiable's Debby Ryan at a sleek engagement party.
Adams told E! News that the garden party-themed event was held at the Lombardi House in Los Angeles and that his and Hyland's parents had never met before the celebration.