'Bachelor In Paradise': Kevin Wendt and Astrid Loch Want An 'Intimate' Wedding
Kevin Wendt and Astrid Loch got together on last year's Bachelor In Paradise. This past September, Wendt asked Loch to marry him.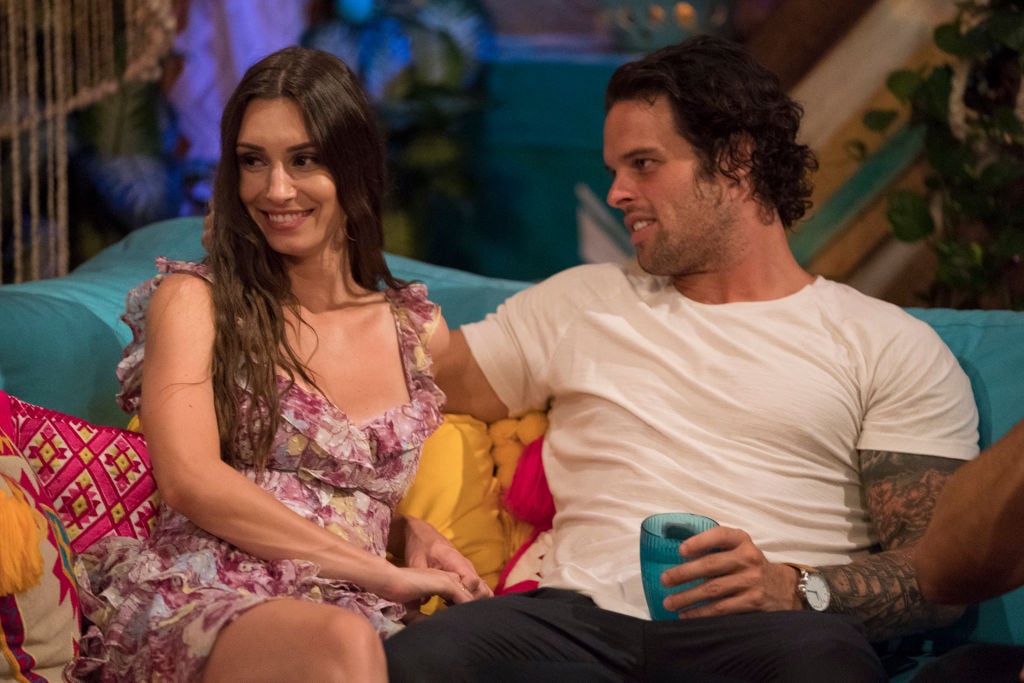 Wendt might have proposed in September, but he'd been planning since April, when he started searching for the perfect engagement ring for Loch.
Kevin Wendt's proposal to Astrid Loch
Luckily, his family's owned a jewelry store, Wendt's Jewelry, for the last 135 years.
"Every engagement ring and wedding band from both sides—my mom's and dad's side—is from this little shop," he said on the Bachelor Happy Hour podcast.
Loch had dropped little hints here and there about the type of ring she hoped to receive, but Wendt wanted the final product to be a surprise. He even had his family jewelry store clean some of Loch's rings so that he could learn her size before proposing.
Apparently, he did a good job.
"Like, if I would have designed it myself, I would have designed this exact ring," said Loch on the podcast.
Before the day of the proposal, Wendt was sure to practice his spiel. He wanted everything to be perfect.
"Full disclosure: I actually practiced in the mirror a few times," he said. "She would, like, go to yoga, and I would go upstairs, just to make sure it's there still there, because it was kind of an expensive thing to hide in my closet."
Wendt proposed to Loch at the Toronto Islands after a picnic and bike ride. He told Loch that they had to pose for an Instagram ad photo. After they took the shot, he got down on one knee.
"I could see the moment when I went from 'Stand here for the ad' to speaking my heart to her," he said. "Her face just turned to, like, 'Holy f*cking s*it. It's happening.'"
Kevin Wendt and Astrid Loch's wedding plans
The couple hasn't picked out a date just yet, but they know the time of year they'd like the ceremony. Loch says they're thinking "at the end of next year, maybe October/November time." And they're thinking of getting married in Florida.
Despite not having begun planning, Loch says she's already "so stressed out."
"I don't even know where to start with the wedding," she said.
Whatever Loch wants to do, Wendt says he's ready to be supportive.
"I call the engagement my hard part, so I'm just the 'yes' man for the next 12 months," he said.
One thing's for sure, though–the couple would like a smaller celebration. They even "kind of liked the idea of it just being us up there," without a bridal party.
"We want it to be like a small, intimate romantic wedding and nothing big and flashy," said Wendt. "It's just going to be, like, a garden. Just something really sweet. I want everyone to just feel good. We're just excited to start planning."
Read more: 'DWTS': Hannah Brown Says She And Partner Alan Bersten Really Need To Work On Communication