'Bachelor in Paradise': Kristina Schulman Defends Herself Saying She's Allowed to Want Friendship Roses
Kristina Schulman has really been stirring up drama on this season of Bachelor in Paradise. That's mostly due to her past with Blake Horstmann and their weird friendship.
She recently made the shocking move of giving him a rose after calling him out. Now she's on the hunt for a rose from him. Find out why she's defending herself for wanting a friendship rose and more.
Kristina Schulman previously gave Blake Horstmann her rose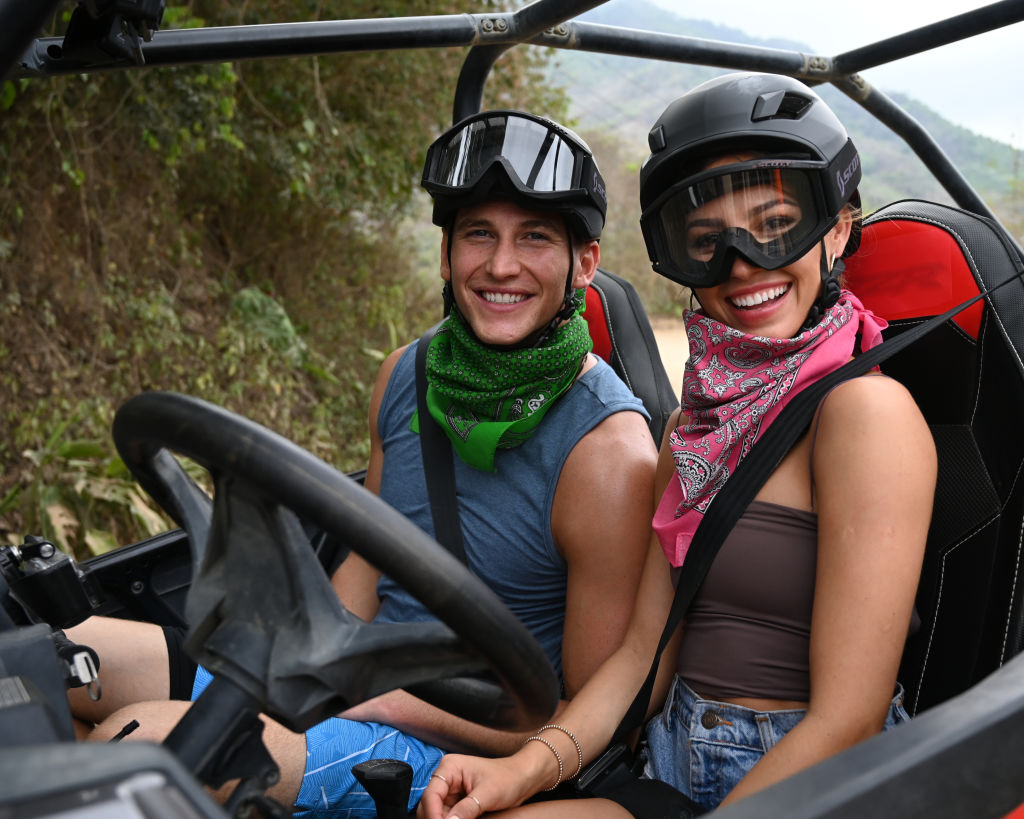 In the previous episode, Hannah Godwin decided to give Dylan Barbour her rose instead of Blake Horstmann. It looked like he was going home until Kristina gave him her rose.
This sent fans into a fury so she tweeted about it. "I have a big heart what can I say. EVERYONE DESERVES LOVE #bachelorinparadise," she tweeted. She followed it up with, "In baseball, curve ball is my favorite #bachelorinparadise."
Eventually, Kristina tweeted again with, "Ultimately, I care about people. Blake and I have been friends for the past year, yes I give him sh*t and he's very well aware but he came on the show to find love & I believed he deserved to stay #bacheloreinparadise."
Kristina wanted Blake's rose as a friend
In week 3 part 2, Caitlin Clemmens came to paradise. She started hitting it off with Blake, but there was one thing that was getting in between them.
"I just think it will be very difficult for me to progress any further with him with Kristina hanging around," Caitlin said in her interview.
Derek Peth asked Kristina if she had any feelings for Blake. She said, "No, I just want his rose." Kristina then said, "I'm not ashamed" to want a friendship rose from him.
Caitlin eventually pulled Kristina aside to ask what her motive was with Blake. "There doesn't have to be a motive. Am I not allowed to talk to my friend and see where they stand?" asked Kristina. Caitlin said, "Of course you are but at this point, I'm not really sure if your intentions are straight."
When Kristina said what she does isn't Caitlin's business Caitlin said, "they're everybody's business because you're literally here chasing friendship roses instead of actually letting people find authentic relationships. I'm really, really interested in your friend."
She tweeted that she's allowed to want friendship roses
Fans started taking sides in the argument. A lot of people agreed with Caitlin so Kristina defended herself by tweeting, "Take it as you will but I am allowed to want friendship roses, that, does not jeopardize anyone's relationship. I know where I was coming from and I was transparent with both #BachelorInParadise."
Some people still weren't buying it. One fan wrote, "Didn't you give Blake a rose so he could be miserable watching Dylan and Hannah? Great friend." Another fan wrote, "BUT bachelor in paradise is not for friendships.. if you haven't found a match then go home."
We didn't get a rose ceremony yet and Blake is now in between Caitlin and Kristina. Fans will have to wait and see if he'll go for love or friendship in the end.