'Bachelor in Paradise': Why Kristina Schulman Made That Shocking Move After All That Drama
Blake Horstmann has been in a tangled web of love connections this season of Bachelor in Paradise. The latest one is between him, Hannah Godwin, and Dylan Barbour.
However, it was Kristina Schulman who gave him a rose this episode. Find out her reason why and more.
Blake Hortsmann and Hannah Godwin hooked up before paradise
The drama started because Blake hooked up with Kristina and Caelynn Miller-Keyes within 24 hours of each other. He then was trying to put the moves on Hannah G.
"He ended up sweet-talking me and we spent the night together," Caelynn told bartender, Wells Adams. "And we wake up and I'm in his bed and he's DMing Hannah G. I'm still in his bed, he's talking about how hot Tayshia is. I was like, 'Are you kidding me?' Like no dude, that's not okay. And then he was like, 'I just want to let you know I hooked up with Kristina the night before.'"
Kristina also confronted Blake by choosing him for her date. She told him that their Stagecoach love triangle was "a slap in the face." It looked like things ended between them, but Blake was still in a love triangle with Hannah G. and Dylan Barbour.
Hannah G. chooses between Dylan and Blake
Blake had a past with Hannah G. before the show too. "How soon before paradise did you fly out to see Hannah?" Kristina asked him on the show. "A week before paradise."
They were seen having a connection in paradise to the point where Dylan questioned if they dated before. Hannah G. was stuck between Dylan and Blake for some time, but things came to a head in part 1 of week 3.
"I have two people telling me that they might not take other roses from anybody else besides me," Hannah G. told Mike Johnson.
"My mom always told me to take my vitamins and right now I'm taking a multivitamin. Tonight I need to figure out whether I need a little bit more of Vitamin B or Vitamin D," she said in her interview.
At the rose ceremony, she chose to give her rose to Dylan. It looked like Blake would be going home, but then there was a twist.
Kristina Schulman believes Blake still deserves love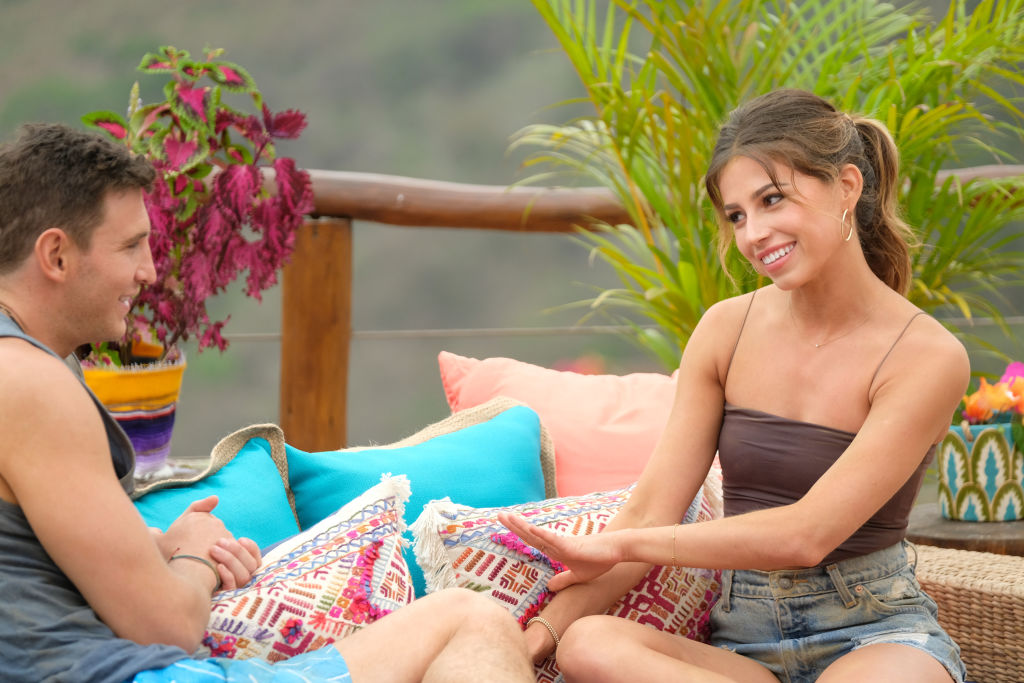 When Hannah G. didn't give Blake her rose fans expected him to go home. However, Kristina saved him by giving her rose to him. She tweeted her reason behind the shocking move.
"I have a big heart what can I say. EVERYONE DESERVES LOVE #bachelorinparadise," she tweeted. She then joked, "In baseball, curve ball is my favorite #bachelorinparadise."
That probably wasn't enough for fans because Kristina tweeted again. "Ultimately, I care about people. Blake and I have been friends for the past year, yes I give him sh*t and he's very well aware but he came on the show to find love & I believed he deserved to stay #bacheloreinparadise."
It looks like Blake has another chance at love in paradise. We will have to see if he'll be able to win Hannah G. back or find love with someone else.