'The Bachelor': Here's How Peter Weber Is Doing After His Face Injury Accident
Here's and update on everything you need to know about 'The Bachelor's Peter Weber and his face injury accident that happened on Oct. 7.
Bachelor Nation went into a state of panic when reports of Peter Weber's face injury accident spread online. In early October, the new male lead of the ABC franchise was rushed to the hospital and given 22 stitches. Of course, most fans were worried about Weber's well-being. Meanwhile, others wondered how the injury would affect filming for The Bachelor. So how is Weber doing now that a week has passed since the accident? Here's everything you need to know.
What caused Weber's face injury accident on 'The Bachelor'?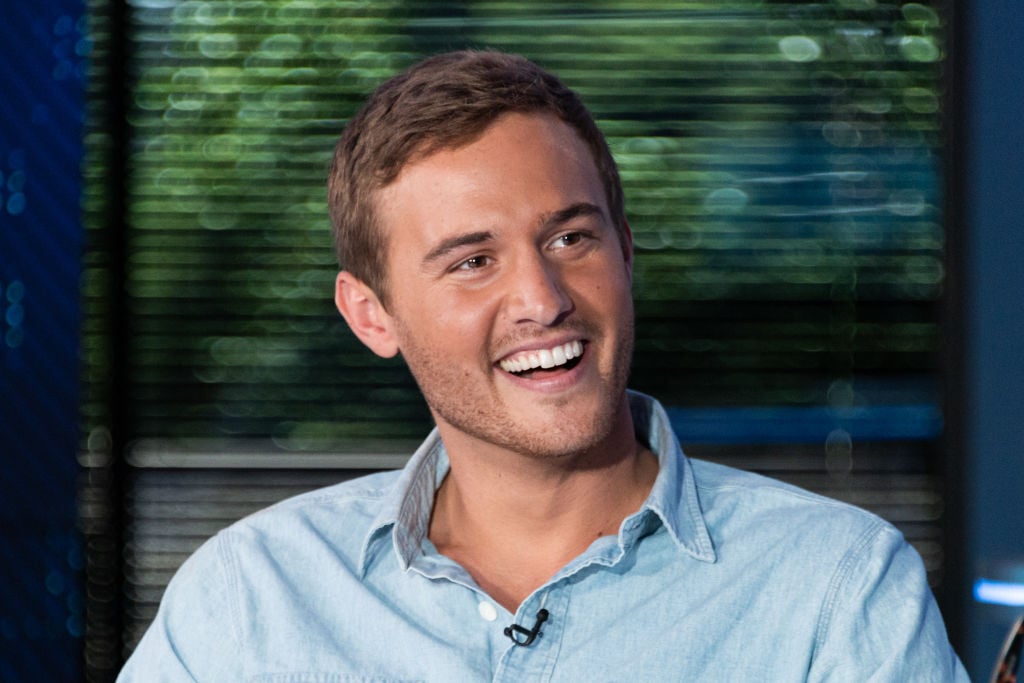 According to Us Weekly, Weber suffered a "serious injury" while taping The Bachelor in Costa Rice on Oct. 7. The publication revealed Pilot Pete "split open his face" while on a golf course. But how did this happen?
Radar Online reported Weber experienced a fall when stepping onto a golf cart, where the next bachelor cut his face on two cocktail glasses he was holding at the time. Weber then endured a long drive to the hospital.
"It was a two-hour drive from the course to the hospital in San Jose," a source told Us Weekly. "He got 22 stitches in his face. The reason he traveled for two hours to a hospital was that this specific hospital had a surgeon that specialized in his injuries. He underwent surgery."
Meanwhile, E! News confirmed Weber's fall in San Jose, Costa Rica. A source also confirmed that Weber would be "okay" as The Bachelor team "found a great surgeon for him." The publication then referred to Weber's accident as a "hiccup" and filming for The Bachelor would resume per usual.
Chris Harrison confirms Weber's status while filming
Following the initial reports of Weber's facial injury, Bachelor Nation's favorite host, Chris Harrison, made a statement on Instagram. And Harrison ensured Weber's condition was not as serious as some outlets made it seem.
"There's been some wild claims and rumors about Peter today. Peter suffered a freak accident," Harrison wrote. "He got a cut on his head, he did get stitches but he's 100% OK and production is already back underway. He's still the dashing, handsome pilot we've all dreamed of."
People Magazine also announced Weber returned to shoot The Bachelor the day after the accident happened. "It's not as bad as what is being reported," a source told the publication. They then shared Weber went on a date on Oct. 8.
How 'The Bachelor' is doing now
Now, it definitely seems Weber is recovering and doing just fine. On Oct. 13, People reported Weber removed his stitches, merely a week after the accident. The Bachelor crew has also since moved on from Costa Rica to Chile.
Then on Oct. 14, E! News provided an update on how Weber has been adjusting to his injury while filming The Bachelor. "Peter got his stitches out over the weekend prior to filming in Chile," a source revealed to the publication. "He's been wearing lots of hats to cover the bandaged area."
Given The Bachelor's continuous shooting schedule throughout Weber's injury mishap, it looks like fans will have at least a week of Pilot Pete sporting a few stitches. It's also likely viewers will catch a few glimpses of Weber in the aforementioned hats as well.
Not going to lie, news of Weber's accident had us going there for a second. The new bachelor just started his reign, and it would have been awful if he endured anything more serious. Fortunately, Weber's injury is minimal enough to continue filming like it — almost — never happened.
Check out Showbiz Cheat Sheet on Facebook!