'Bachelor' Stars' Most Creative Costumes from Halloween 2019
Halloween may be over, but we're still reeling from all the clever costumes this year–especially Bachelor celebs' costumes. Alums of The Bachelor and The Bachelorette came out in full force this Halloween, from perfectly crafted costumes down to the last detail, to hilarious Bachelor Nation inside jokes. We're counting down our top 9 absolute favorite Halloween costumes from Bachelor alums in 2019.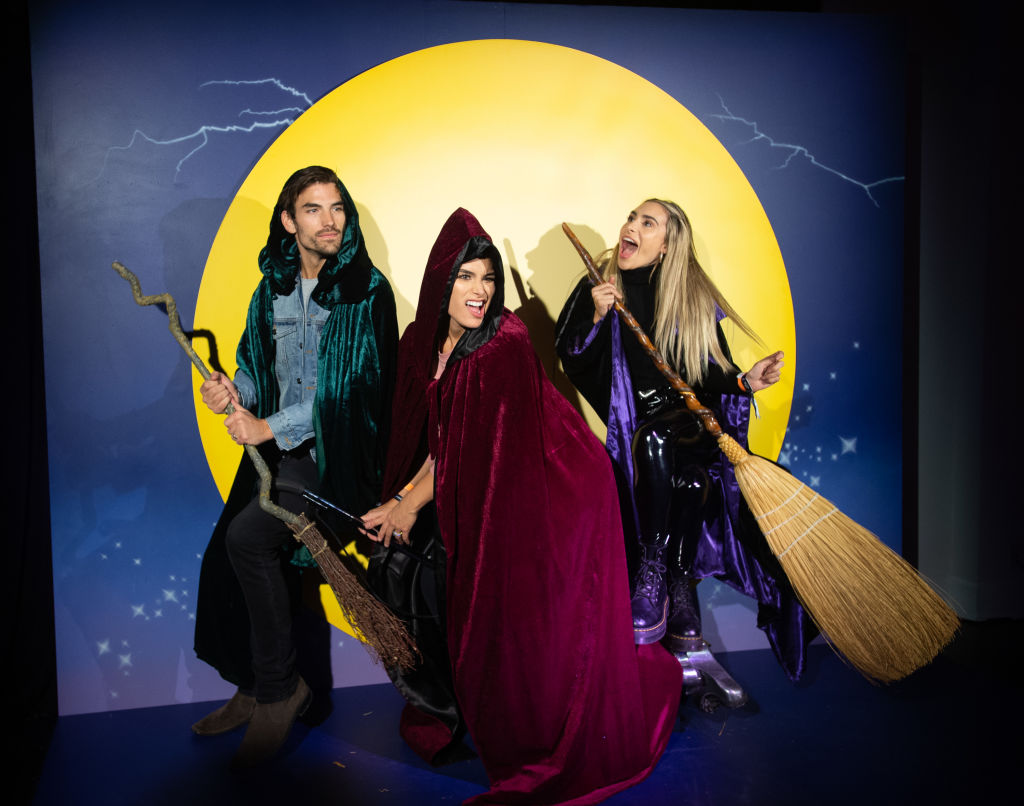 9. Hannah Godwin and Dylan Barbour as Sandy and Danny from 'Grease'
This summer's Bachelor in Paradise It Couple is still almost too cute to function. So of course, Hannah Godwin and Dylan Barbour nailed it with a tried-and-true classic film reference to 1978's Grease. Barbour went as John Travolta's character, Danny, and Godwin dressed as Olivia Newton-John's character Sandy, complete with perfect golden ringlets. Godwin stunned in her shiny all-black outfit and red heels, while Barbour, as he tends to do with Hannah G., looked smitten as ever.
8. John Paul Jones as a Ken doll
Bachelor in Paradise fan-favorite John Paul Jones went as Ken, Barbie's hunky boyfriend, this year. Although he recently broke up with Tayshia Adams, who he met on BIP, he found a friend to go with him as Barbie.
Jones nailed the tacky powder-blue outfit and stiff plastic hands.
"Come on Barbie, let's go party!" Jones captioned his Instagram pic.
7. Blake Horstmann as Judge Judy
Controversial Bachelor in Paradise cast member Blake Horstmann dressed up as television's queen of the courtroom, Judge Judy. It's quite the tongue-in-cheek move, after a whole season of Horstmann being the one being judged–by fellow castmates and by the audience, week after week.
"Figured I would be the judge for once," Horstmann wrote.
Fellow Bachelor alum Kristina Schulman commented, "Judge rules: stagecoach incident was an accident," under Horstmann's post, in a nod to all the drama surrounding his behavior at the country music festival–talked about ad nauseam on last season's Bachelor in Paradise.
6. Jade Roper Tolbert, Tanner Tolbert, and their kids as the Sanderson sisters and Binx from 'Hocus Pocus'
This is not the first time the Tolberts have killed it with an incredible family costume. We especially love a dad who's willing to dress up as whatever the holiday calls for. Last year, the Tolbert family went as the characters from Steven Spielberg's E.T., with Tanner Tolbert sporting blonde pigtails and a dress to portray Gertie.
This Halloween, Tanner went as Mary, Jade as Sarah, their daughter Emmy as Winifred, and finally, their new baby boy went as Binx the cat, in an amazing Hocus Pocus reference.
5. Bekah Martinez and family as 'The Bachelor'
The alum of Arie's season of The Bachelor donned blonde hair extensions and a sparkly gold dress, two stereotypes of Bachelor contestants, while Martinez's boyfriend wore a Chris Harrison-esque suit. The Chatty Broads podcast host's adorable daughter Ruth served as The Bachelor's iconic symbol: the rose.
4. Nick Viall as Pilot Pete
Nick Viall, The Bachelor of season 21, dressed up as Peter Weber, a.k.a. Pilot Pete, who was named the next Bachelor this past summer.
Viall also donned a bandage on his head; Weber was injured after falling onto some cocktail glasses. Clever.
3. Ashley Iaconetti Haibon and Jared Haibon as Bella and Edward from 'Twilight'
I suppose it shouldn't be surprising that our top three spots are couple costumes; teamwork really does make the dream work.
Ashley Iaconetti Haibon and Jared Haibon absolutely nailed their pale vampire looks in their recreation of an iconic shot from the Twilight series. Iaconetti Haibon portrayed Kristen Stewart as Bella, while Haibon went as Robert Pattinson as Edward. We're not sure how Jared got his cheekbones to looks that vampire-y, but we are in awe. Because one huge pop culture reference is never enough, the newly married couple also dressed up in A Star is Born costumes this year.
2. Jason Tartick and Kaitlyn Bristowe as Ross and Rachel from an iconic episode of 'Friends'
The relatively new Bachelor couple, Jason Tartick and Kaitlyn Bristowe, decided to go for a hilarious Friends reference this year. Bristowe portrayed Rachel, and Tartick went as Ross, but more specifically, the episode where Ross and Rachel get drunk in a hotel room and draw all over each other's faces in Sharpie (from the episode "The One In Vegas, Part 2").
The couple that does deep-cut 90s-sitcom costumes together stays together.
1. Caelynn Miller-Keyes and Dean Unglert as each other
Bachelor in Paradise stars Caelynn Miller Keyes and Dean Unglert got off on a bit of a rocky start on the show. But they have since proven they are one of the franchise's strongest couples.
Miller-Keyes dressed as her boyfriend Unglert, complete with a mustache, a tye-dye T-shirt, and even carrying a little van that referenced Unglert's van/home.
Unglert donned a dress, a tiara, and a sash, dressing as his beauty-pageant-contestant girlfriend.
Unglert was even wearing an orange dress, matching what Miller-Keyes wore on her first episode of The Bachelor.
We hate to admit it, but a little makeup and an orange dress work for Dean.