'The Bachelor' Alum Tia Booth Announces Breakup From Boyfriend Cory Cooper on Instagram
It's a sad day in Bachelor Nation. After about a year of dating, The Bachelor and Bachelor in Paradise alum, Tia Booth, and her boyfriend, Cory Cooper, broke up. The ABC reality star announced the news with a lengthy post on her Instagram page. And while Booth is in no obligation of sharing any details in regards to the split, it's clear fans are still rallying behind the beloved contestant in support.
Booth shares breakup news from Cooper on Instagram
On Oct 14, Booth shared news of her breakup from Cooper on Instagram. And while the reality star didn't exactly explain why the two split, it seems she remained vague in consideration for her ex.
"It's so wild that I feel the need to share this, but let's rip off the bandaid," she wrote. "No, I am no longer in a relationship. I am fine. He is fine. At this stage of life, we are better as friends. He is a very private person and will freak when he reads this, but I wanted to address it myself."

"It's tricky being in the public eye," Booth continued. "Social media is a huge platform that allows me to share this highlight reel of my life with SO many people, but when it comes to private matters, it's not so easy for me to share…especially when another person is involved."
The Bachelor alum then took the time to address her followers and thanked them for their support. "At the same time, I want to be vulnerable and real because it's humbling that all of you take the time to care about what's going on in my life-the good and the bad," Booth wrote. "Thank you for the continued love and support."
Booth also wrapped the post with a cryptic line from "Survivor," the hit Destiny's Child single. "You know I'm not gon diss you on the Internet, cuz my momma taught me better than that," she quoted.
The 28-year-old then made it clear not to probe too deeply into her breakup with Cooper. "Ok bye don't message us," Booth signed off.
About 'The Bachelor' alum's relationship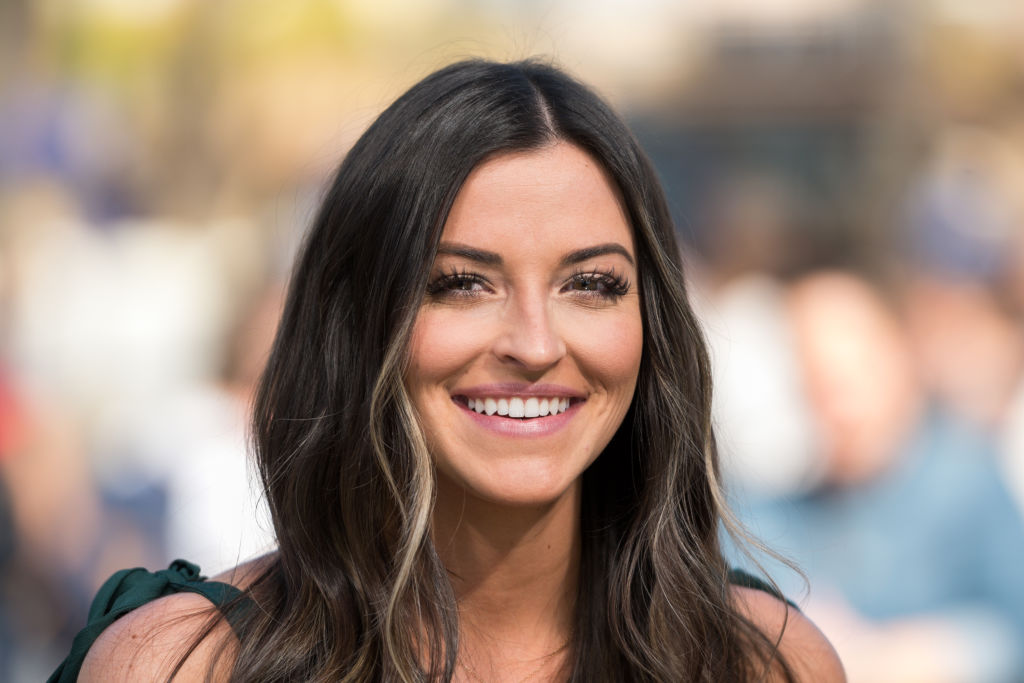 After Booth's public relationship with The Bachelor's Colton Underwood, the Arkansas native began dating Cooper in late 2018, according to E! News. Booth later shared how the two got together in an Instagram post to celebrate Cooper's birthday.
"Cory was sitting right here at this desk when Gina Hardison (longtime employee of Cory's family's business) had this strong feeling that 'Tia from The Bachelor' should meet her boss's son," Booth wrote. "Turns out an email to my business account with the subject line 'The reason your relationships haven't worked out so far. Please read this!' is pretty eye catching!"
In February 2019, Booth also opened up about her relationship with Cooper while speaking to Us Weekly about Underwood's run on The Bachelor.
"People ask about [Underwood] and I can be nothing but supportive for him, because I'm in this relationship I'm in now because of the show and because of the heartbreak," she explained. "So I'm excited."
Booth then gushed about their status at the time. "It's going really well [with Cory]," she said. "I wouldn't want to be here with anybody else and I think he feels the same, so we're excited to be here."
Fans respond to Booth and Cooper's split
Following the Instagram announcement, many fans and other members of Bachelor Nation offered their support to Booth. "You are not alone," Taylor Nolan from Nick Viall's season of The Bachelor commented on the post.
"She addressed it well," a fan shared on Reddit. "I'm rooting for Tia and I hope she finds what she's looking for, on another note I hope there's a chance she can be our next Bachelorette."
Another Redditor then noted Booth's appearance in recent Instagram posts, including one featuring the reality star's new haircut. "Chartered plane, new haircut, bombshell dress," the fan shared. "She is killing it in the breakup department."
Meanwhile, some commenters expressed their hopes that other fans will respect Booth's wish for privacy. "I really hope that people really take in what she says at the end about not messaging them," one fan explained. "Just leave them alone! Tia doesn't owe us every detail of her private break-up."
Quite frankly, the fan is right. Booth doesn't owe the public an explanation about her relationship. She has shared so much already — and she has done it with finesse. But, whether or not Booth decides to make her next romance public, at least Bachelor Nation will be behind her.
Check out Showbiz Cheat Sheet on Facebook!