'The Bachelorette' Fans Think Jed Wyatt Moved On Too Quickly From Hannah Brown To His New Girlfriend
Jed Wyatt won Hannah Brown's season of The Bachelorette, but Brown ended their engagement after learning Wyatt had come on the show with a girlfriend waiting for him back home.
Wyatt apologized on "After The Final Rose" for deceiving Brown and Bachelorette viewers, and he's given interviews where he's stated that he hopes young men can learn from his mistake.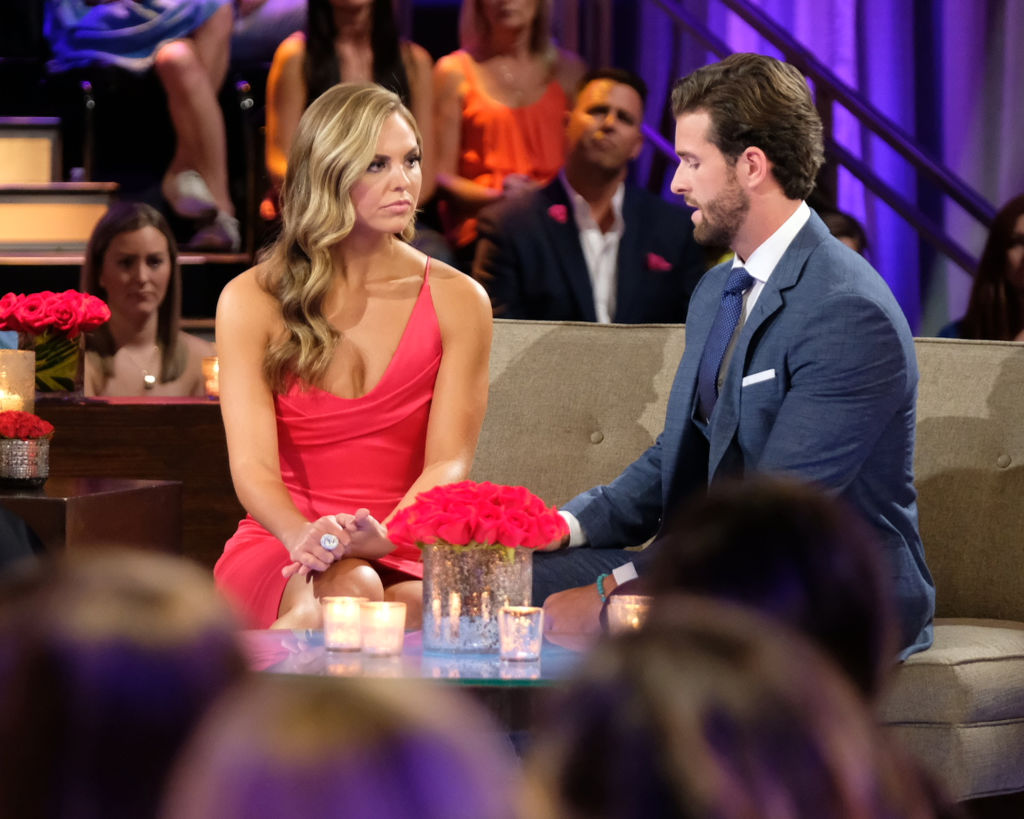 "To other guys out there who– they're just out having a good time, they're young and they're having fun, I would want them to kind of see and understand that you never know when you're gonna meet your person. Could be today, could be tomorrow, could be ten years from now, but the person that you are leading into that means everything. I want to help other guys see that," he said on LAnded Late Night.
That was back in early August. It's been about four months since that time and a lot has happened. Brown won a People's Choice Award, she presented at the CMAs, she competed on and won Dancing With The Stars. And Wyatt's been concentrating on bettering himself.
Jed Wyatt's new girlfriend, Ellen Decker
He also met someone. Her name is Ellen Decker and, according to her Instagram bio, she's a personal trainer, model, and teacher.
The two recently became Instagram official when Wyatt posted a photo of the two of them riding a jetski.
"Thanks @mastro_m for introducing me to the only person to make me smile more than riding a jetski.  #sorecheeks  #sunburnt  #hotbabesonjetskis #jellen," he captioned the photo.
"Beyond blessed💞 thank you for the endless laughter until my abs hurt 😂 Nancy and I miss you already," Decker responded to the photo.
While the post received a lot of encouraging words, it also received plenty of comments from Bachelorette fans about Wyatt's moving on to another relationship.
"That was faaaaast, man," wrote one fan.
"Moving on so quickly after a so called "serious relationship/engagement". I was rooting for Jed since day one, but I'm really disheartened by the events following the engagement. Hannah really did deserve so much better than that," wrote another.
"Crazy how fast you move on," commented another.
"lol only got engaged a few months ago but whatever," wrote another.
"That was quick," wrote another Bachelorette fan.
"I hope she double checked to make sure he wasn't dating anyone else first," commented another.
Ellen Decker's Instagram official post with Jed Wyatt
Decker posted a photo of her and Wyatt on her page as well.
"Extra thankful this year✨🤗  #happiness#thankful#youresoyummy#wereglowingsohard#thankyousips" she captioned the photo.
"You're nothing short of amazing El♥️♥️," commented Wyatt.
While Wyatt is clearly moving on with his love life, Brown's still dealing with what happened between her and Wyatt on The Bachelorette.
Read more: Dylan Barbour Jokes That Peter Weber Told Him And Tyler Cameron How His 'Bachelor' Season Ends