'Bachelorette' Host Chris Harrison On Jed Wyatt: "Are You Sorry Or Are You Sorry You Got Caught?"
Just as Chris Harrison promised, Hannah Brown's Bachelorette season finale was incredibly dramatic. We watched her find out that her fiance went on the show with a girlfriend back home and, as a result, break off her engagement. 
In the scene shown of Jed Wyatt coming to talk to Brown in Los Angeles to address the rumors, Wyatt hugely downplayed his relationship with Haley Stevens. He said he never considered her a girlfriend despite regularly swapping "I love you"s, going on trips together, and knowing each other's families.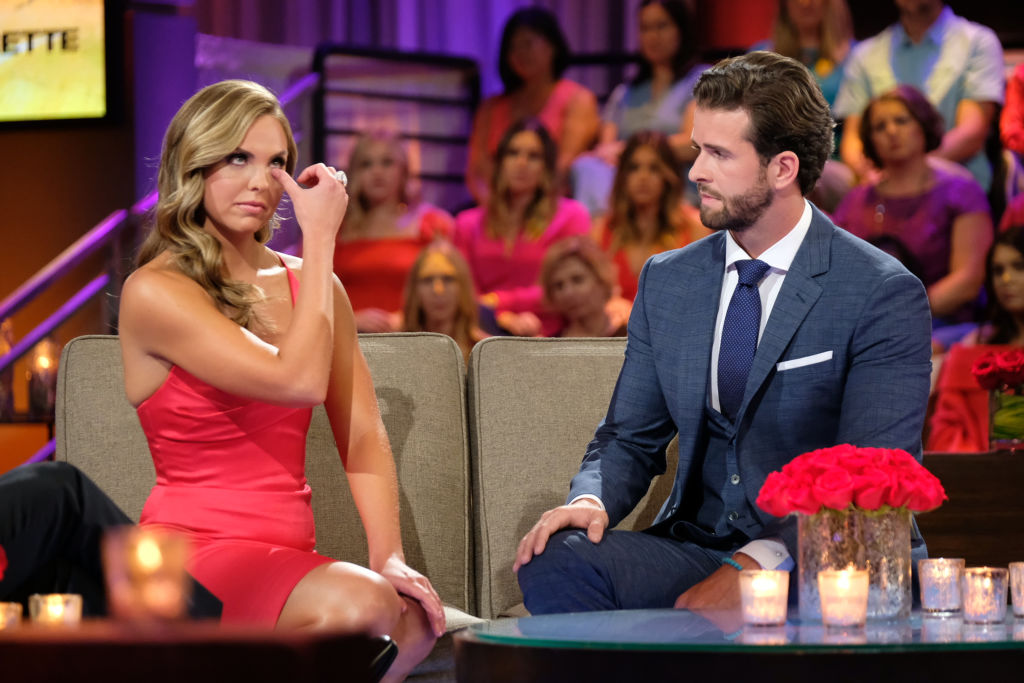 Jed Wyatt's apology to Hannah Brown
Then, during "After The Final Rose," Wyatt apologized for his actions.
"First and foremost, from the bottom of my heart, I want you to know that I'm sorry. Apparently, they've already shown where I half apologized but, especially in hindsight, now that I've had time to review myself and my past and my behaviors towards not only you but other people, I fully see that I wasn't the best that I could be," he said.
He continued: "And by lacking details to you, the things that you deserve, and the things that you want, it kind of–not kind of–it ruined what we found here in a place that I never would have expected to find love like this with someone that I wanted to spend the rest of my life with. And I know that you felt the same and I'm sorry that I took away that experience from you. I'm sorry that this has hurt your family, your friends, Bachelor Nation, everyone, my family, I'm sorry. I'm responsible for this. I will own up to it all day."
It was exactly what he needed to say. He made a mistake and hurt numerous people. All he could do was own up to his actions, say sorry, and strive to be better moving forward.
But then it came out that Wyatt liked a few Instagram comments that suggest that maybe his apology wans't so sincere.
Chris Harrison on Jed Wyatt's post-season behavior
In a recent interview with ET, Harrison weighed in on the situation.
"To be honest, I don't know him well enough. I haven't talked to him since that day that we left the studio," he said. "I think he was remorseful and sorry for a lot of the things that went down. I'm sure there are some things he would like to say as well, now that Hannah's come out and been so vocal about a lot of things she did. So, I'm sure he has his feelings hurt, if he really did love her, which I do think he did."
Harrison acknowledges that some of Brown's post-season behavior might have really hurt Wyatt.
"The admission of what she was doing with Peter [Weber] probably hurt his feelings. The admission of how much she really likes Tyler [Cameron] and wants to go see him immediately probably hurts his feelings and hurts his pride and his ego," he said. "So, I get it."
"Are you sorry or are you sorry you got caught?" he added. "And there's a big difference between that." 
Read more: 'The Bachelorette': Haley Stevens Hates This Lie Jed Wyatt Told The Most