Why Former Bachelorette Kaitlyn Bristowe Says She And Jason Tartick Wouldn't Have Worked A Few Years Ago
Kaitlyn Bristowe ended her season of The Bachelorette engaged to Shawn Booth. The couple was together for three-and-a-half years before they went their separate ways.
Last week, when Bristowe was interviewed by Nick Viall on his podcast, The Viall Files, she told her runner-up that she learned a lot during her time with Booth.
"Three-and-a-half years is not a short amount of time to be with somebody. So I think it shows how hard we tried and how much we cared," she shared. "That was my longest relationship. It taught me a lot."
Why Nick Viall was glad Kaitlyn Bristowe and Shawn Booth were together for three-and-a-half years
Viall told Bristowe that he was glad she was with Booth for that long because it gave him the closure he needed to realize they weren't meant to be.
"I'm quite glad you guys dated as long as you did. Selfishly, in a sense, because when the show first ended and I was like, 'They're never gonna work out' and I had all these reasons why. But then after a while, you guys quickly seemed like you guys really cared about each other. And for me accepting it was like, 'Well obviously this is how it should have worked out.' And selfishly for me, it was a comforting feeling for me of, 'I see why they work,' which, all the more reason why we might not have," he said.
'Three and a half years… that's longer than a lot of marriages. That's like a real… I haven't had a three year relationship in some time," he added.
Kaitlyn Bristowe thinks she met Jason Tartick when she was supposed to
Today, Bristowe is with Jason Tartick from Becca Kufrin's season of The Bachelorette. Though Bristowe's happy to be with Tartick now, she told Viall that she wouldn't have been in the right mindset to date him any earlier.
"You know when you find a healthy relationship that you're like, 'Holy sh*t this is so much easier than I ever thought it could be and there's such a healthy level of communication and confidence and I feel like I had to go through every relationship that I've ever been through to get to this point of actually appreciating somebody else'?" began Bristowe.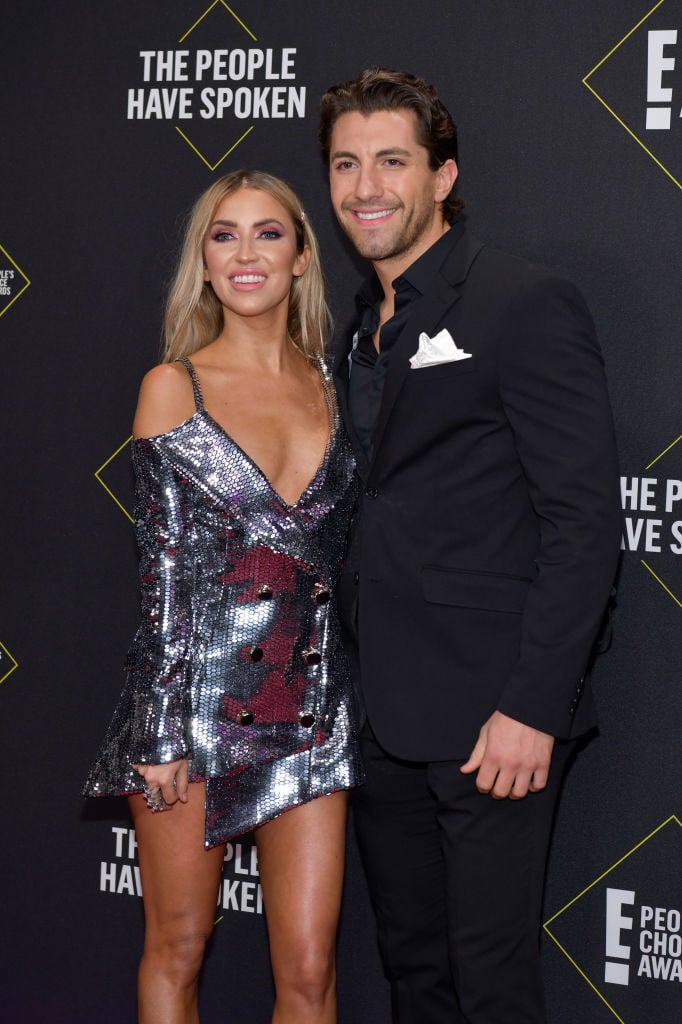 She continued: "With Jason I don't think I would have appreciated him for what he is a couple years ago because I don't think I was in a healthy mindset myself. I feel like I've done so much work on myself that now I'm able to have a healthy relationship with somebody that's on the same page as me." 
Viall agrees that Bristowe and Tartick are a good fit. The former bachelor thinks Bristowe deserves to be with someone who lets her "shine."
"[Jason is] someone who's clearly just a confident guy, and he has reasons to be confident. He's gorgeous, he's successful, he's smart. And I will say, knowing you, knowing your past relationship, I always just thought to myself, 'Man, her star shines so bright, you really need to be with someone who has a nice pair of sunglasses,'" said Viall.
Bristowe was touched.  
"He's just the sweetest guy ever. I didn't know that there was still people like him out there. He's a dyen' breed," she said.
Read more: 'The Bachelor': How Rachel Lindsay and Vanessa Grimaldi Ended Their Feud