'The Bachelorette': Kaitlyn Bristowe and Nick Viall Review Their Romantic History
Kaitlyn Bristowe and Nick Viall have a history. Before Viall went on to become the bachelor, he competed for Bristowe's heart on her season of The Bachelorette. But before that, the two had what Viall calls "a little two-week FaceTime love affair."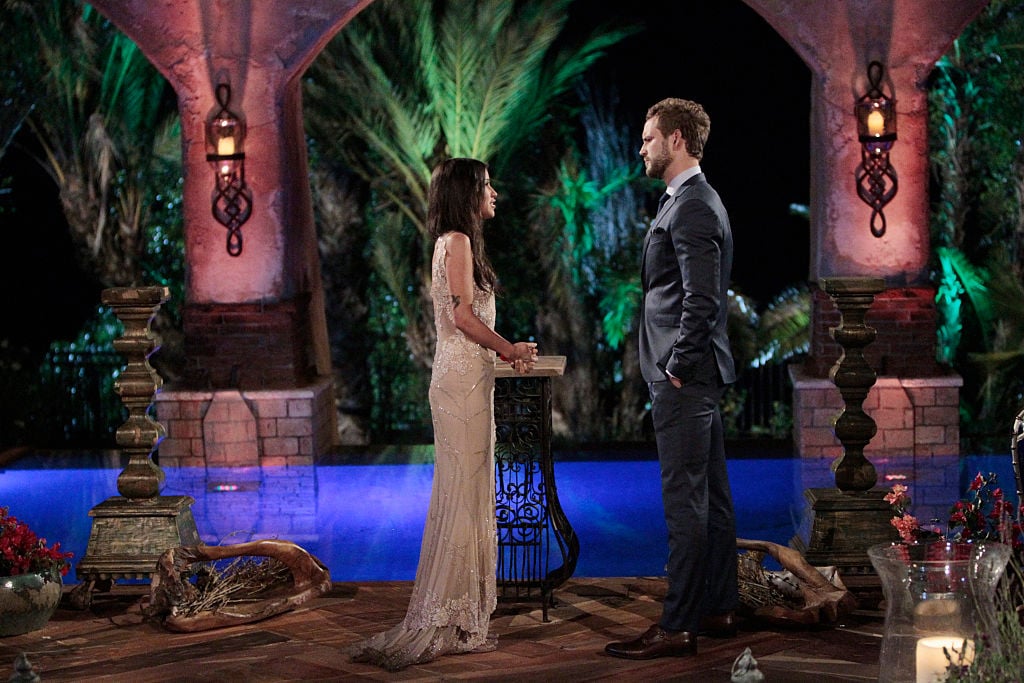 Last week when Bristowe was on Viall's podcast, The Viall Files, the two spoke about their origin story.
Kaitlyn Bristowe and Nick Viall's relationship before 'The Bachelorette'
"We did talk. We talked before the show. I was like 'I wouldn't be mad if he got out of that limo.' We obviously had great conversation. We had never met, though, in person," Bristowe began.  
"We FaceTimed a lot but we did not meet in person," confirmed Viall.
So how did they first start talking? Viall reached out to Bristowe to ask about a former Bachelor contestant.  
"I reached out to Kaitlyn first and it was about Kelsey. But I will admit that there was probably a little bit of 'Who should I ask about Kelsey?' And then she started messaging me mostly out of advice and stuff like that," he recalled. Kelsey was a former Bachelor contestant who didn't get along with Bristowe.  
"She really used her story as a sob story I guess. It was sad because it actually happened and she kept being like, 'My story's really sad' and talking about how her husband passed. And it was sad but it was like every five minutes. She was the only person in the house I didn't get along with. And she just really, she really hated me," said Bristowe.
Viall told Bristowe that he remembers their love affair "vividly." 
"We kept talking, had a little two-week FaceTime love affair. It really was just that. I remember it vividly though. I remember like little moments. Like, I went to New York and I was working for Salesforce. I remember when Kaitlyn found out that she was co-bachelorette and very upset about that and just wanted to talk through it," he said.
"And a lot of it was just based off of having a mutual connection and experience. Sometimes you kind of build the relationship through that," he added.  
Kaitlyn Bristowe told Nick Viall that she'd reach out to him after 'The Bachelorette'
Nick Viall can't help but wonder what would have happened between him and Bristowe had he not gone on The Bachelorette because, apparently, the two had a conversation about reconnecting after Bristowe's season ended.
"I did always wonder sometimes, especially right after, you know, like when I was all bummed about it, what if I never came. Because there was always this like, 'I'll call you when I'm done…' And in fairness to you, no lead knows what to expect. So everything that was said between us–Shawn didn't exist in your mind," he said.  
"Yeah you never know what is gonna happen," Bristowe agreed. She didn't know she'd fall so quickly and passionately for Shawn Booth.
"I remember night one when Shawn came out I was like, 'Oh. Uh-oh,'" she said.
But Bristowe's glad Viall came on her season.
"I also told Shawn after–he was like, 'If he didn't come on the show it would have been fine.' And I was like, 'No, because then I would have thought about what if,'" she said.
Today, Bristowe's happily with fellow Bachelor Nation member Jason Tartick. Viall is still waiting for the right person to settle down with, but he's not in a rush.
"I'm certainly hoping to settle down when the right person comes," he told Us Weekly on November 9. "I'm not trying to put pressure on myself."
Read more: How 'Bachelor' Fans Really Feel About Peter Weber Asking Hannah Brown To Join His Season