Former Bachelorette Kaitlyn Bristowe Responds To Criticism That She's 'Pressuring' Jason Tartick To Propose To Her
This is what former bachelorette Kaitlyn Bristowe has to say about accusations that she's 'pressuring' Jason Tartick to propose–'it's not me.'
In a Q&A former bachelorette Kaitlyn Bristowe did last week, a fan asked the reality star, "When's Jason going to pop the question?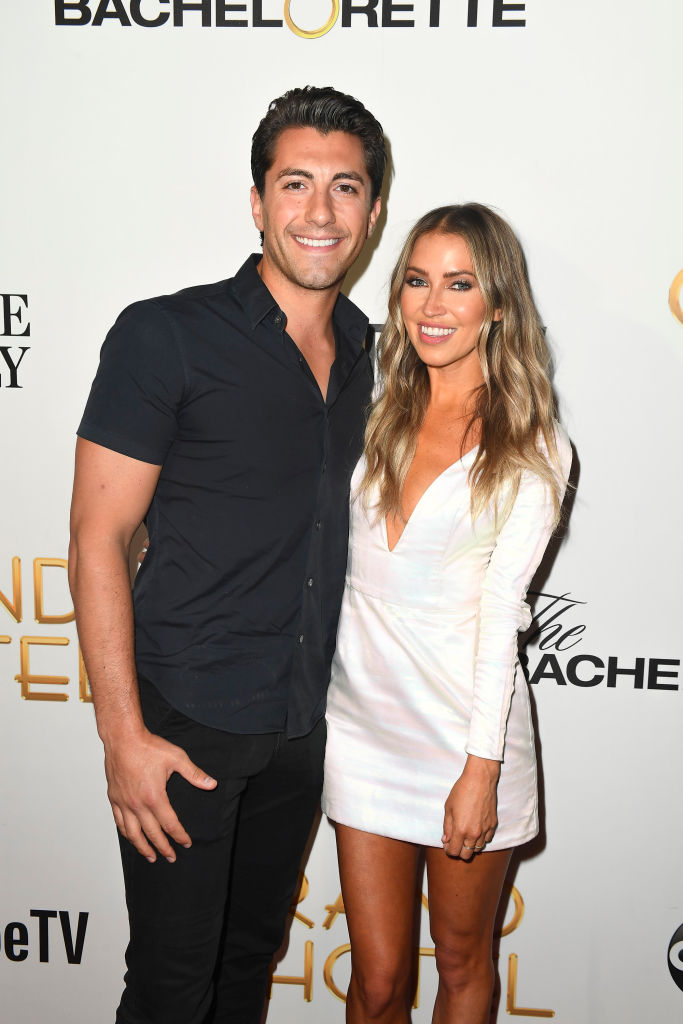 It launched Bristowe into a lengthy response about how she gets repeatedly criticized for talking about such topics as when she and boyfriend Jason Tartick are going to get engaged and her feelings about Dancing With The Stars–ever since recent bachelorette Hannah Brown began competing on the dance show, Bristowe's spoken about how she was barred from participating, per Bachelorette creator Mike Fleiss' wishes.
Kailtyn Bristowe's response to when she and Jason Tartick are going to get engaged
"People ask this all the time just because we were both on a show where people quickly get engaged. The other day someone told me to stop pressuring him but it's not me. It's the internet constantly asking questions. Same thing with DWTS. I don't bring it up but everyone asks. Then I give my opinion and people say 'get over it.' I am over. I'm just never over my rights and when people ask, I answer. Damned if you do, damned if you don't," she wrote on her Instagram stories.
Bristowe does speak a lot about getting engaged to Tartick, because that's what she's asked about in interviews.
Recently, in an interview with Us Weekly, Bristowe mentioned she has a feeling that Tartick's going to propose any day now.
"Every time I'm like, 'Oh my, God. Is today the day?' I'm probably going to ruin the day because I'm going to be like, 'Oh, here it comes! I know this is it!'" she said.
In the same interview, Tartick mentioned two "rules" he understood Bristowe to have concerning his proposal.
"I think you have two rules. No double halo. No Neil Lane," he said.
Perhaps that word choice–"rules"–lead to the recent criticism Bristowe's received about "pressuring" Tartick to propose.
Bristowe was quick to insist to Us Weekly that she didn't have any hard and fast rules. She just associates Neil Lane with her ex-fiancé. She'd prefer a different brand from Tartick.  
"I would prefer not to have a Neil Lane ring. I love his rings. It just [represents something else]," she said.
It doesn't seem like Jason Tartick feels pressured to propose to Kaitlyn Bristowe
No matter when Tartick decides to get down on one knee, there's no question as to whether the couple is happily, madly in love. They are.
The way Tartick talks about their future wedding… it's obvious that the Bachelorette alum isn't being pressured into something he doesn't want to do.
"There's just nothing more important to me than family and friends and just making sure that all the most important people to us in the world that have put us in the position that we are in today are there to share that special day. I just get goosebumps thinking about it. I think in typical Kaitlyn and Jason fashion, I would imagine a wedding of a lot of fun, parting, singing, dancing, eating, open bar, top shelf," he told E! News.
Read more: 'Bachelor In Paradise': Kevin Wendt and Astrid Loch Want An 'Intimate' Wedding