'The Bachelorette' Season 15: The Craziest Limo Exits
The Bachelorette Season 15 kicked off with Hannah Brown meeting her 30 hopeful bachelors. Hannah begins her Bachelorette journey by remembering her past. For her, "being the bachelorette is so surreal" since she comes from a performing background, where she never felt valued. She also reflected on her past with Colton, remembering how she struggled "to be perfect" for him.
Now, Hannah is ready to meet a man who will love her unconditionally because she is "so much to handle." Which contestant had the craziest limo exit and who received The First Impression Rose? Find out, below.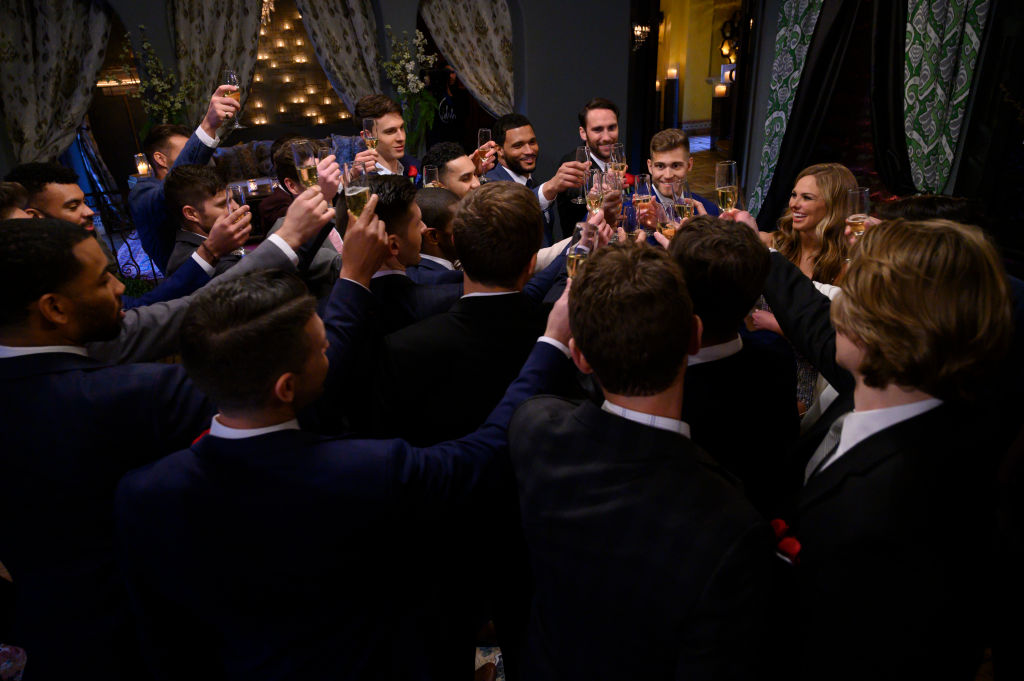 Who had the craziest limo exit?

A staple of The Bachelor and The Bachelorette are the limo exits because the contestants want to stand out and ultimately win The First Impression Rose.

Cam, 30
Software Sales
Hometown: Austin, TX

Cam stepped out of the limo rapping an original song to Hannah. He already received a rose from her on last season'sFinal Rose and also got the first kiss of the night from Hannah.

Connor S, 24
Investment Analyst
Hometown: Dallas, TX

Connor S., a self-described travel junkie, called for Hannah from behind the fence. He then jumped the fence and formally introduced himself.

Devin, 27
Talent Manager
Hometown: Sherman Oaks, CA

Devin jokingly introduced himself to Hannah as a virgin — a reference to Colton Underwood — which she found more confusing than funny. He is also good friends with Wills from Becca's season of The Bachelorette.

Grant, 30
Unemployed
Hometown: San Clemente, CA

Grant, "The Dude," walked up to Hannah, while casually eating a hot dog with mustard. He believes he is a real romantic because he loves PDA.

Joe, 30
The Box King
Hometown: Chicago, IL

Joe arrived inside a cardboard box, driven by a forklift. He didn't make a good enough first impression on Hannah, so he did not receive a rose.

Joey, 33
Finance Manager
Hometown: Bethesda, MD

Joey showed up with a baby stroller, but in the place of a baby, he put a bottle of champagne. He loves traveling but is ready to settle down.

Jonathan, 27
Server
Hometown: Los Angeles, CA

Jonathan exited the limo and then proposed to Hannah with a pizza. He is a religious person who is also the life of the party.

Matt McDonald, 26
Medical Device Salesman
Hometown: Los Gatos, CA

Matt drove up in a tractor while singing his rendition of "Old Mac Donald." Unfortunately, Matt did not receive a rose.

Kevin, 27
Behavioral Health Specialist
Hometown: Manteno, IL

Kevin, a gym fanatic, fumbled out of the limo with several footballs in his arms. He falls in love too quickly and loves playing the piano.

Luke P., 24
Import / Export Manager
Hometown: Gainesville, GA
Luke crawled out of the limo and then began growling. He loves team sports and recently had a religious awakening. He met Hannah previously on After the Rose, and she remembered his name.

Peter, 27
Pilot
Hometown: Westlake Village, CA

Peter walked out of the limo, fully decked in his pilot uniform, and then gave Hannah a pair of wings. He enjoys flying the world as well as watching football.

Ryan, 25
Data Analyst
Hometown: Philadelphia, PA

Ryan rode out of the limo on rollerblades yelling, "Roll Tide," which is a nod to Hannah's alma mater. He also rolled out the same night as he never received a rose.

Who received The First Impression Rose?
The First Impression Rose is significant is because it shows everyone what The Bachelor or Bachelorette is looking for in a partner. Hannah gave hers to Luke P, seemingly because he showed initiative. He was the first to pull her aside for a one-on-one talk after the toast. Luke P. was also the first to console her after she found out Scott, another contestant, has a girlfriend. However, future previews paint Luke as this season's villain.