Back to the Big Screen: Fey and Poehler to Play Sisters in New Comedy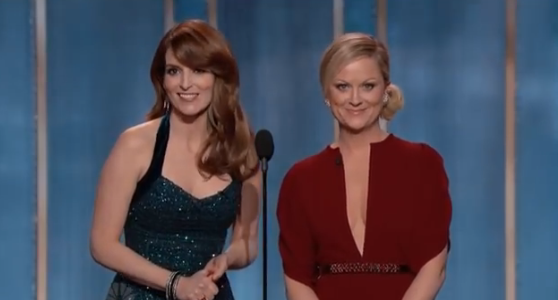 Everyone's favorite accomplished female comedians slash best friends Amy Poehler and Tina Fey will hit the big screen together again for the first time since 2008′s Baby Mama in the Universal comedy The Nest, according to The Hollywood Reporter. While nothing as of yet has been confirmed and Poehler is still in finalizing talks, the Internet was abuzz with excitement over the prospect of seeing the dynamic duo in a movie together again.
The Nest will be directed by Jason Moore, who is also known for directing Pitch Perfect. The screenplay will be written by Paula Pell, who came up with the original idea for the movie. Fey, Poehler, and Jay Roach will all produce. In the film, Fey and Poehler will play sisters who decide to throw a final huge party in their parents' house before it's sold.
According to a detailed chronology of their relationship from Vulture (people really love these two), Fey and Poehler began their careers and friendship taking improv classes in Chicago through ImprovOlympic and Second City. The pair then worked together on Saturday Night Live for many years, becoming the first female co-anchors of the long-running sketch "Weekend Update."
Both have since moved on to have highly successful television careers on NBC; Fey with the loosely autobiographical comedy 30 Rock and Poehler with the mockumentary Parks and Recreation. Both shows were the centerpiece of NBC's Thursday night schedule for four years. Then 30 Rock wrapped up its final season last year, and Parks and Recreation was renewed for a seventh season.
The pair hosted the 2013 Golden Globe awards and received such rave reviews for the job that they were invited back to host in 2014. Through their work on and off screen, Poehler and Fey have become comedic and feminist icons. They frequently appear on the red carpet together and make guest appearances in each other's projects. The pair have been outspoken about their affection for each other and the importance of female friendship in general. The women are widely admired for being smart, funny, and outspoken as well as for their refusal to play along with Hollywood's gender stereotypes.
Fey has said of Poehler, "She's fearless. Not only is she not afraid to look silly, she's not afraid to let you throw her in the air like a basketball and catch her."
When The New York Times asked Poehler if she was amazed that Fey had managed to pen a hilarious memoir (Bossypants) while maintaining her busy schedule, Poehler responded, "I am not amazed. Look, if she sets her mind to it, it gets done. Tina is not the kind of artist who makes people wait around and misses her deadlines. She's a finisher. And I mean that in the sexual sense."
The Nest is still in the early stages of development, so fans of Fey and Poehler have a while before seeing them star in a movie together, but the ladies' killer chemistry onscreen and off guarantees it will be worth the wait.
More From Wall St. Cheat Sheet:
Follow Jacqueline on Twitter @Jacqui_WSCS