'Bajillion Dollar Properties' Is the Best Show You're Not Watching
Do you have time for a new 30-minute series in your life? The answer is, of course, yes. It's time to tune into Bajillion Dollar Properties, a parody comedy about a group of high-end realtors in Los Angeles. Here's what you need to know.
Bajillion Dollar Properties airs on Pluto TV
The show has had its ups and downs. It kicked off in 2016 on the newly formed comedy subscription service, Seeso. Because it was owned by NBCUniversal and had a lot of major comedians, such as Carmen Esposito and Michael Ian Black, featured in shows, many believed that Seeso was going to be very successful.
However, these things don't always work out. In 2017, Seeso announced that it would be shutting down. That left Bajillion Dollar Properties without a future. But in 2019, the newly-formed platform Pluto TV launched, and picked up Bajillion Dollar Properties. 
The minds behind the series
If you're at all familiar with comedy, you're going to recognize at least a few of these names. The series was created by Kulap Vilaysack, a UCB album with credits like Children's Hospital and Parks and Recreation under her belt. Her husband, Scott Aukerman, is best known for his podcast Comedy Bang! Bang! And Bajillion Dollar Properties lives under the same production company.
And there are even more big names behind the scenes. Reno 911! alums Thomas Lennon and Robert Garant, who are writing partners, are also executive producers on the series. They, like Vilaysack and Aukerman, have made appearances in Bajillion Dollar Properties as well.
If you liked these shows, you'll love this one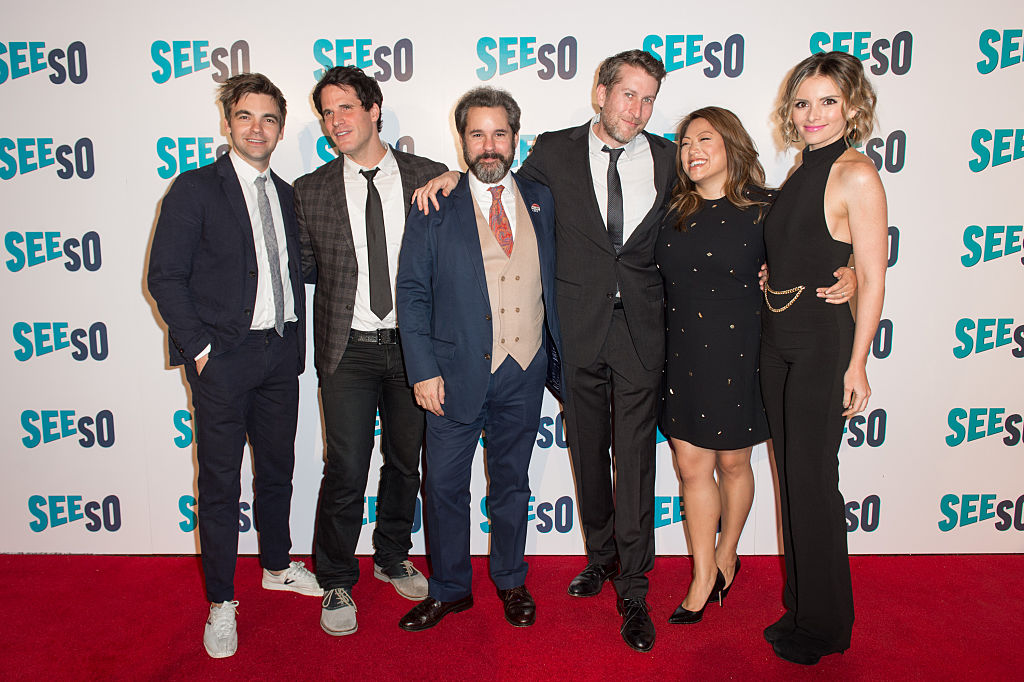 Bajillion Dollar Properties is a semi-scripted series, meaning that there's plenty of improvisation going on. If you're a fan of other comedies like this, such as Reno 911! you're going to enjoy the humor here. Shows like The Office also feature some improvisation, but less so. Still, any comedy fan can appreciate this.
Additionally, Bajillion Dollar Properties plays on the tropes of reality TV. Other series like The Hotwives franchise and Burning Love do this, too. So if you're into making fun of reality TV (whether you're a fan of it or not), this show is right up your alley.
Who are the stars of Bajillion Dollar Properties?
Probably the most recognizable face in the main cast is that of Paul F. Tompkins, who plays the founder of Platinum Realty. Tompkins is known to mainstream audiences as the host of MTV's Best Week Ever, or you may recognize his voice from the Netflix animated series BoJack Horseman, where he voices Mr. Peanutbutter. 
Other stars include Dan Ahdoot (Cobra Kai), Tim Baltz (Drunk History), Ryan Gaul (Superstore), Drew Tarver (The Other Two), Mandell Maughan (Me, Myself and I), and Tawny Newsome (Brockmire), all as realtors at Platinum. Eugene Cordero (The Good Place) joined the cast in Season 3.
Bajillion Dollar Properties Season 4 is now airing
After three seasons on Seeso, Season 4 of Bajillion Dollar Properties premiered on Pluto TV in Aug. 2019. With a week-long roll-out, the eight-episode season is now available to stream on the free platform. You can catch up on what you've missed or get right to the new stuff, as all four seasons are there.