Barbara Bush Dies at 92: Donald Trump and More Celebrities Paying Tribute to the Former First Lady
Former first lady Barbara Bush has sadly died at the age of 92. In her final days, the Bush family announced that the former first lady had opted to stop fighting her terminal illness and seeked solely "comfort care." According to the family's spokesman, Jim McGrath, Bush had been suffering from congestive heart failure and chronic obstructive pulmonary disease.
Following Bush's passing on Apr. 17, 2018, it's become even more evident just how much she touched the lives of many. Celebrities and politicians alike are coming together to pay tribute to the strong and kind woman she was.
From Donald and Melania Trump (page 5) to Arnold Schwarzenegger (page 7), these public figures are celebrating the life of the former first lady.
1. Kathie Lee Gifford and Hoda Kotb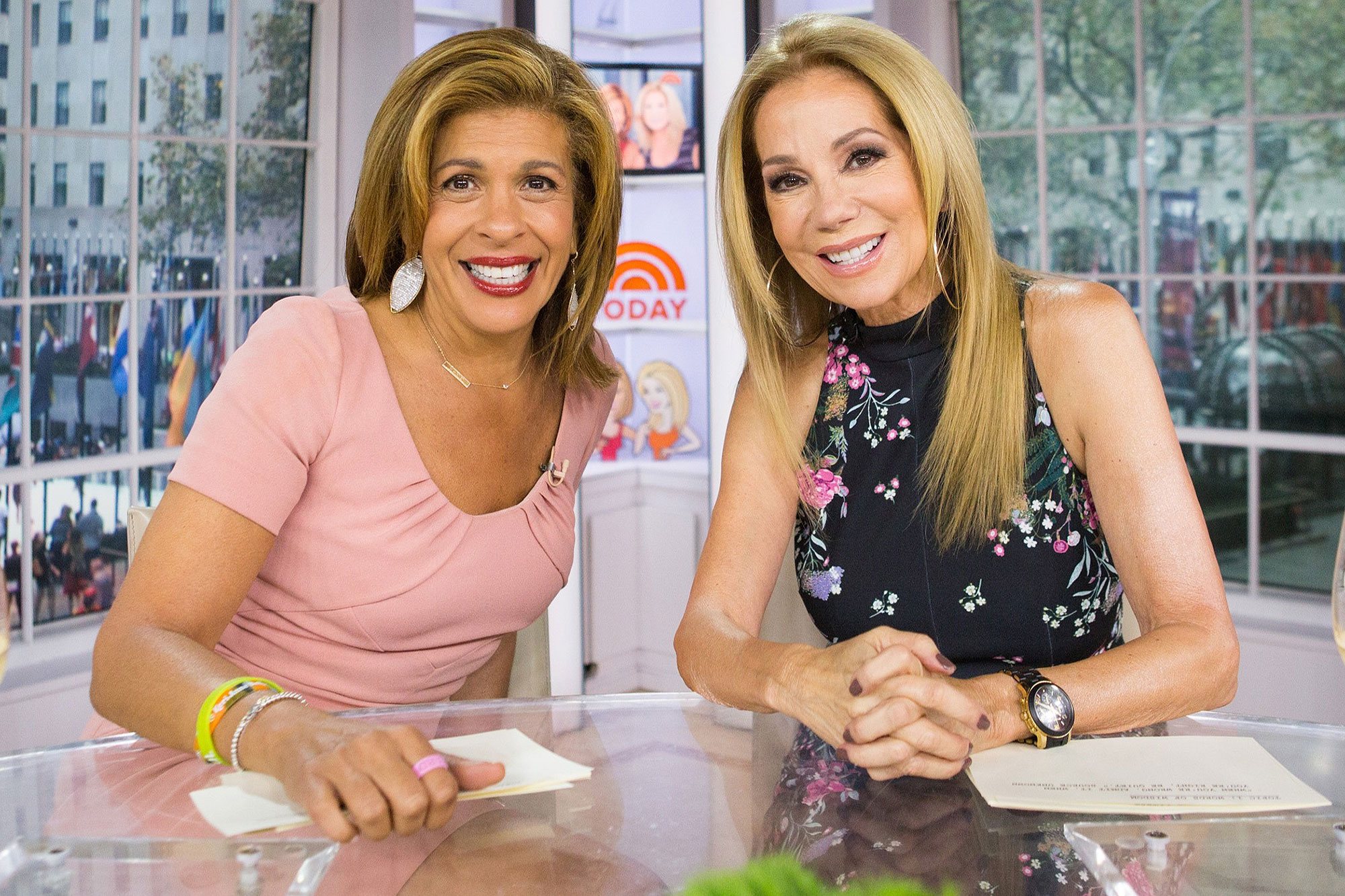 Ladies of Today, Kathie Lee Gifford and Hoda Kotb, shared a sweet tribute to Bush on Twitter. Along with their own message, which read, "Former first lady Barbara Bush has passed away at the age of 92. Our thoughts and prayers are with Jenna and the entire Bush family," they shared an inspirational quote from the former first lady.
"At the end of your life, you will never regret not having passed one more test, not winning one more verdict or not closing one more deal," it read. "You will regret time not spent with a husband, a child, a friend or a parent."
Next: He considered her a 'great friend.'
2. Larry King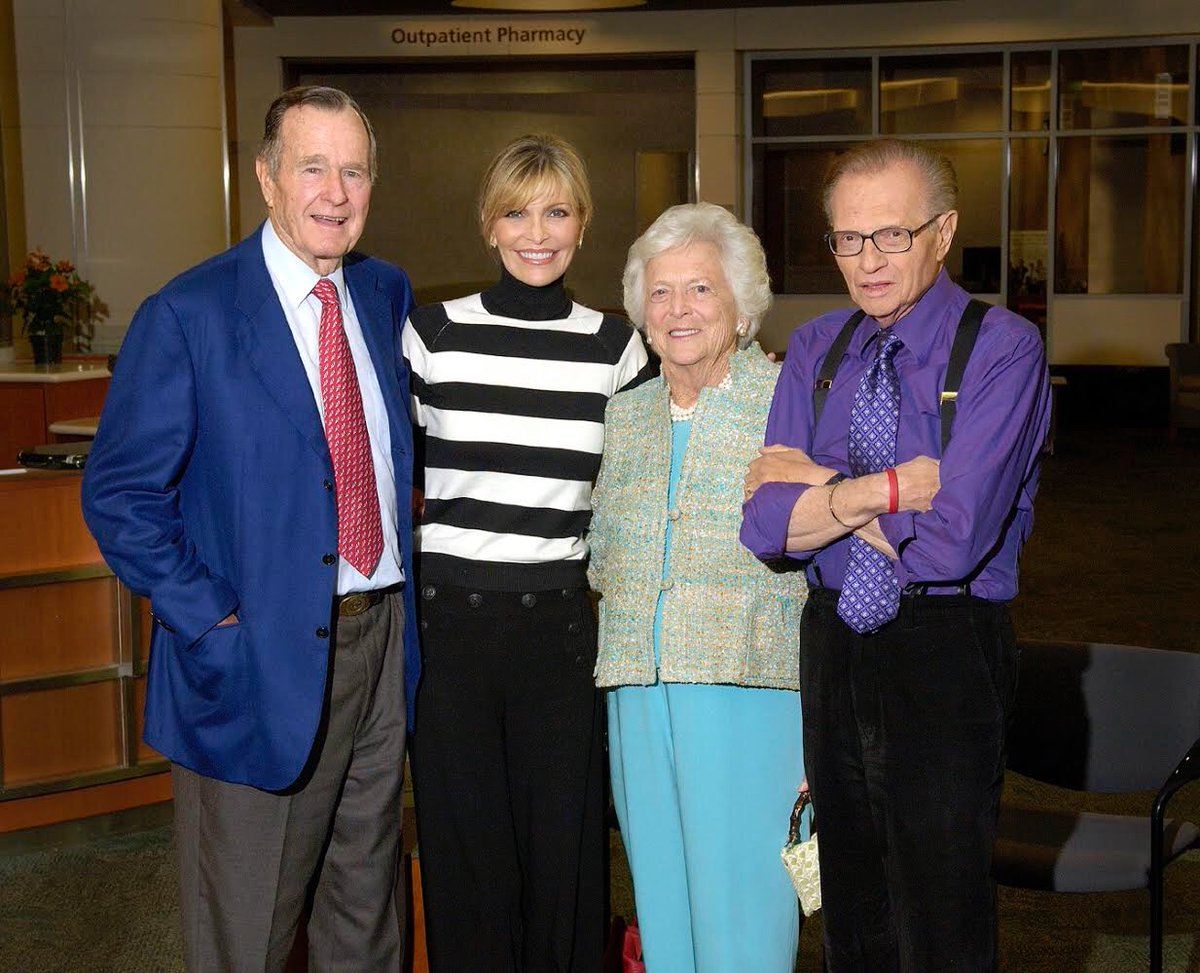 Larry King posted a photo to Twitter of himself and his wife, Shawn King, alongside Barbara and George H.W. Bush. He shared the message, "Our dear Barbara Bush. A grand lady, a great friend…she made the White House a brighter place. How we will miss you! Rest In Peace."
Next: He felt lucky to have crossed paths with her.
3. Patrick Dempsey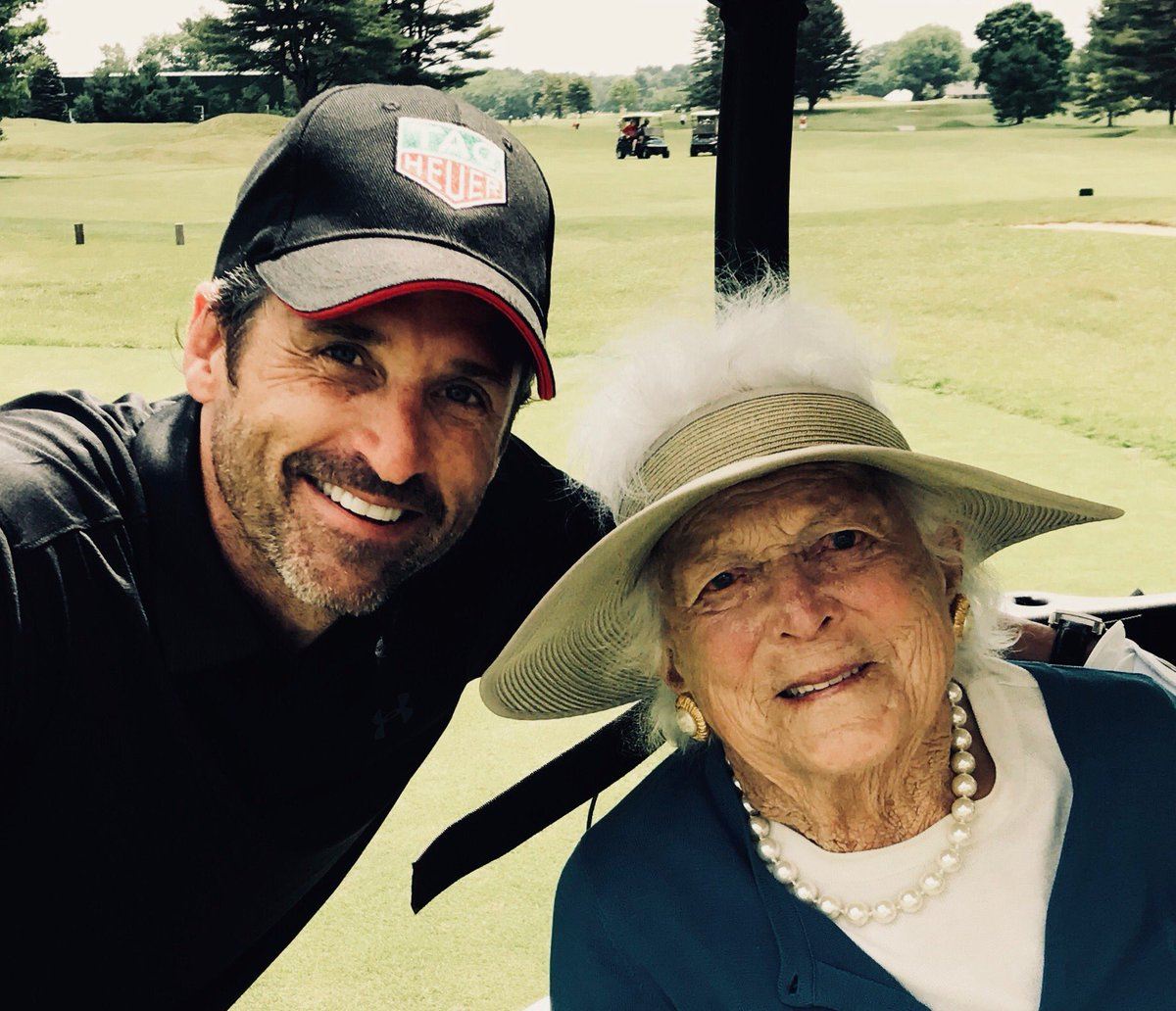 Actor Patrick Dempsey also shared an adorable throwback photo with the former first lady. According to the Portland Press Herald, the two crossed paths at the annual George H.W. Bush Golf Classic in June 2017.
Dempsey tweeted along with the photo, "It was a pleasure to have met. Thoughts and prayers to the Bush Family. Much beloved. She will be greatly missed."
Next: She sent a simple, yet touching message.
4. Ellen DeGeneres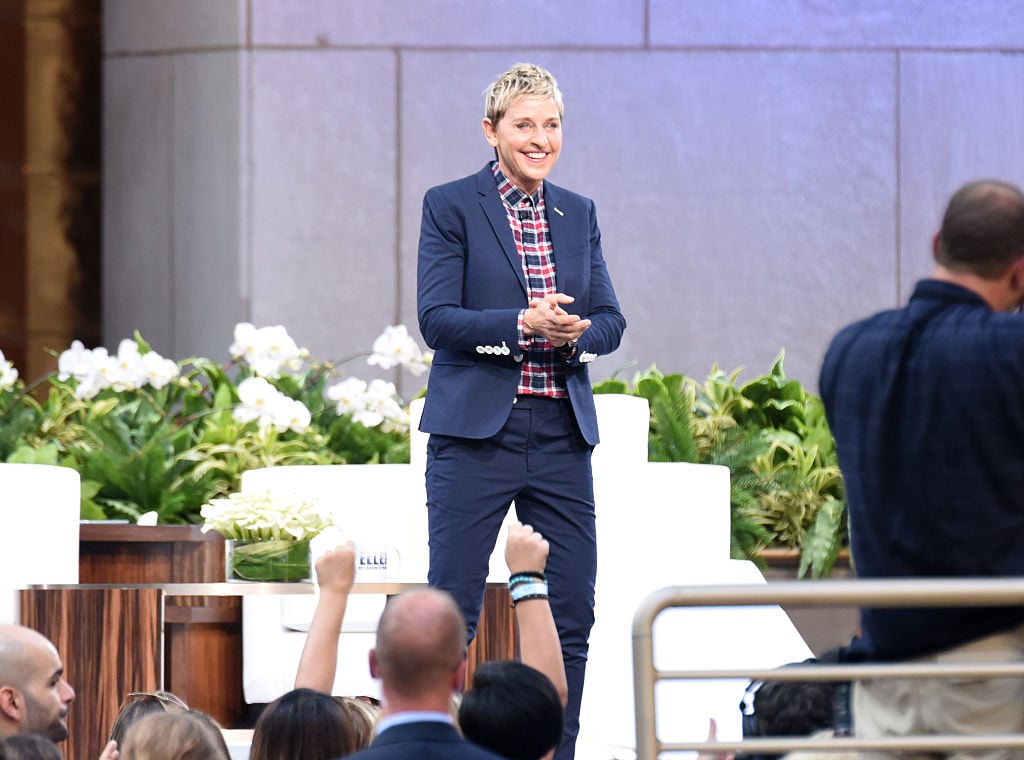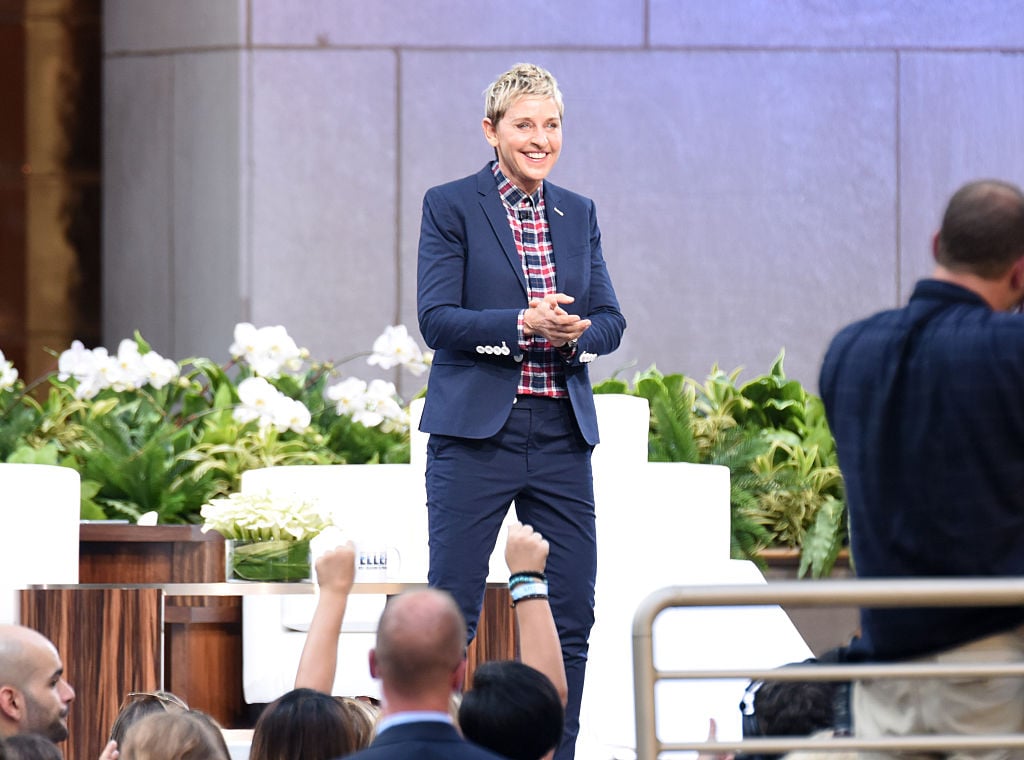 Ellen Degeneres shared a touching message to Bush and her family. She tweeted, "Barbara Bush lived an incredible life. I'm sending my love to her family."
Next: Their statement celebrated the life of Bush.
5. Donald and Melania Trump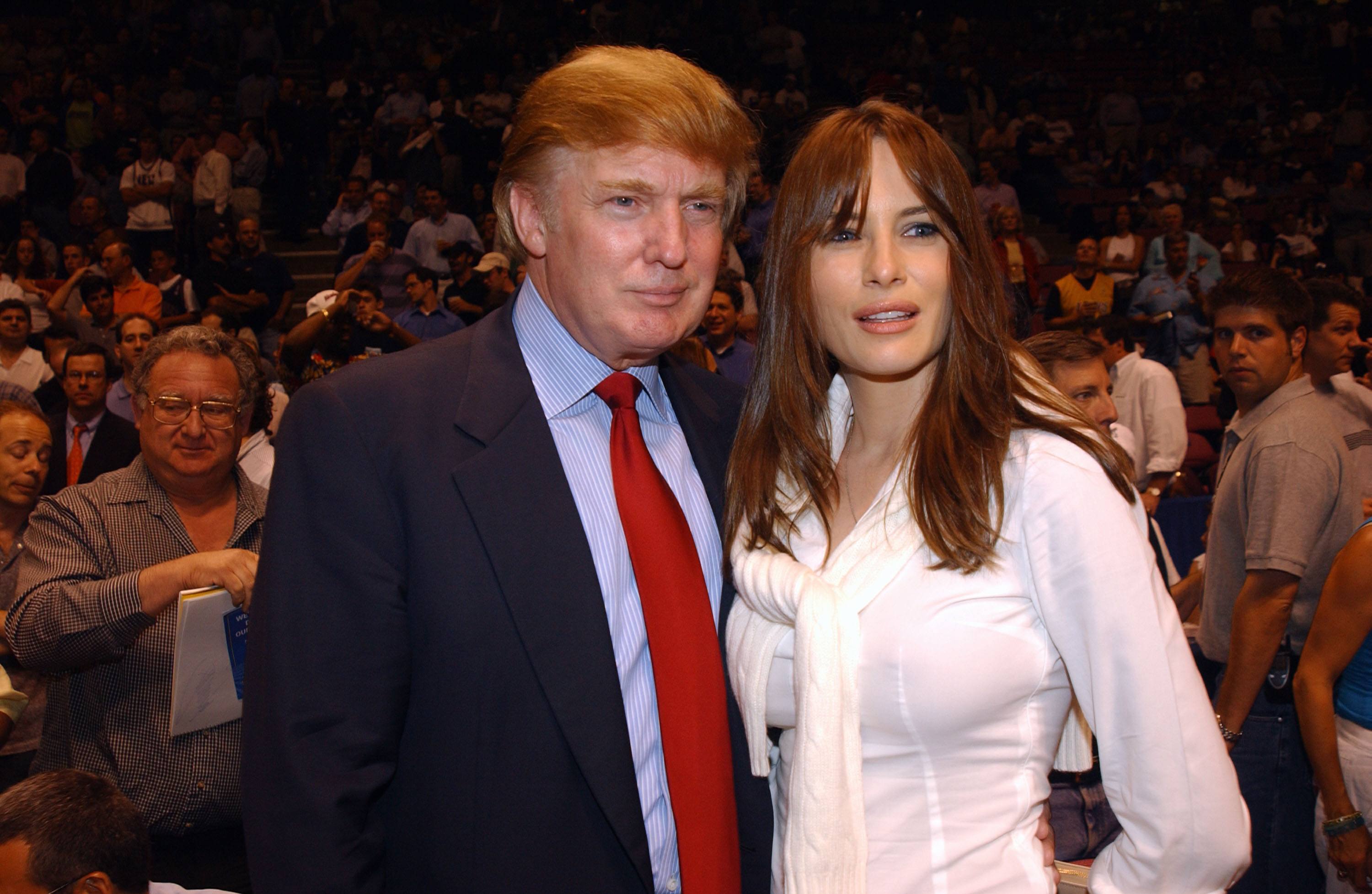 President Donald Trump and first lady Melania Trump paid tribute to Bush by sharing a statement on Twitter. Their message read:
President Donald J. Trump and First Lady Melania Trump join the Nation in celebrating the life of Barbara Bush. As a wife, mother, grandmother, military spouse, and former First Lady, Mrs. Bush was an advocate of the American family. Amongst her greatest achievements was recognizing the importance of literacy as a fundamental family value that requires nurturing and protection. She will be long remembered for her strong devotion to country and family, both of which she served unfailingly well. The President and First Lady's thoughts and prayers are with the family and friends of Mrs. Bush.
Next: She admired Bush's 'full life.'
6. Bethenny Frankel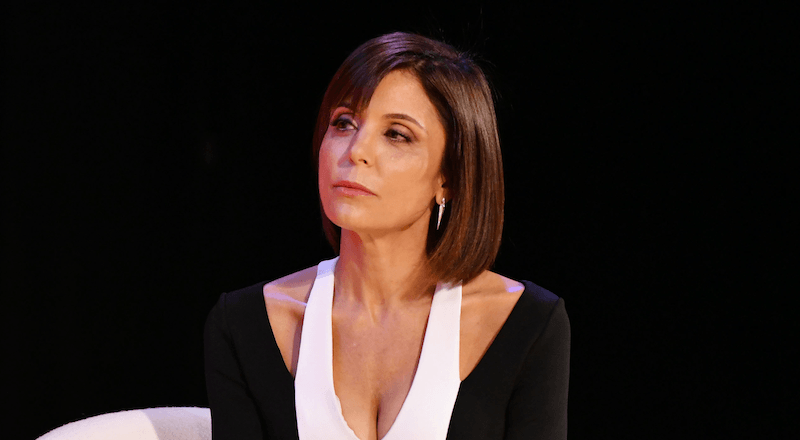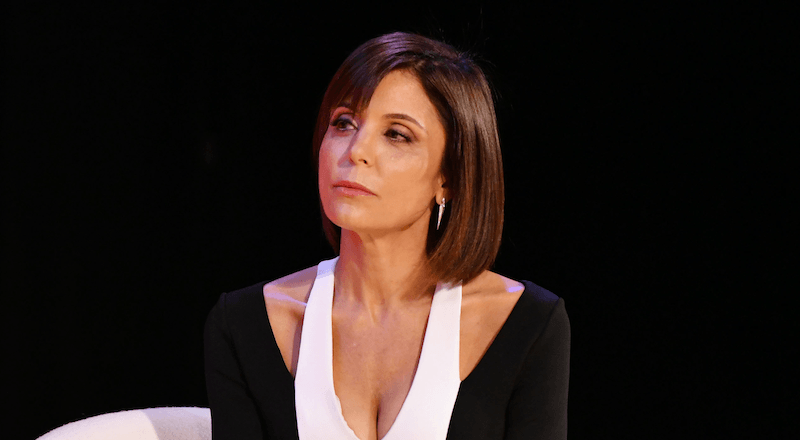 TV star Bethenny Frankel was truly saddened by the news of Bush's passing. She shared on Twitter, "Awww Barbara Bush. What a full life….the stories she must have told her grandchildren."
Next: Bush played a huge role in his life.
7. Arnold Schwarzenegger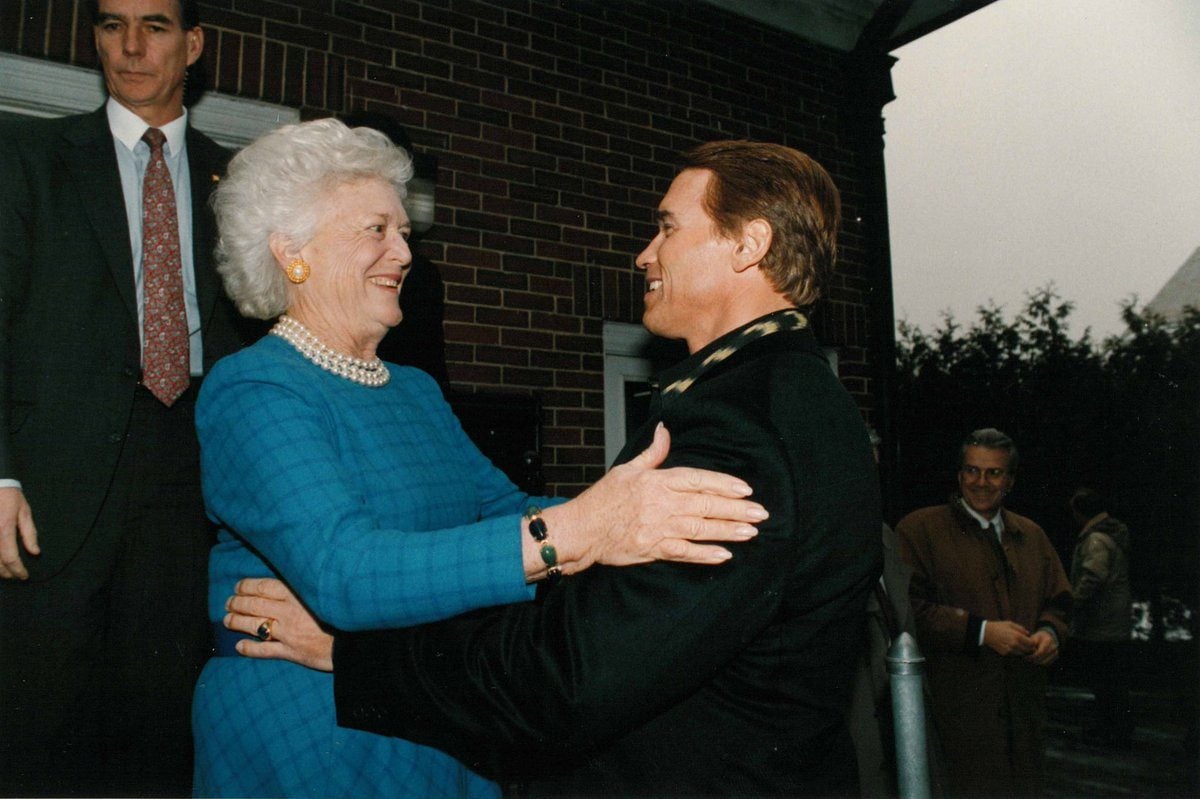 Arnold Schwarzenegger was close with Bush, and clearly thought the world of her. The day before her passing, he shared a series of tweets recalling the special role she played in his life. He recalled an experience at Camp David, a country retreat for the president, where Bush had broken her ankle while sledding.
Schwarzenegger wrote, "She refused to let any of us go with her to the hospital and demanded that we keep enjoying ourselves. That's Barbara in a nutshell, and I can imagine her saying the same thing right now." He added, "Barbara, your friendship means the world to me. Thank you for your never-ending inspiration."
He tweeted once more after learning Bush had passed away: "My thoughts are with President Bush and the entire Bush family, along with every person on this planet who was lucky enough to call Barbara a friend. As heartbroken as I feel right now, I can hear her voice at Camp David telling us to not worry about her, to go on."
Next: She has a special connection with the Bush family.
8. Savannah Guthrie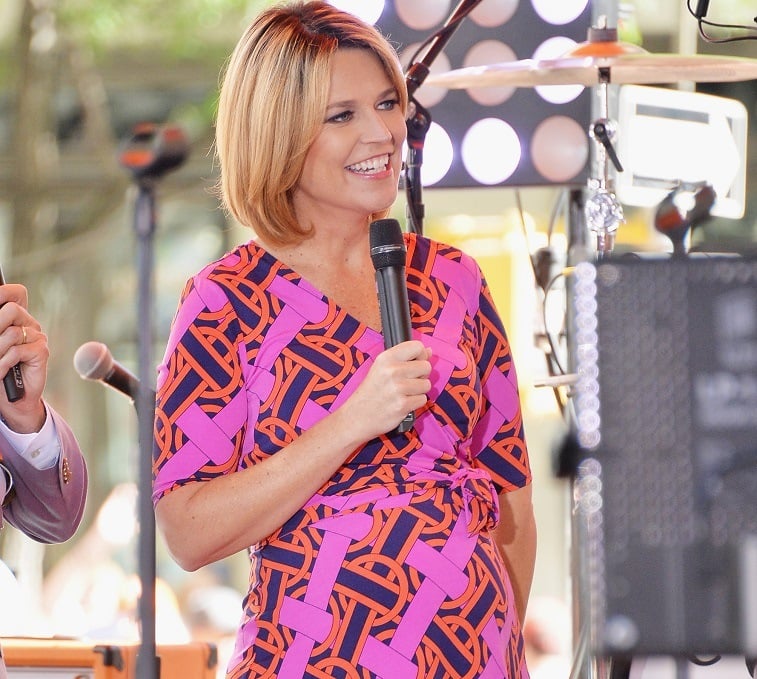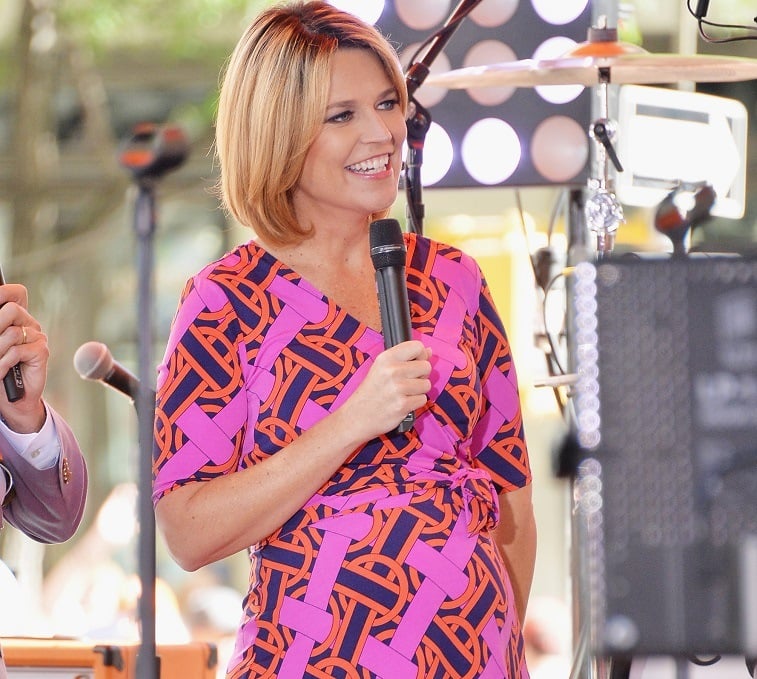 Savannah Guthrie has a special connection with the Bush family, as she is friends with her granddaughter, fellow Today host Jenna Bush Hager. Guthrie tweeted, "All my love and prayers and tears are with the Bush family… I know the gratitude they feel for a life so well lived and the hope they feel because of the faith they hold so firmly."
She added, "I am lucky to know a piece of Mrs. Bush's wonderful legacy in my sweet friend @JennaBushHager."
Next: She shared a lovely moment with the former first lady.
9. Barbra Streisand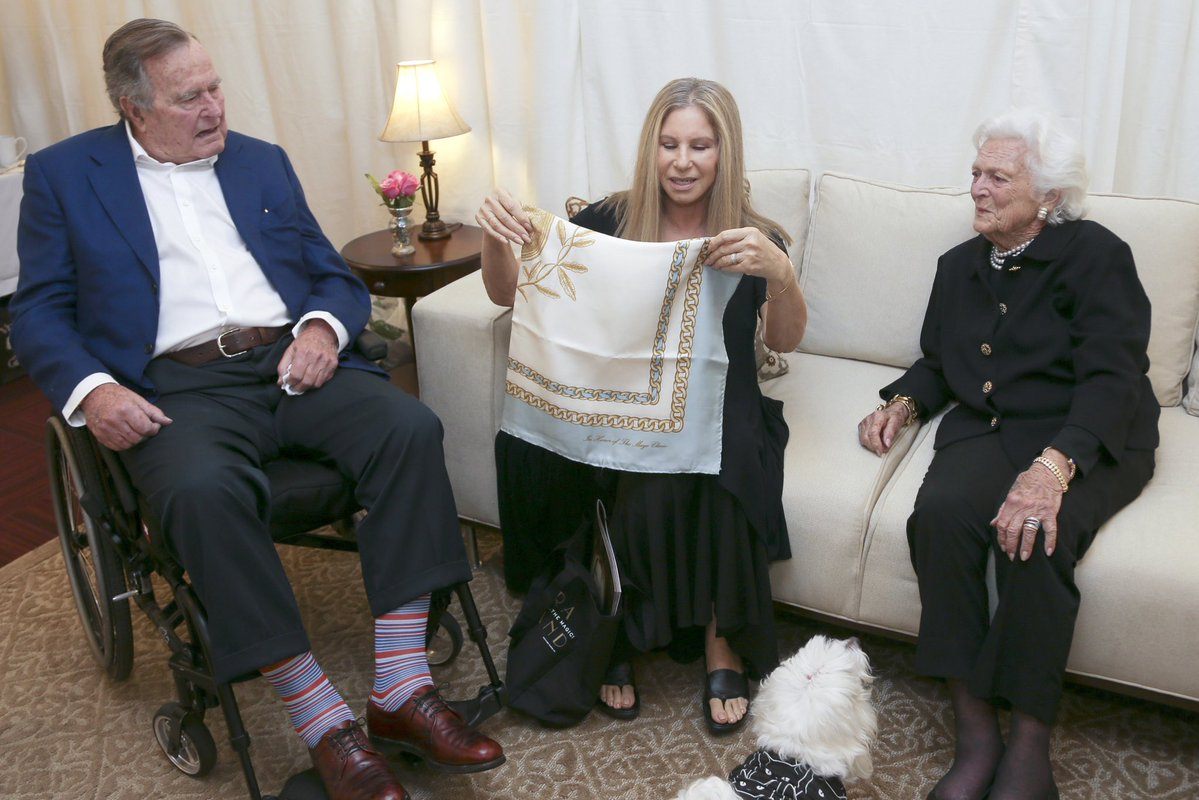 Musician and actress Barbra Streisand shared a lovely moment with the former first lady in the photo above. She tweeted along with the photo, "Sending my sincere condolences and prayers to The Bush family."
Next: Their statement paid tribute to her 'American spirit.'
10. Barack Obama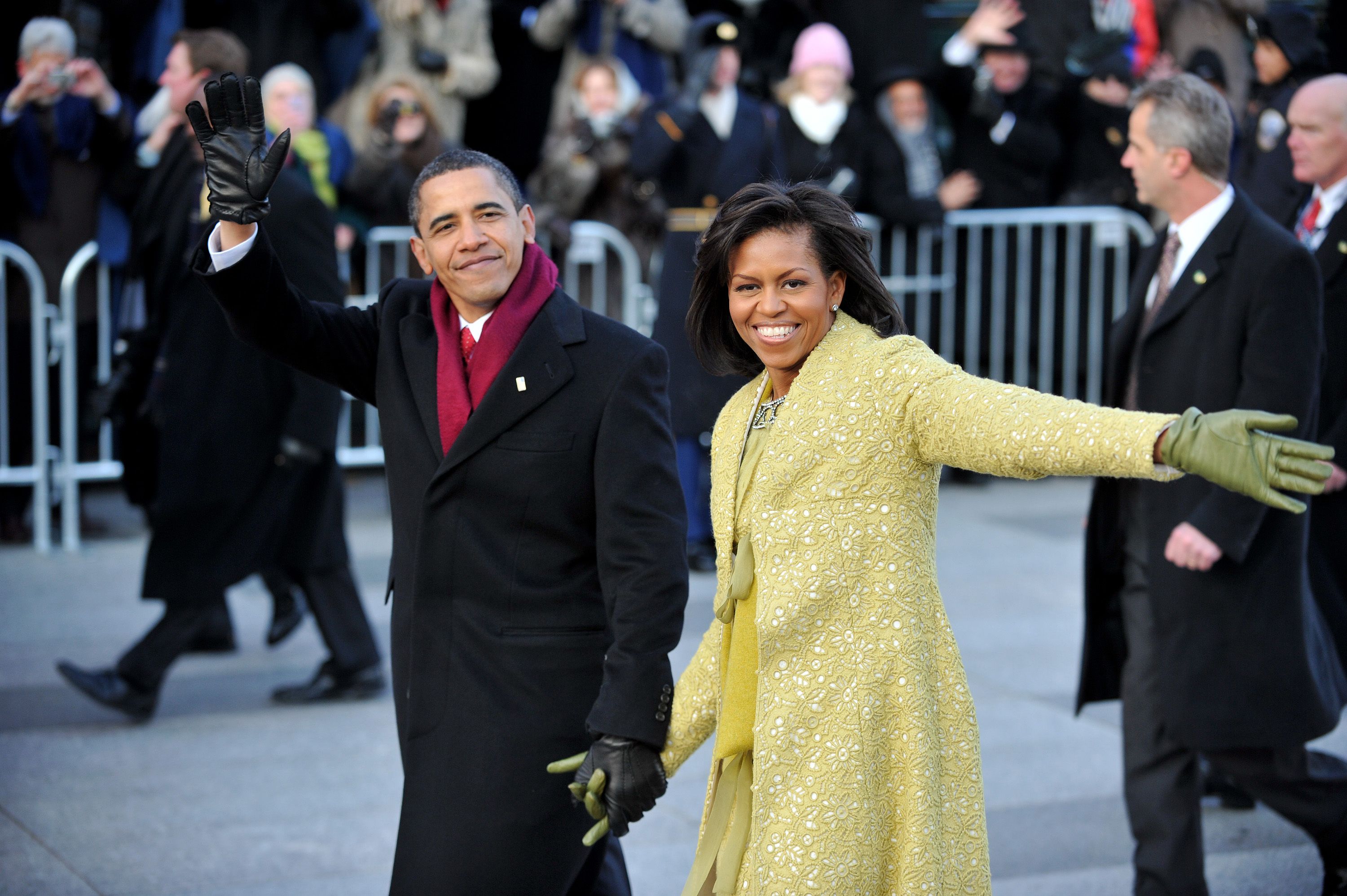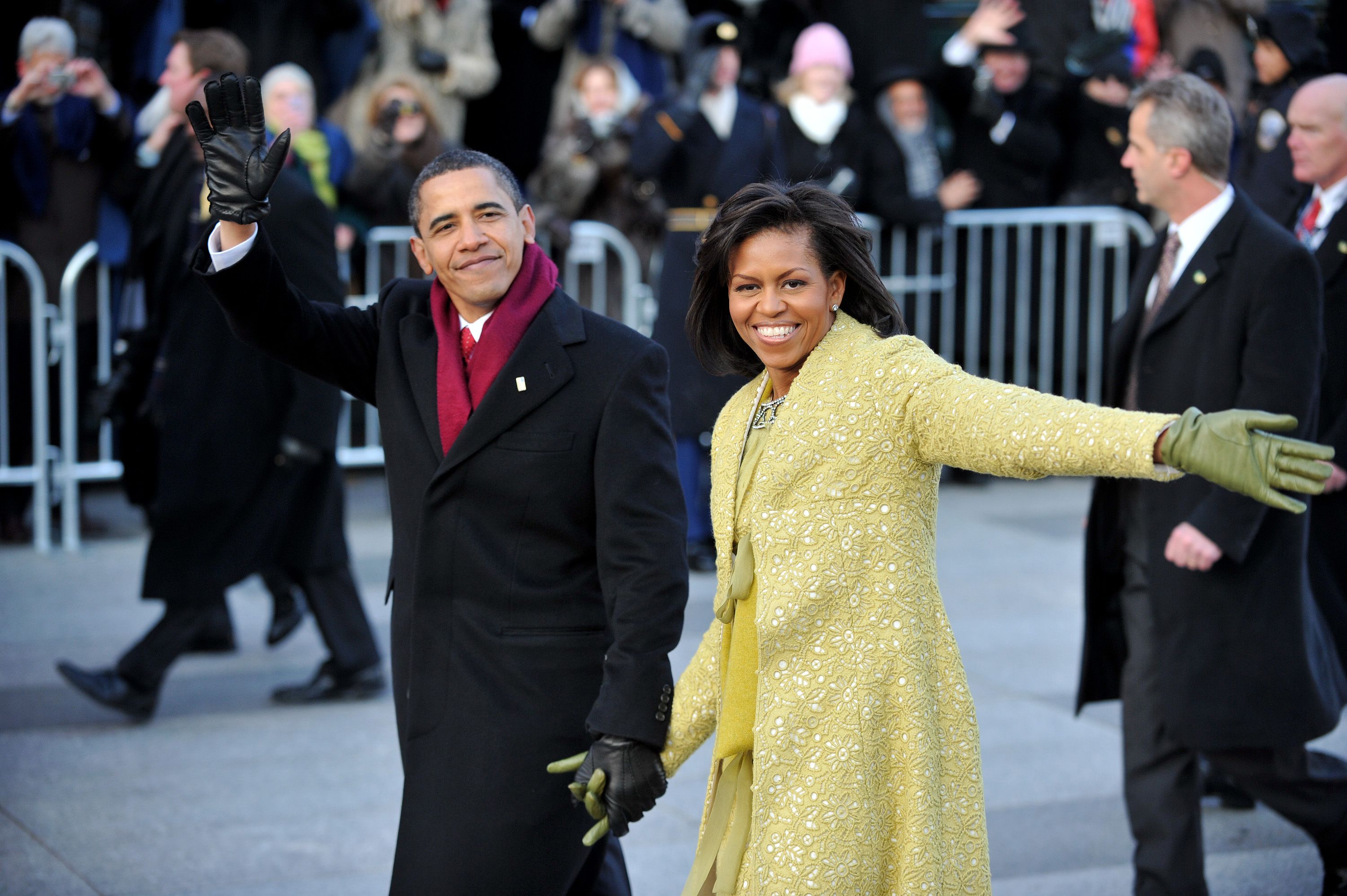 Former president and first lady, Barack and Michelle Obama, shared some special words on the passing of Bush. They posted a statement to Twitter, which read:
Barbara Bush was the rock of a family dedicated to public service, and our thoughts and prayers are with both Presidents Bush and the entire Bush family tonight. We'll always be grateful to Mrs. Bush for the generosity she showed to us throughout our time in the White House, but we're even more grateful for the way she lived her life — as a testament to the fact that public service is an important and noble calling; as an example of the humility and decency that reflects the very best of the American spirit. She'll be remembered for passing those American values on to her children, her grandchildren, her great-grandchildren — and to the countless citizens whom she and George inspired to become "points of light" in service to others.
Check out The Cheat Sheet on Facebook!