Barefoot Contessa Ina Garten Wants to Help This Holiday Season With This Make-Ahead Dinner
After writing nine cookbooks and starring in her own cooking show for over a decade, Barefoot Contessa star Ina Garten knows how to host and cook an amazing holiday dinner. For this year, the celebrity chef wants to help her followers prepare a holiday feast that their family will never forget — and it all comes from her cookbook, Make It Ahead. Here's a look at Garten's top tips for throwing the perfect holiday party without a last-minute headache.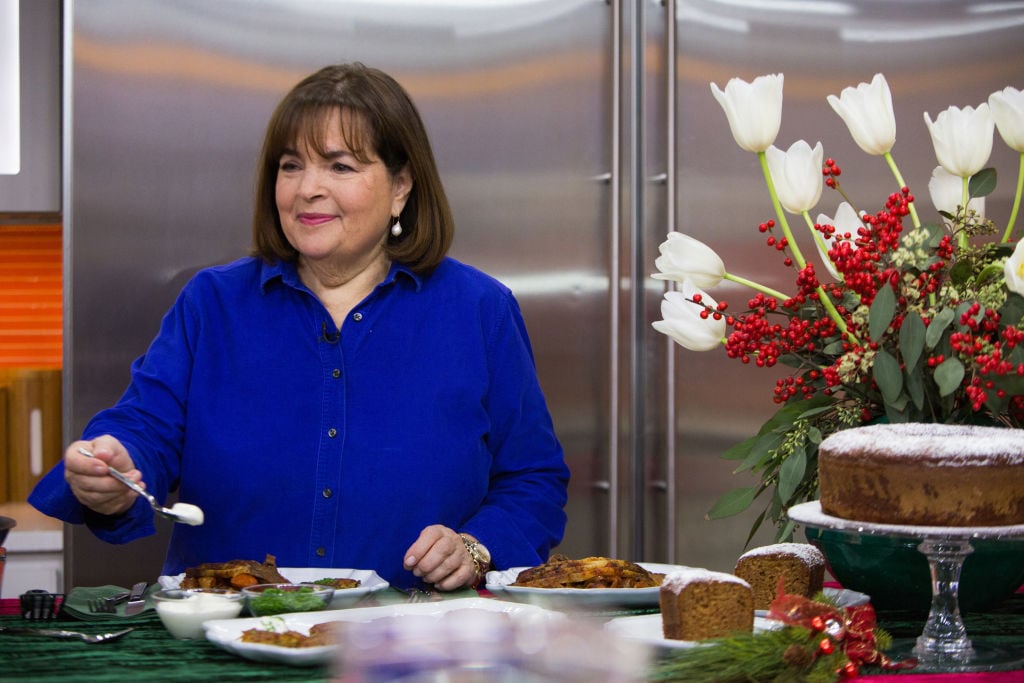 Planning tips
For starters, Ina Garten advises people to start thinking about the holiday feast at least one week in advance. Around a week before the big meal, jot down a plan for the entire party, including the days leading up to the dinner.
This should include a short grocery list of items for Garten's cauliflower and carrot puree, gravy, turkey, bread pudding, chard sauté, and cranberry martinis. All of these recipes are included in Garten's Barefoot Contessa cookbook, Make It Ahead.
You can also include a timeline for when you plan on making things that can be refrigerated throughout the week.
Planning ahead like this will reduce stress and allow you to be fully prepared for when your guests arrive. Because all of these dishes can be prepared ahead of time, it also frees you up to mingle on the big day.
Prepping ahead
Around a week away from the big meal, make the gravy base and stick it in the fridge for later. This will be used to top the turkey once it is done.
Four days before the feast, finish the cauliflower and carrot puree and refrigerate it. The following day, make sure you have everything for the table setting (if you are not using the table throughout the week, go ahead and set it up now).
Two days out, start brining the turkey and making the bread pudding. With only one day remaining, sauté the chard and put it away in the fridge.
On the day of the big feast, roast the turkey and do the finishing touches on the gravy. Once it is cooked, slice the meat and pour the gravy on top. Before serving, reheat the various sides, including the carrot puree and the chard, plus any other dishes you plan on serving.
Ina Garten's tips for appetizers
When it comes to appetizers, Ina Garten has a great recipe for cranberry martinis, which are typically served with bruschetta and sautéed chard. You can prepare all of these ingredients using Garten's recipes in Make It Ahead.
Once everyone has had their fill of cocktails, you can welcome them to the dining table for the main course. For a dessert, Garten is a huge fan of her zabaglione with amaretti, which can also be prepped days in advance.
For a beautiful presentation, Ina Garten suggests serving the zabaglione with amaretti in crystal glasses, giving the whole dessert a more elegant touch.
If zabaglione with amaretti is a little too fancy for your tastes, try cooking Garten's famous Christmas cookies, which are sure to be an instant hit with the family. Ina Garten has plenty of recipes to choose from, including pecan sandies, chocolate hazelnut cookies, ultimate ginger cookies, fruitcake cookies, and shortbread cookies.
Other tips for the holiday feast
Apart from the main course, side dishes, and dessert, Ina Garten recommends doing a couple of other things in preparation for the big feast.
According to Williams Sonoma, this includes uncorking and tasting the wine a day before the holiday dinner. You can also gather platters and serving plates and plan out where all the food will be placed.
With only a few hours until the big meal, put some ground coffee and water in your coffee maker. Turn this on when you are ready to eat the dessert.
It is also a good idea to run your dishwasher a few hours before your guests arrive so all the dirty dishes have somewhere to go once everyone is finished eating.
For more tips and tricks, check out Ina Garten's cookbook, Make It Ahead, which is available in stores.