'Basketball Wives' Reunion Part 2: Fans Take Sides, Nothing Really Gets Resolved
The verbal battles between the ladies in the cast of Basketball Wives continued in part two of the reunion tonight. Although OG decided to return to the stage, CeCe and Byron chose to stay away. While lines were being drawn in the sand by the women, fans were also taking sides in each dispute.  
Many kept the same energy from last week by rooting for "Team OG" as she squared up against most of the cast. But others are still calling for a cancellation of BBW, and some want a woman to replace the host of the reunion, Marc Lamont Hill. Scene-by-scene, drama from the show was revisited, but here are some highlights.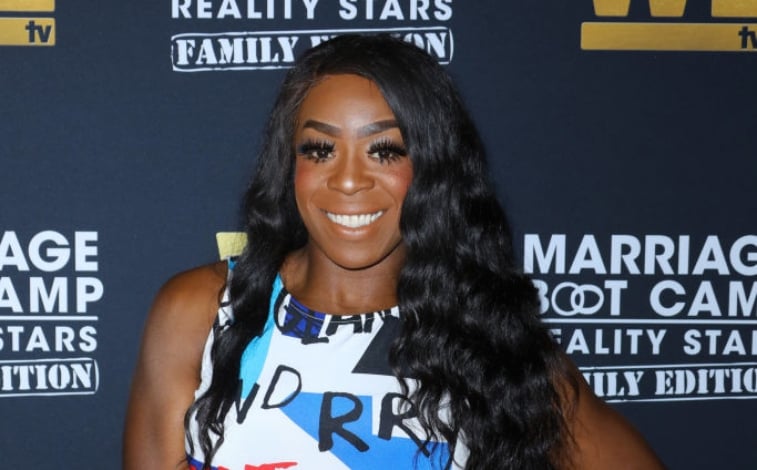 CeCe Byron/Kristen feud
A playback of Kristen and CeCe's argument in Amsterdam is shown where Kristen said Byron doesn't visit her child. A few other bouts with CeCe are revisited, and Kristen takes the opportunity to turn to the camera and extend an apology to Byron.
While that moment was fairly drama-free, Hill also pointed out that OG threw a jab at Kristen by talking about Byron not being her husband's biological father. OG admits she's proud she said it in the midst of a fight with Kristen, and says she has no regrets. The studio audience gasps.
Hill brings up the 'Toe-G' name
The show did a rundown of OG being "offensive," but homed in on the verbal jousts with Kristen and Feby.  With Feby, it's about the rap song that she did but said wasn't about OG. But then came a recap of her being christened as "Toe G."
In the show's scene, Evelyn and Jackie were laughing and joking about the shoe and toe incident, but on the reunion couch, Kristen chuckles. Jackie held her head low and comments that she knew a fight was coming since OG was watching the old scene. OG is clearly fuming and mad at Jackie for laughing about the "Toe G" nickname.
OG says she is "disgusted" her friend is laughing at her. Jackie points out that she laughs at the names she's been called on the show for years and reiterates she has love for OG. They seem ok, but OG again states she's been discriminated against all season. Online, many fans are still rooting heavily for Team OG, but others are calling her dramatic.
Jen's beefs with Evelyn and Malaysia revisited
Jen made it clear episodes ago that she is over this group of women, and she reminded everyone of that tonight. When the story about Evelyn's daughter came up, she said she never said anything about Shaniece. This continues to pit Shaunie, Ev, and Malaysia against Jen, because they were the source of the information. When Evelyn says all Jen has to do is own it and they could probably be friends, Jen says, "Nah, I'm straight." The end.
If you remember, Malaysia and Jen's rift was tied to Jackie and the weird fifth wheel guy Anthony from Atlanta. But Malaysia left before they could discuss the issue with Jackie. It really boils down to some he-said-she-said-she-said confusion about who's spreading rumors that Malaysia's children are dirty and neglected. No one really knows Anthony personally.

We all finally learn who Anthony is, which is some random stranger DM'ing the BBW cast on Instagram. It sounds like he was making up things to get attention from Jackie and Kristen online, which resulted in a war between Jackie and Malaysia.
Costa Rica disaster is recapped
The only resolution is Feby and Jackie, who apologize to each other for the mean comments they said about each other. They might end up friends someday.
Scenes from the trip are played where Evelyn chased down CeCe, OG confronted Kristen, and OG and Evelyn arguing, including the back-and-forth about Chad Ochocino pursuing OG on social media.
On stage, the audience is shocked by the things OG is saying about her romantic exchange with Evelyn's ex but everyone seems slightly amused that she's making it rain "receipts" with a money gun.
Hill asks Kwame if he knew about the messages between his girl and Ochocinco, and at first said the tweets were before his time. But then he and OG confirmed that he was sitting in the bed with her when she and Ochocinco messaged each other (we're not sure of the timeline for that).
Evelyn and OG continue to throw insults at each other, with OG slamming Ev about her sexual reputation. No one is happy.
When things finally start to wrap up, Hill asks Shaunie if she thinks everyone still should be in the circle. She says no because so many people in it can't co-exist. She says the low of the season is her realizing that the show isn't going to work this way anymore.
After the reunion, Hill discusses the colorism issue with Shaunie
Shaunie said she didn't intentionally want OG to feel isolated. She went on to add that over the years, BBW has worked to welcome women of all hues and ethnicities, and she hates that this has become an issue now. She does welcome the conversation though.
"Why are the cast members responding to her differently?", Marc asks. Shaunie attributes it to OG's personality and her not allowing people to get to know her. She agrees that other women have been aggressive on the show, and how bad it looks to the viewers. She said part of the reason is that there are established relationships and they check each other on bad behavior and basically find ways to move on.
Fans online aren't exactly buying the explanation, but not everyone agrees that OG was targeted because of her complexion. Some do, but others believe she was singled out for standing up to the cast members.
About the monkey emoji Evelyn used on social media, Shaunie said that called her and asked her about it, and Ev assured her she didn't mean it in a racially derogatory way. Shaunie says she is sorry that OG had the experience she did on the show and she would love to have a conversation with her about it one day.