Bastille Helps Us Get Cozy with Disaster
In a world of bitter divide and harsh contrasts, indie-pop band Bastille hopes to bridge a gap, at least during one of their shows.
From diving into the despairs of climate change to examining all the ways one night out can devolve, Bastille has an uncanny ability to peel back the layers of the human condition and expose what festers underneath.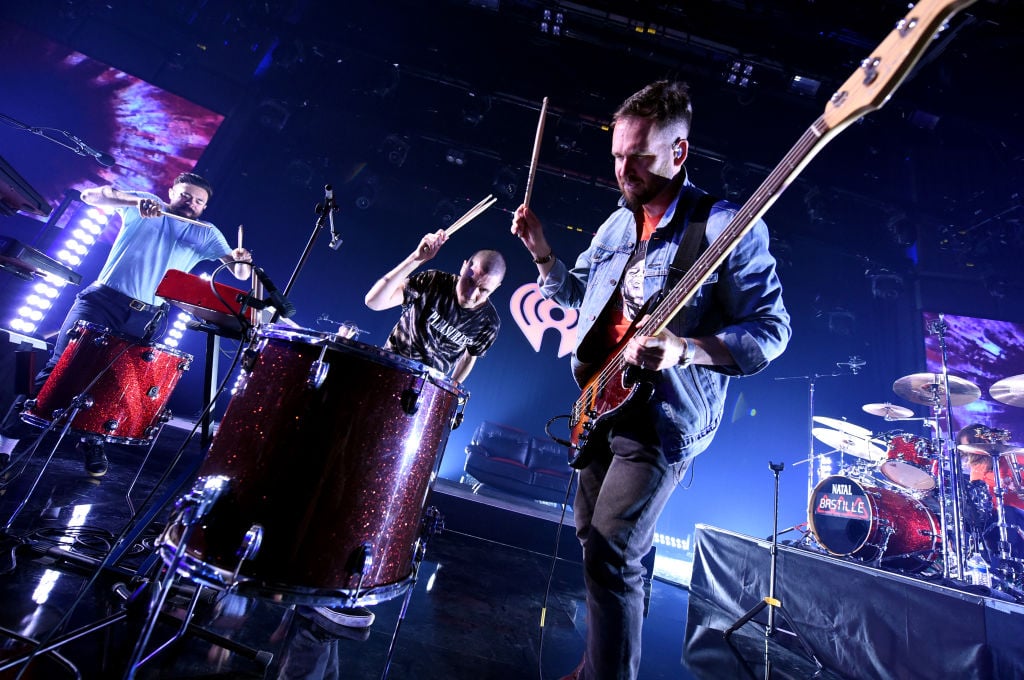 But at the same time, amid all the division, the band hopes to bring people together. Bastille's Kyle Simmons explained to Showbiz Cheat Sheet what the band hopes to achieve with their music and shows. "We've been in places where two fans stood side by side, who in any other world would be massively conflicted and they wouldn't want anything to do with each other," he shares. But he hopes fans can put their divide aside and come together for the love of music.
Walking that fine line can be tough
Simmons admits that while the band is known for their songs about controversial and painful subjects, they still want to strike a balance and provide an entertaining experience too. "It is tough because we find ourselves battling with how much to talk about [controverisal topics], how much we should push it," he continues. "Hopefully we strike a nice balance."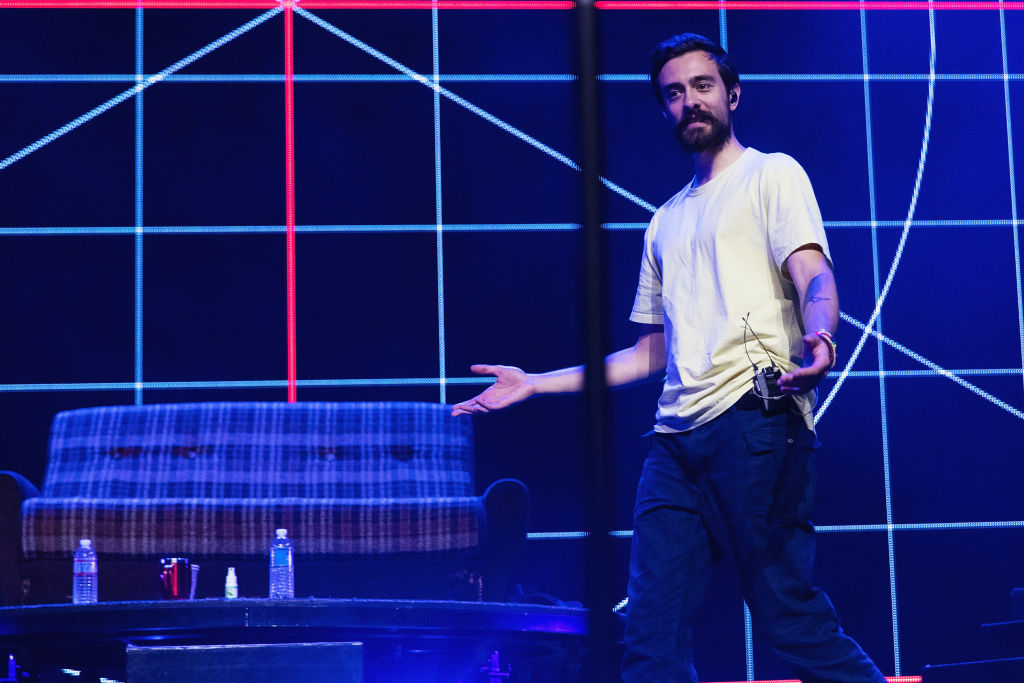 Simmons says the band feels a responsibility to address the pressing issues plaguing most people's minds. "I mean, we are affected by all of these goings-on around [controversial topics], and so just naturally that is going to seep into the music and I guess we try and toe the line between, you know, pop and like actually holding up a mirror to society," Simmons explains. "Which we feel the need to do on some level. Like some sort of responsibility to be like, 'Right, you know, that this is what's happening.'"
He adds, "But equally, music is a place for somebody's who really frustrated. Or some people don't want to deal with politics." So the band doesn't want their albums to be too political either.
'I want you to be happier'
Simmons talked about their new hit, "Happier" which steers away from politics and dives into the pain of leaving a relationship. "For me and for a lot of people, it immediately conjures up all the elements of a romantic relationship," he shares. "It's hugely relatable. Almost everyone has gone through a breakup of some kind."
"So you're able to use that and you're able to project that onto a song," he continues. "And you can use it as kind of as a catharsis like, 'Yeah you know I've been there, I did that with so and so.'"
But then Simmons addresses the heart-wrenching video for "Happier" where the relationship is between a young girl and her dog. "The video comes along and completely turns it on its head," he says. "And its about the love of a pet. It's easy to relate to a song like that I think."
Simmons shares where the band finds their influences
Like most musicians, Bastille's sound comes from various genres including R&B, classic rock, indie pop, and even country music. "Dan [Smith] remains our songwriter and his mum was a country singer," Simmons shares. "He grew up with a lot of Simon and Garfunkel and that kind of vibe. But [he] also grew up listening to the Fugees. Woody listens to a lot more rock and Queens of the Stone Age."
Simmons leans into R&B, garage rock, and hip hop. "And that's why we get that kind of eclectic sound," he concludes. "So from track to track you might get that string-led beautiful piece and then the next thing could be like incredibly electronic. It just kind of a mixture of all the kind of things that we grew up listening to."
And how did they arrive at the name Bastille? "I think it was suggested by one of Dan's friends because his birthday is on Bastille Day," Simmons says. "So someone just suggested it, like 'How about Bastille?' And it's like one word and it was a very powerful thing to happen. Like the storming of the Bastille. And it's all about revolution. And we thought the word itself sounded quite nice and quite powerful."
What's next for the band?
Bastille has been playing massive venues throughout the world. However, the band recently partnered with Mastercard and JetBlue to bring a show to Sony Hall in New York City on November 7. Simmons says the band is thrilled to play a smaller, more intimate venue. "It was an opportunity to be able to play like a really cool, intimate, small kind of club, which is something that we rarely get to do," he shares. "So we basically have this opportunity to do that. And in New York, which is really nice."
Although Bastille just released the concept album, Doom Days, could Simmons predict if Bastille would continue on the same path or are fans in for a sharp right turn? "Doom Days, which was just released is the third of what we view as a trilogy," Simmons says. "Bad Blood, Wide World, they were part of the trilogy. They are all kind of stuck together."
When thinking of a fourth album, Simmons says fans may end up being surprised. "But who f***ing knows at this point," he laughs. "But we are writing music constantly, but it's going to be really great. Because we are putting our heart and soul into it and there really are no boundaries now."