Before 'Ant-Man': 8 of Paul Rudd's Best Roles
Paul Rudd had his breakout moment in the classic teen comedy Clueless and has since become one of Hollywood's leading funny men. He's made countless audiences laugh with his memorable roles in everything from cult films like Wet Hot American Summer to comedic blockbusters like Anchorman. Next up, he'll take on a role he hasn't yet conquered: a superhero.
In this month's Ant-Man, Rudd will play the titular hero, also known as Scott Lang. The film follows Lang as he helps his mentor (Michael Douglas) protect the secret of his Ant-Man suit and pull off a heist that will save the world. The movie, premiering July 17, has garnered a ton of buzz and is one of the most anticipated flicks of the summer.
Ahead of his Marvel debut, here's a look back at some of the most standout roles of Rudd's career:
1. Clueless
The world first fell in love with Rudd after this 1995 comedy, in which he played Alicia Silverstone's socially conscious stepbrother-turned-boyfriend Josh. Early on in the film, Rudd is the perfect contrast to Silveron's spoiled and superficial Cher Horowitz. By the end though, you – like Cher – can't help but realize Rudd's Josh really is "kind of a Baldwin." His performance is one of the many reasons this film remains a favorite today.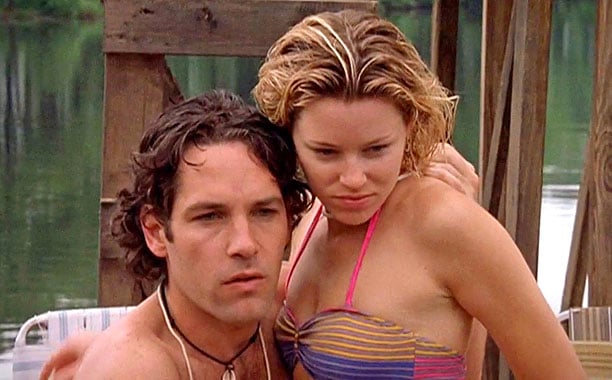 2. Wet Hot American Summer
It seems like half of Hollywood's now biggest names held a part in this absurd 2001 comedy, including Elizabeth Banks, Amy Poehler, and Bradley Cooper, just to name a few. But even among some such a packed ensemble, Rudd manages to stand out. As the dim, womanizing lifeguard Andy, the actor steals every scene he's in –whether his character is cheating on his girlfriend or losing a bunch of campers. Basically, the film is early proof that Rudd was meant to be a comedy star.
3. Anchorman: The Legend of Ron Burgundy
Out of Rudd's many quotable roles, his part of Brian Fantana, Channel 4 News Team correspondent, probably tops the list. Whether dousing himself in his Sex Panther scent (60% of the time, it works everytime) or proclaiming himself the stylish one of the group, the actor brings tons of laugh – proving he can more than hold his own among hilarious Hollywood vets like Will Ferrell and Steve Carell.
4. The 40-Year-Old Virgin
In Judd Apatow's first feature film, Rudd plays David, one of the men that helps make over Steve Carell's Andy. It's a supporting role, but Rudd makes his time on screen count. In fact, Rudd and Seth Rogen provide one of the movie's most infamous scenes, when their two characters partake in an offensive but funny battle of "You know how I know you're gay?" jokes. Rudd gets the best one: "You know how I know you're gay? You like Coldplay."
5. Forgetting Sarah Marshall
Rudd again proves that he can make the most out of any material, no matter how minor the role, in this 2008 comedy. His character Kunu, a surf instructor to the broken-hearted Segel, only appears in a couple of scenes, but he delivers some of the funniest lines of the movie ("Oh the weather outside is weather"). Plus, the scene in which he attempts to teach Segel how to surf with one instruction -"Pop up, do less" – is one of the most fantastically memorable of the whole film.
6. Role Models
The 2008 comedy was Rudd's first screenplay and it left many critics wondering what took so long. The film stars the actor as stuck-up energy drink salesman, Danny, who is forced to either become a big brother or end up in jail. A consistently funny script and Rudd's chemistry with co-star Sean William Scott makes this movie surprisingly effective. As Film.com wrote at the time of its debut, "Role Models could have been another formulaic comedy, fresh off the assembly line. Instead, the work of Paul Rudd and Seann William Scott here is worthy of praise and one of the funnier films this year." Bonus: the scene in which Rudd engages in a medieval fight while dressed like a member of KISS.
7. I Love You, Man
Rudd plays Peter Klaven, a groom-to-be with no friends who has to find a best man. You'd think it'd be hard to buy Rudd as a guy with no friends, considering how likable he is, but he's so good at playing the goofy and flustered guy that it works. It's his chemistry with Jason Segel that really makes the film though. When his character hits it off with Segel's Sidney, the two form a bromance that's hilariously entertaining.
8. Prince Avalanche
The 2013 film stars Rudd alongside Emile Hirsch, as two men painting traffic lines on a desolate country highway that's been ravaged by wildfire. Rudd might look kind of ridiculous as Alvin, boasting overalls and an mustache, but the role actually marks a more serious tone for the actor. His subtle and layered performance proves the funny star can also pull off drama. As San Francisco Chronicle wrote, "Rudd is particularly impressive both in his ability to pull off skewed comic moments and suggest the strains of anger and loneliness in his character."
More from Entertainment Cheat Sheet:
Want more great content like this? Sign up here to receive the best of Cheat Sheet delivered daily. No spam; just tailored content straight to your inbox.