Before 'Stranger Things' Season 4 You Can See Winona Ryder in 'The Plot Against America'
Stranger Things has shut down production on Season 4 while the world practices social isolation as a precaution for the novel coronavirus (COVID-19). While you wait for the new season of the Netflix show, you can see Winona Ryder on HBO. She filmed The Plot Against America between seasons of Stranger Things.
The Plot Against America is a historical fiction about an alternate world in which Charles Lindbergh beat Franklin D. Roosevelt in the 1940 presidential election. As a result, World War II went differently and created a very different reality for American Jews. Ryder was on a Television Critics Association panel for The Plot Against America on Jan. 15. The show airs Mondays at 8 p.m. on HBO.
Winona Ryder hopes 'Stranger Things' fans follow her to 'The Plot Against America'
Stranger Things has made a lot of young viewers love science fiction because they can relate to the young cast of the show. The Plot Against America is aimed at HBO's older subscribers but Ryder hopes it interests her new fans too.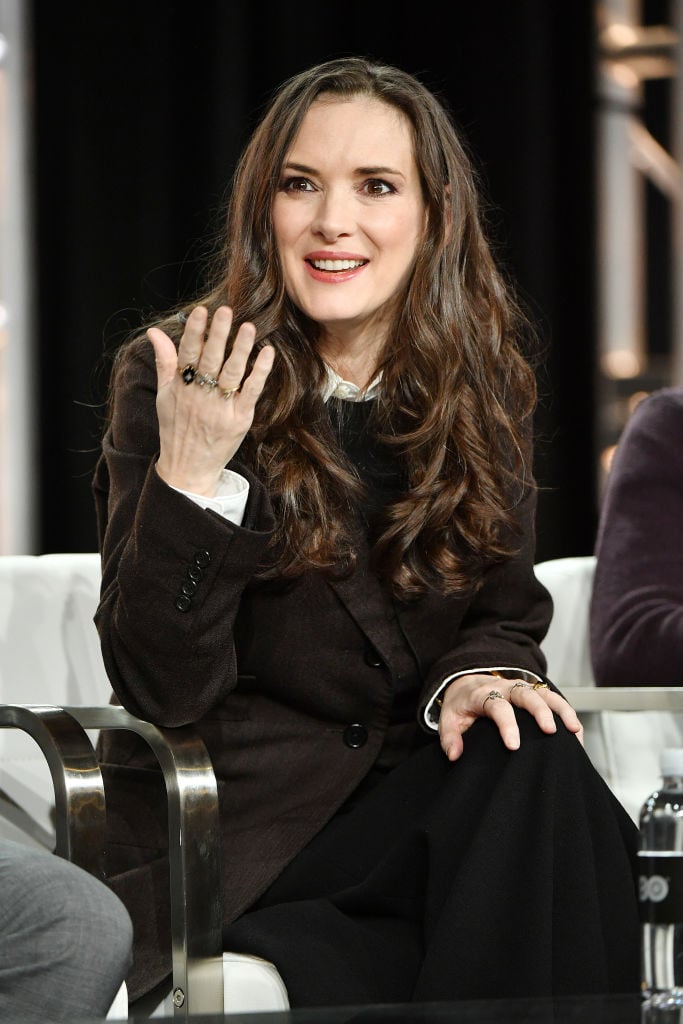 "That's exciting to me because they're young," Ryder said. "A lot of them are quite young, and I think it's a great introduction to an incredibly important author but also quite important and timely, relevant thing that's happening in our world."
The 'Stranger Things' cast supports 'The Plot Against America' too
Philip Roth published The Plot Against America in 2004, before Ryder's Stranger Things co-stars were born.
"I told them what it was sort of about," Ryder said. "They said, 'Oh, when did he write it?' And they did not believe me when I said when he wrote it. Everyone thought he had just written it, that he was alive, that he had just written it because of the climate. So I'm very excited for people to see it. I think it hits you. It's a guttural, visceral thing that happens when you watch this. I just think it's important and I'm really excited for everybody to see it."
Winona Ryder's family lived through The Holocaust
Ryder is Jewish and had family on both sides during World War II. She related to The Plot Against America as what could have been.
"I think anyone of a certain age whose grandparents immigrated from Europe, this story would resonate with us. I lost my grandfather in World War II on my mom's side and on my dad's side I lost many people in the camps so it is very difficult. It's painful and it's incredible to work with these people but also I never thought in my life I would ever personally see a swastika except in a movie or something. I just think it's a very relevant, clearly relevant."

Winona Ryder, Television Critics Association panel, 1/15/2020
Winona Ryder's characer in 'The Plot Against America'
So, there's no Upside Down or demogorgon in The Plot Against America. It is a period piece like Stranger Things, but a few decdes earlier. What it also has are two sisters, Bess (Zoe Kazan) and Evelyn (Ryder). Bess is married and Evelyn is not. The HBO adaptation also makes Evelyn the older sister, a switch from the book.
"I was actually really glad for the shift," Ryder said. "In talking a lot to my parents, who grew up even in the late '50s, early '60s, to be unmarried and have a younger sister who was married and had a family and was a shanda, right? My dad had this Aunt Mildred who was like 32 and she would dress in very tight clothes. He adored her. And she was sort of 'allowed to dress that way 'cause she needed to get a man.' I also think that she is a romantic and she really does want these things and also is quite insecure. Not in her job, but I do feel like she wants so badly what her sister has."
Bess and Evelyn do get to bond amid the political turmoil in The Plot Against America.
"I also really appreciated the sort of complexity between our characters," Ryder said. "Those little moments where I get to help and I get to feel like, 'Oh, I know all about makeup,'' that was one of our first scenes together. I just was like lost in Zoe's eyes, because it was very, very touching. So this sort of dynamic of being sort of constantly disappointed, even though it's happened romantically and it's coming to her, and then meeting, of course, the rabbi, and then it sort of takes off in a different direction from there."