Being Married to Matt Lauer Was Annette Roque's Personal Private Hell
Annette Roque's 20-year marriage to disgraced Today host Matt Lauer was anything but blissful. It has been a few years since the pair called it quits in the wake of his sexual misconduct scandal, and inside sources say she is finally opening up about what it was like being with Lauer. Although their marriage lasted two decades, Roque allegedly felt like she was living in her own private hell — and that's just the tip of the iceberg.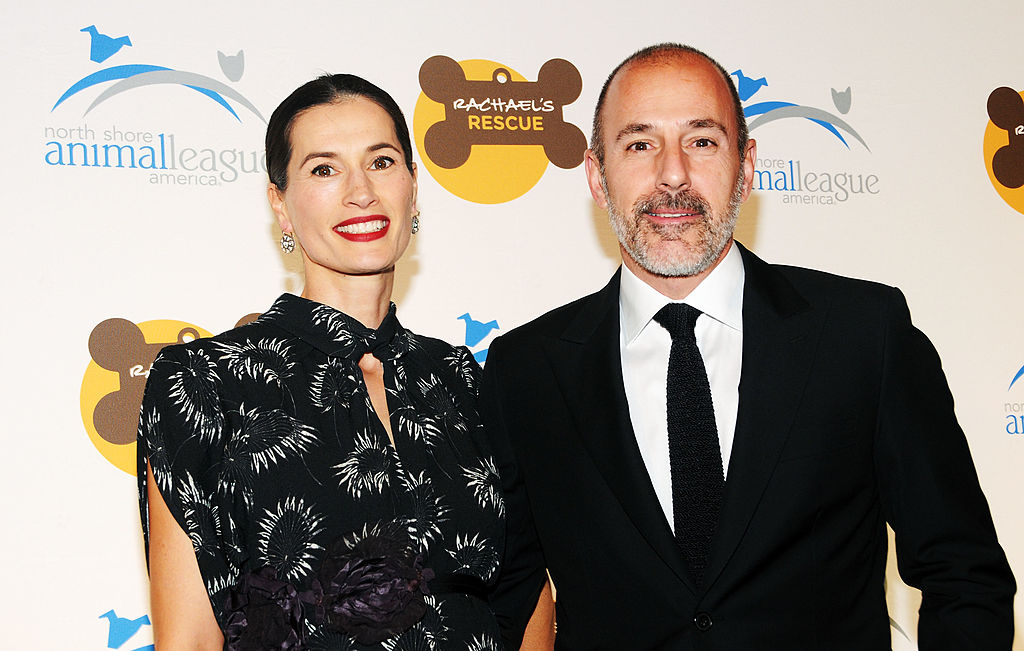 Inside Annette Roque and Matt Lauer's fractured marriage
Lauer and Roque's marriage hit a lot of stumbling blocks early on, and most of their troubles stem from his wandering eye. According to Page Six, an insider claims that Lauer has always looked at other women, and his questionable behavior did not stop when he got married.
"There were cracks in the marriage from very early on," the source dished. "Matt has always been a ladies' man, and there were affairs in the beginning."
While Lauer was out having affairs, Roque believed his lies, which is why she stuck by his side for all those years.
She also turned a blind eye for the sake of their three children: Jack, Thijs, and Romy. Roque wanted nothing more than to give her children a normal upbringing, though it wasn't long before she found out that Lauer was being unfaithful.
With the former Today host sneaking around, the last five years of Roque's marriage were "hell." Things only got worse in the wake of Matt Lauer's sexual assault scandal in 2017, which sparked the end of their union.
The two filed for divorce shortly after his scandal made headlines. They did not, however, finalize their split until this past September, finally putting an end to Roque's 20-year nightmare.
Roque opens up about divorce
While Roque would like nothing more than to start fresh, new allegations have thrust Lauer back into the spotlight. In his new book, Catch and Kill: Lies, Spies, and Conspiracy to Protect Predators, author Ronan Farrow revealed new rape allegations against Lauer.
Brooke Nevils, who covered the 2014 Winter Olympics with Lauer in Sochi, Russia, says that he anally raped her. Nevils claims that she was intoxicated at the time of the rape and repeatedly told Lauer that she did not want to have anal sex.
Lauer has since denied the rape allegations and says that the sexual encounter was completely consensual. He also admitted to having an affair with Nevils that lasted several years after their first hook up in Sochi.
In light of the new allegations, Roque issued a statement about her husband's rape scandal. Roque basically denied to comment on the controversy now that she and Matt Lauer are divorced and assured fans that her main focus is her children.
"In response to your inquiry, our client has asked us to tell you that now that the parties are officially divorced, her priority and only concern is for their wonderful children," Roque's lawyers shared.
Roque and Lauer settled their divorce last month in a Suffolk County courthouse.
NBC has also issued a statement condemning Lauer's behavior during his time with the network. They also reiterated that Lauer was fired within hours of them learning about his behavior on set.
Matt Lauer steps back into public
While Roque deals with the fallout of yet another scandal, Lauer recently decided to get back into the public eye. Lauer has remained quiet over the past two years and broke his silence by showing up on his daughter's social media account.
The former Today host appeared in a video on Romy's TikTok account, which showed him dancing and lip-syncing to music. The video was met with mixed reactions from fans, many of whom were surprised to see Lauer step out of the shadows.
This is not the first time Lauer has popped up on Romy's TikTok. This past summer, she mentioned her father and even shared some childhood photos of her and Lauer hanging out.
Despite the divorce and scandal, Lauer and Roque have maintained a healthy partnership when it comes to raising their children. A few months ago, for example, they both attended Romy's performance at the Hampton Classic Horse Show and even snapped a photo together after the event.
As part of the divorce agreement, Matt Lauer dished out $20 million to Annette Roque. Sources say that Lauer felt a lot of guilt over how their marriage ended and wants to make things right by taking care of her.