Bella and Gigi Hadid: Every Time These Sister Models Made Us Smile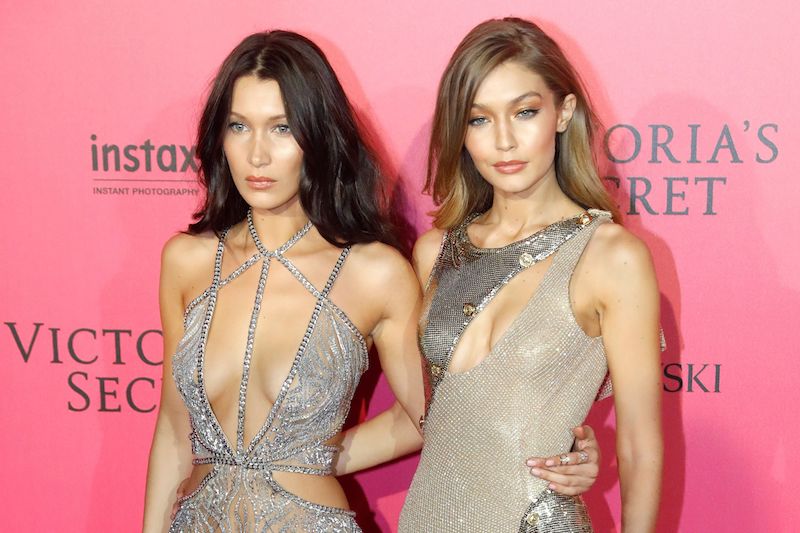 Only one year apart, sisters Bella and Gigi Hadid are both supermodels and best friends. Though they look incredibly similar, their fashion and beauty choices, including the way they style and color their hair, could not be more different. Though Bella has admitted she dyes her naturally blonde tresses dark to differentiate herself from her big sis, there still a ton of love and adoration between them.
Having an uber-famous mother — former Real Housewives of Beverly Hills star Yolanda Hadid — and being thrust into the spotlight at a super young age hasn't stopped the Hadids' sisterly bond. Here are 11 times the sister models made us smile.
1. That time Bella pranked Gigi on the radio
Bella and Gigi might be supermodels — but they certainly don't take themselves too seriously. During an interview with Nick Grimshaw during a live Radio One U.K. Interview, Bella decided to tease her big sister. Bella called into the show calling herself Emily (starting at 11:15 in the video above) when Gigi was promoting her Tommy x Gigi line. With a near perfect English accent, Bella said, "I was just wondering how you got into modeling. I'm such a big fan."
However, Gigi began to suspect something was up when Bella (as Emily) said, "Wow! I love you, and I'm so excited about the collection, and I wanted to tell you that you are a bright shining star, bright, bright. Keep shining, baby."
Gigi immediately responded, "It's my sister! That's what I thought."
2. Sisters in Paris
Both Bella and Gigi had their best smizes on in Paris back in 2016. The photo was obviously Instagram gold.
3. When Gigi posted the sweetest birthday message to Bella
When Bella turned 21, Gigi posted a super cute throwback picture of her and her sister on Instagram.
She wrote, "TOMORROW WILL BE 21 YEARS SINCE I MET MY FOREVER BESTIE @bellahadid❤ (me wearing all red on your actual day of birth is MAJOR and possibly the reason it's your favorite color 😜)."
4. When they slayed the Victoria's Secret Fashion Show runway together
https://www.instagram.com/p/BNezi2YASw5/?taken-by=bellahadid
Though Gigi seemed poised and collected, apparently Bella cried the entire night of the Victoria's Secret Fashion Show. She wrote on Instagram:
I cried when I saw my sister put her wings on for the first time And I cried again when @hoskelsa opened the show And I cried again when @_dilone walked. And again when @ed_razek spoke. And then cried 5 more times after that just because emotions.
5. When they snuggled together on Venice Beach
https://www.instagram.com/p/BQRr-kWALys/?taken-by=bellahadid
Nothing is better than seeing you sister win, which is why Bella was so excited for Gigi's Tommy x Gigi runway show and collection. She posted on Instagram:
I'm so proud of you and all of your accomplishments sister..🙏🏼❤another incredible collection and the most EPIC show I have ever seen..😍😍You shut down Venice beach…!!!! There is not a day that goes by that you don't fully & completely amaze me! I love you so much! Congratulations @tommyxgigi @[email protected]
6. The perfect throwback
Gigi posted the cutest throwback photo of her and Bella when both of the Hadid sisters were still blondies.
7. That time the Hadids actually rocked the same hairstyle
https://www.instagram.com/p/BQjZfgMghkp/?taken-by=bellahadid
Gigi and Bella might be a blonde and a brunette, but that doesn't mean they can't rock the same look.
8. Sometimes you just need a Disney break
https://www.instagram.com/p/BQ-0nGlBg9J/?taken-by=bellahadid
If the Hadids were all work and no play, they wouldn't be very fun. The sisters took some time out of their hectic schedules and visited Disneyland Paris — they even met Mickey.
9. Draped in Versace
https://www.instagram.com/p/BZZH04dHZxt/?taken-by=bellahadid
When both you and your sis get to get all dressed up to celebrate the genius of Donatella Versace — what's better than that?
10. Fendi and bold lips
Have you ever seen a more iconic fashion show duo?
11. Protesting chicas
The Hadid sisters always make sure to bond together, and they even made their voices heard when they went out to protest Trump's Muslim ban.
Follow Aramide on Twitter @midnightrami.
Check out The Cheat Sheet on Facebook!