Bella Hadid's Best Fashion Moments
Bella and Gigi Hadid have proven that high fashion runs in the family. Bella Hadid, the younger of the two model sisters, has no problem with taking huge risks in her daily style and is constantly leading the way with trends. She looks stunning no matter where she goes, with her looks always on point.
Here are the 15 most iconic moments that prove the youngest Hadid sister is paving her own way in fashion.
15. Taking fashion risks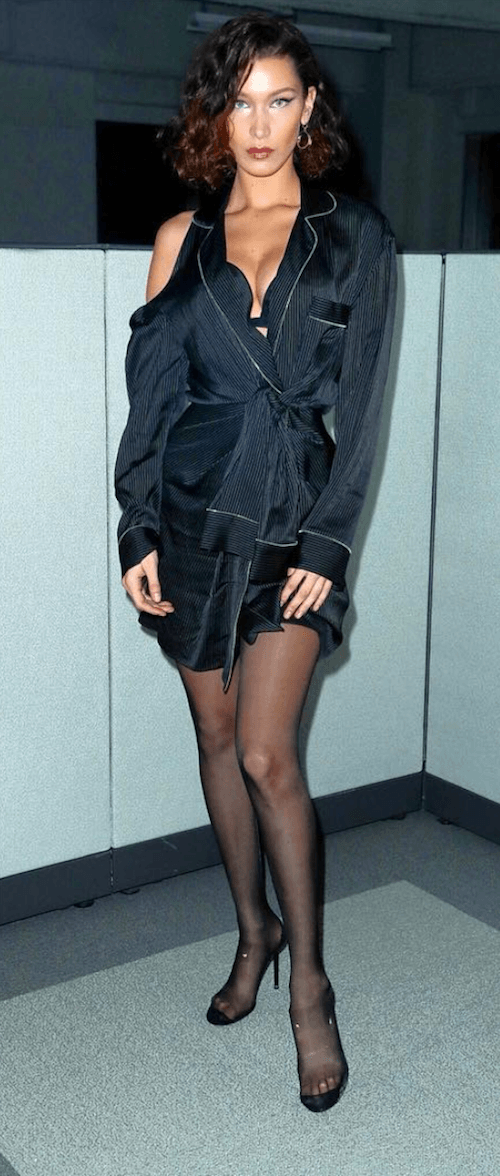 Hadid isn't afraid to take fashion risks to a whole new level. It takes a certain level of confidence to be able to turn a pajama shirt into a sexy ensemble, and Hadid does so with ease. We love her short haircut, dramatic winged eyeliner, and trendy clear heels to emphasize the look.
She rocked this look in New York City for Alexander Wang New York Fashion Week show, and she looked just as stunning on the sidelines as she normally does on the catwalk.

Next: She gave this basic garment a fashionable twist.
14. Puffer coat chic
We can confidently say this look is one-of-a-kind, and we're totally loving it. Hadid manages to make this asymmetrical and matching puffer coat and skirt combo look chic, wearing it over a white turtleneck and paired with some serious military boots.
Hadid shared this photo on Instagram, writing, "Back2work Milan." She continued, "Before opening @dsquared2 show yesterday Biggggg big love to the amazing, generous, loving, Incredible Dean& Dan Thank you for an amazing day & Night."
Next: She can get dressed down, too.
13. Fashion-forward in overalls
It's not often that we see Hadid in a laid-back ensemble, but even when she wears denim, she looks high-fashion as ever. She looks incredibly fashion-forward in overalls worn with a striped top, and we love the way she incorporated dramatic hoop earrings and perfectly winged liner.
Her messy bun gives the look the perfect finishing touch and Instagram-ready, where she posted this photo with the caption, "Another day, Another…🌹."
Next: She looks amazing on and off the runway.
12. After party style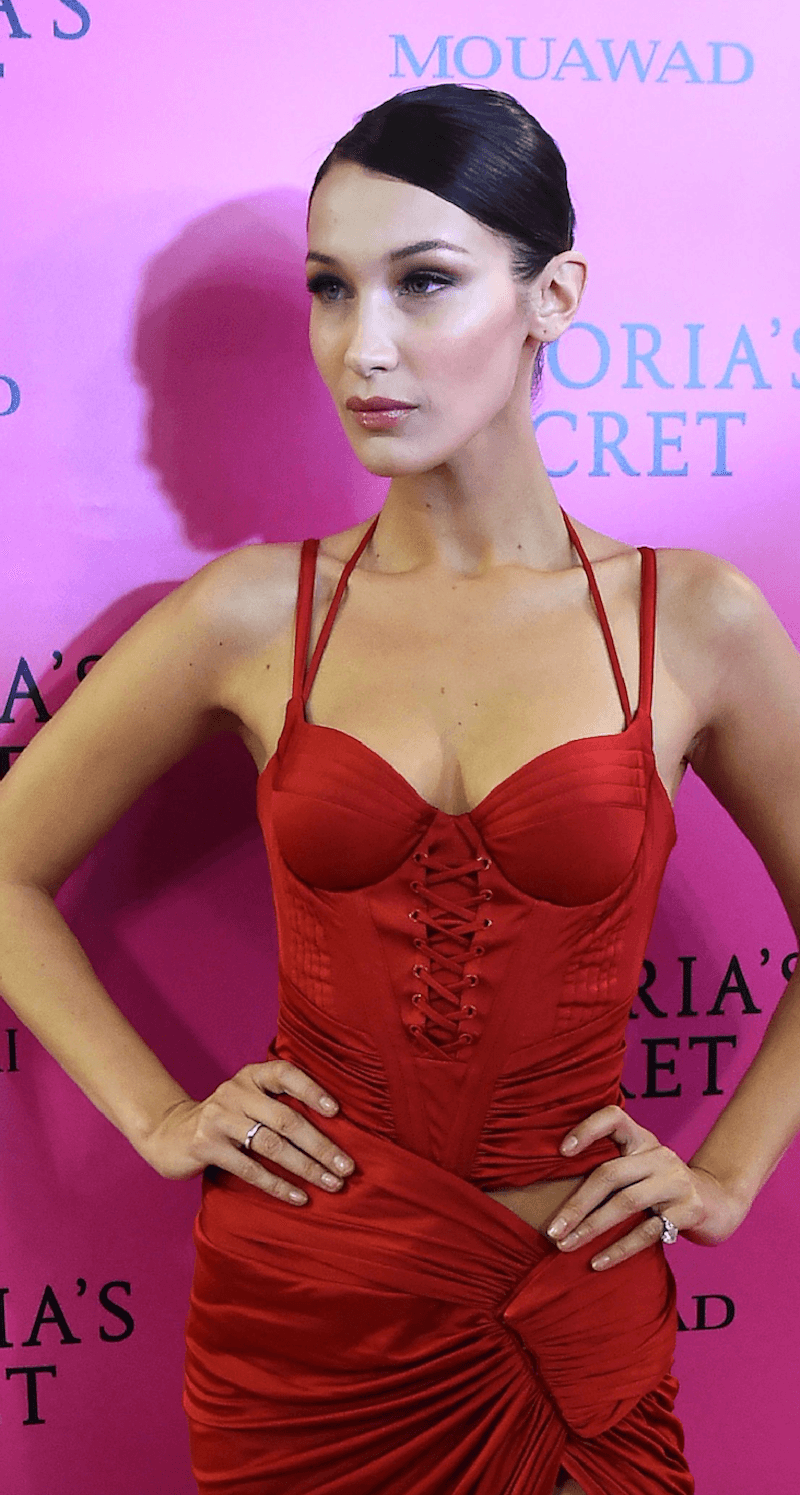 Hadid is familiar with strutting down the runway for Victoria's Secret in sexy ensembles, and she continued the trend at the 2017 Victoria's Secret Fashion Show after party.
From her corset style top to the peek-a-boo cut out to her skirt's super high slit, she proved just how fearless she really is.
Next: She looks like she means business.
11. Fierce in white
Hadid was one of the fierce women in attendance at Glamour's 2017 Women of the Year Awards — and her outfit reflected just that. Her white, silky pant suit was fresh off the rack from Cristina Ottaviano's Spring 2018 collection.
We love the futuristic vibes she brought by pairing it with her asymmetrical silver top.
Next: She makes black look anything but basic.
10. Trendy in Dior
Even in an all-black ensemble, Hadid manages to make a major fashion statement time and time again. She brought her A game to Dior Homme's show during Paris Fashion Week in 2018, wearing a Dior matching suit and scarf combo.
She made the look particularly sexy with nothing but a lace bra underneath, and gave the look her own personal touch with trendy, small sunnies.
Next: She was looking sultry in this sheer dress.
9. Romantic in New York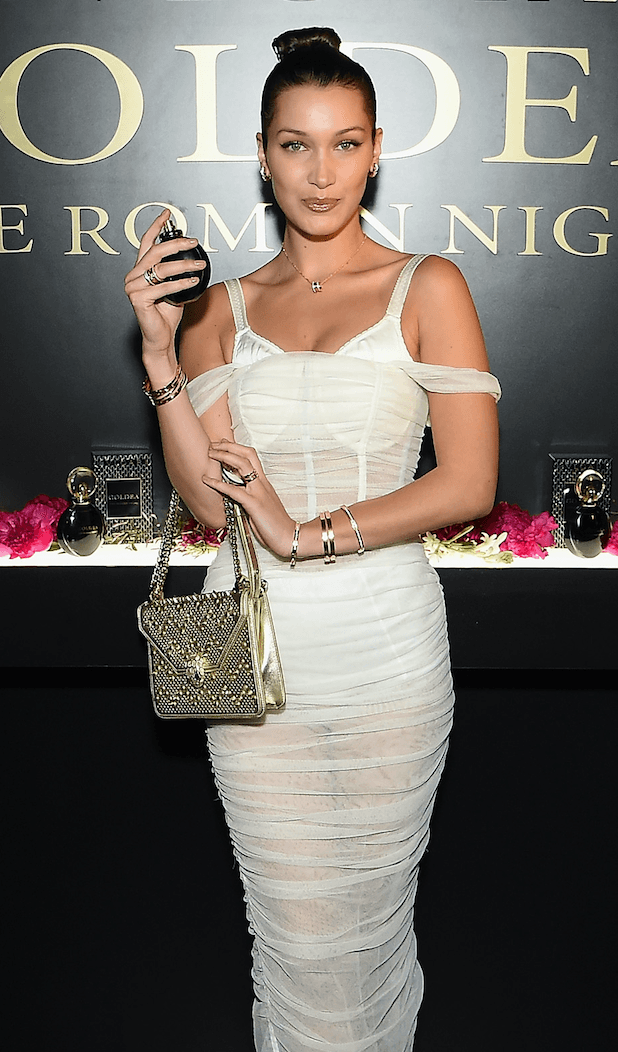 We can't get enough of Hadid's romantic look she brought to the New York Bulgari launch of a new fragrance, called Goldea, The Roman Night in September 2017. As the campaign's star, she looked sultry in a bunched up, sheer white dress, Francesco Russo pumps, and completing the look with a gold handbag.
According to InStyle, her gorgeous high ponytail was styled by hairstylist Jen Atkin, and her flawless makeup was done by makeup artist Nina Park.
Next: She doesn't shy away from colors.
8. Going for color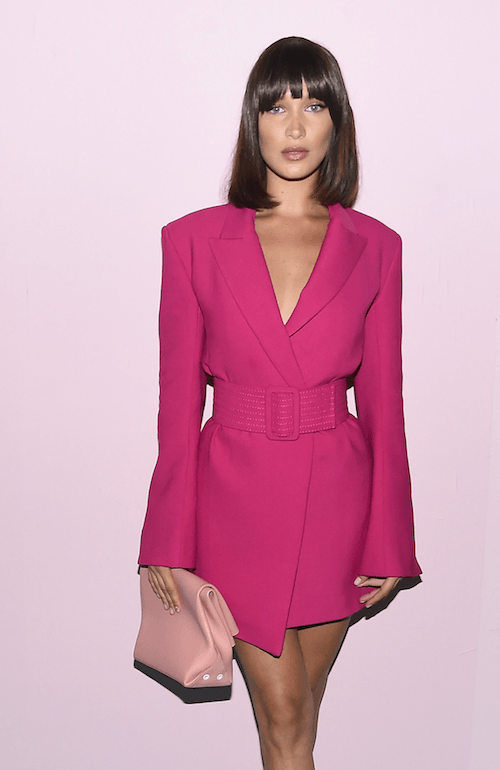 Hadid may often opt for darker colors, but she's proven to look amazing in bright hues, too. Here she opted for a fuchsia blazer from Off-White, which she transformed into a fashionable dress.
We love her bold hair change for the 2017 CFDA Fashion Awards, which features bangs and a lob-length cut.
Next: Wardrobe malfunctions didn't take away her fierceness.
7. Angelic style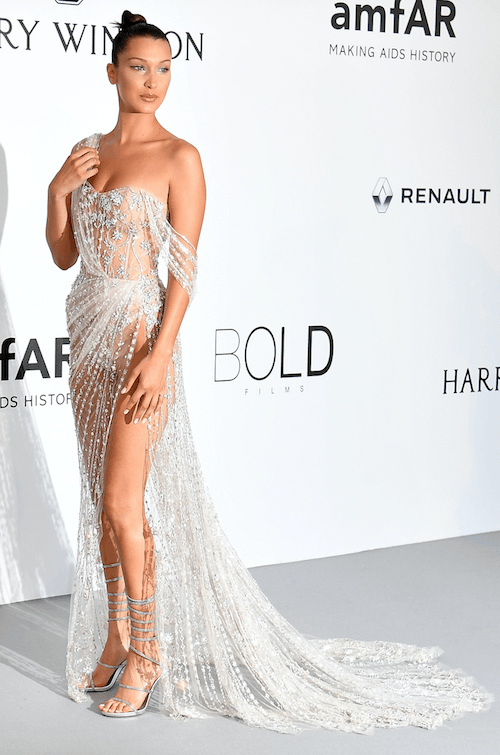 Hadid looked like a literal angel at amfAR's 24th Cinema Against Aids Gala in May 2017. She showed off her Cannes fashion sense with three separate outfits throughout the night, though this look was definitely or favorite. Her sheer number is a crystal-embellished gown by Ralph & Russo, and it proved her body confidence is off the charts — even though she suffered a bit of a wardrobe malfunction.
She may have exposed her nude underwear and her chest area may have been put on display through the dress at times, but it's nothing the model couldn't handle with poise.
Next: She rocked that hair flip.
6. Looking like royalty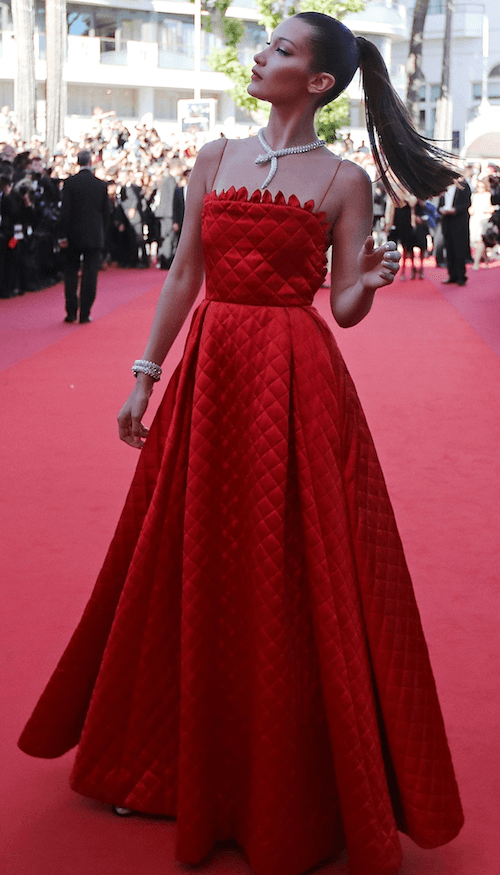 Hadid definitely deserved to flip her hair in this fiery outfit she wore to the Cannes Festival in 2017. She looked like straight-up royalty in this Christian Dior gown, but she gave the look her own edgy twist.
Her bold snake necklace, intense high ponytail, and perfect cat eye let everyone know she meant business.
Next: She pulls of this signature sexy style.
5. Signature leg slit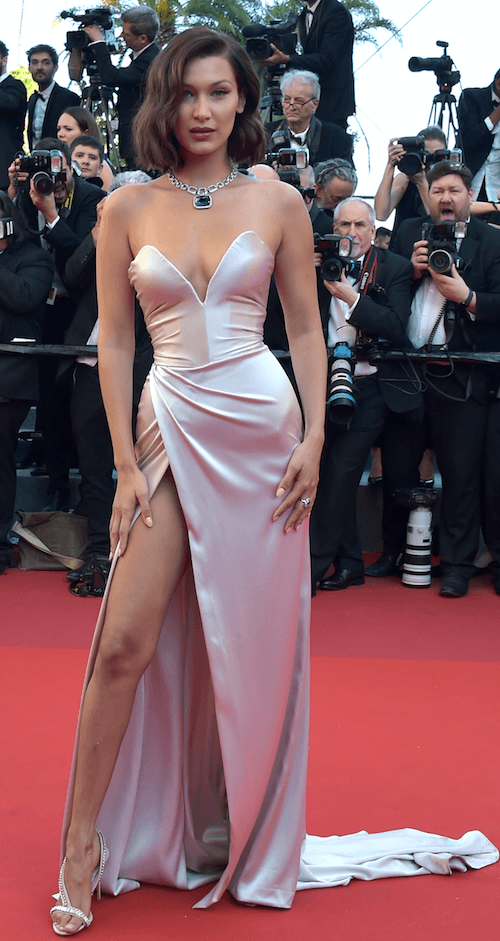 Another dress, another sexy leg slit. We're loving Hadid's statuesque fashion she brought to the 2017 Cannes Film Festival. Her silk Alexandre Vauthier gown fit like a glove, and we love the light pink hue of the dress.
It complemented her soft, romantic waves perfectly, but her fierce fashion sense was still shining through.
Next: She clearly isn't afraid to go sheer.
4. Completely sheer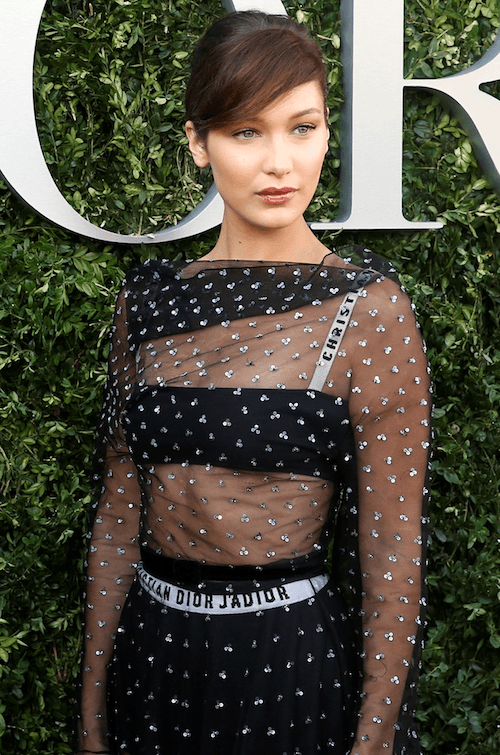 Hadid made a bold statement in her ensemble for the opening of the Dior exhibition in July 2017. Not only did she stun in a sheer Dior dress at the event in Paris, but she gave us a clear view of her Dior boyshorts and bra underneath.
Her hairstyle was much softer than usual, bringing out a bangy look that suits her face gorgeously.
Next: She even looks stylish while lounging on the couch.
3. Patchwork pants
Even when Hadid is lounging around on the couch, she still manages to look chic. We can't stop obsessing over her patchwork pants, and we love the combination with her oversized belt and simple white tee.
She added a bit of edge with her blunt haircut, giving her some super modern, yet throwback style vibes.
Next: She put a trendy twist on these classic styles.
2. Look of pure bliss
Hadid seems to have a style for every occasion. She shared this photo on Instagram, tagging her location in Tuscany, Italy. She puts a trendy twist on classic styles, with a super high-waisted pinstripe skirt and off-the-shoulder white button up shirt.
With her wine in hand and sunglasses on, her best accessory is her look of pure bliss.
Next: This suit belongs in a museum.
1. All gold everything
Gold is definitely Hadid's color. She was glowing in this all-gold matching suit, and she added a sexy touch with her bandeau top underneath her blazer. She was looking sleek and glamorous by finishing her look with pin-straight hair and gorgeous statement earrings.
She shared this photo on Instagram, writing, "So happy to celebrate the re opening of new @maxmara store on Madison Ave and see my new campaign and bag in real life! Love my MM family xo."
Read more: Gigi and Bella Hadid's Most Scandalous Photo Shoots Ever
Check out The Cheat Sheet on Facebook!