Bella Thorne's Fans Are 'Disappointed' In Her Instagram Post Promoting a Weight Loss App
There are plenty of controversial celebrities, and one of the relative newcomers is Bella Thorne. Thorne first attained fame through the Disney Channel but has since gone her own way — and she's made her free-spirited attitude known. From releasing her own nude photos to getting involved in the adult film industry to creating provocative posts on Instagram, she's no stranger to fan backlash, either.
Thorne has made it clear she's unconcerned with the media hate, as she's branched out into the worlds of music, makeup, and filmmaking despite the negativity. While she certainly has plenty of fans who back up her endeavors, one of her Instagram promotions really missed the mark. Here's what she posted.
Bella Thorne continues to cause controversy via social media
With over 20 million followers, Thorne has been posting her life to Instagram and attaining an audience for quite some time. But many of her "artistic" endeavors have missed the mark with her fans. In October, it was her Halloween makeup that startled her fan base. The star posted photos of her covered in makeup to make it look like her face was physically beaten, and many thought it was totally offensive to those in domestic violence situations.
Not only that, but other celebrities have called out Thorne, too. We can't forget when Whoopi Goldberg criticized Thorne for releasing nude photos to the public via Twitter. And when Thorne tweeted a complaint about traffic making her late for her boyfriend's concert back in early 2018, Rob Lowe called her out since the traffic was a result of mudslides that killed at least 17 people.
"This attitude is why people hate celebrities/Hollywood. Bella, I'm sorry you were inconvenienced. We will try to move out our dead quicker," Lowe tweeted in response.
Thorne promoted the Flat Tummy App
Aside from some of her more abrasive social media posts, Thorne's partnerships are also causing an uproar. She took to Instagram to share a post of her in full workout gear doing a "lower body challenge" with no equipment. The top right corner of the post features the "Flat Tummy" logo, as that's the company Thorne's paid to promote.
Thorne suggested to her followers in her Instagram caption that they should download the Flat Tummy App. "I never have time to get on a real schedule but this is keeping me on track. It's got home workouts, meal plans, progress trackers.. EVERYTHINGG!!" she wrote. "You don't need expensive equipment or any of that stuff – you just need this app."
Thorne is one of many influencers who's promoted Flat Tummy Co.'s products. The Guardian explains the Kardashians, the Jenners, and hundreds of other celebs have all promoted the company, and Flat Tummy makes major money from Instagram, too. Unfortunately, the company uses its "wellness" brand to make cash off of women's' physical insecurities — and even ex-employees have spoken about how they wish they were never a part of it.
Thorne's followers are giving her serious backlash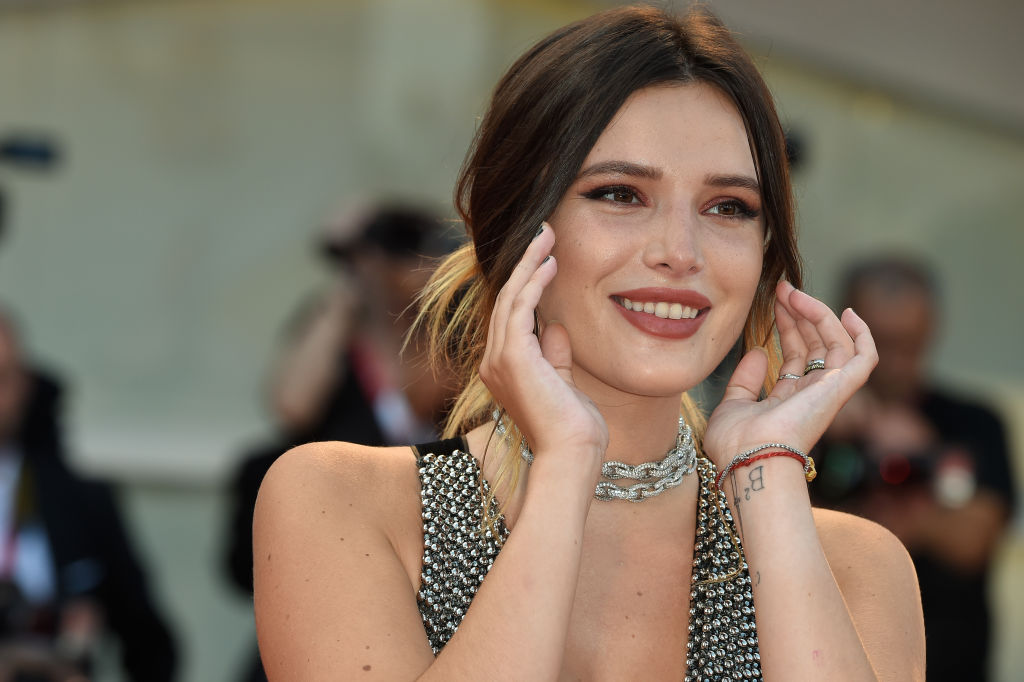 Thorne's followers certainly aren't happy with the post. A few called out that she had a naturally thin physique that clearly wasn't helped by the Flat Tummy App. And others were surprised to see Thorne in workout clothes since she appears to never workout otherwise.
One follower commented, "i know you just want to get your coin but it's not like you're on the brink of being homeless, i hope you actually use this app and please don't forget your morals."
Another wrote, "I love your authenticity Bella but I'm very disappointed with this."
And another added, "disappointed you're promoting this tbh."
As stated before, Thorne is one of many promoters for this brand. While we hope she stops pushing weight loss products to her followers and instead pushes more authentic content, we're not too surprised to see another celebrity give Flat Tummy Co. their attention.
Check out Showbiz Cheat Sheet on Facebook!