Bella Thorne's Instagram Followers Are Making Inappropriate Chris Brown Jokes About Her Halloween Makeup
There are quite a few Disney stars who've managed to make it big over the years, and Bella Thorne is one of them. Many know her for her work in acting, but we can't forget that she also has a seriously outspoken attitude and strong social media presence that garners a lot of reactions. From shutting down body-shamers to advocating for more sex positivity online, whether you love her or hate her, there's no doubt Thorne will continue to be talked about for years.
It looks like Thorne's recent Halloween makeup is getting a ton of attention, too. And some are even making highly inappropriate jokes about singer Chris Brown in the comments of the post. Here's why.
Chris Brown has a notable history of violence toward women
Before discussing Thorne's makeup, it's important to note Brown's past. Rolling Stone reminds us that one of the first well-documented cases of Brown's abuse was in regards to fellow singer and his then-girlfriend, Rihanna. Back in 2009, the two left a pre-Grammy party and got into an altercation publicly that left Rihanna with visible marks of abuse on her arms and face. Rihanna was hospitalized and Brown was charged.
It didn't end there for Brown, however. In the following years, Brown was accused of shoving a woman in a club, breaking a window after being asked about his abusive past during an interview, and punching a woman in the face. As recently as 2016, another woman also accused Brown of threatening her with a gun. Brown claimed he was innocent in the incident and took to Instagram to express as much, but there's no doubt his reputation is forever damaged.
Bella Thorne wore makeup for Halloween to look like she was abused
Thorne is known for pushing the envelope as we know, so it shouldn't come as too much of a surprise that her choice of Halloween makeup was quite edgy. "Hire me for your Halloween makeup I got u boo," she captioned her post. And the post depicted multiple images of her with bruises on her face, a black eye, and bloody lips to make it look as if she was physically abused.
The post garnered a ton of attention, but it wasn't the only Halloween look she posted. Thorne also added a few photos of her in a provocative Girl Scout uniform that didn't show off any of the controversial makeup. And she later added another video to her Instagram that she directed for her brand, Forbidden Flowers, and also showed off some Halloween looks.
Thorne's Instagram followers are making jokes about Brown's past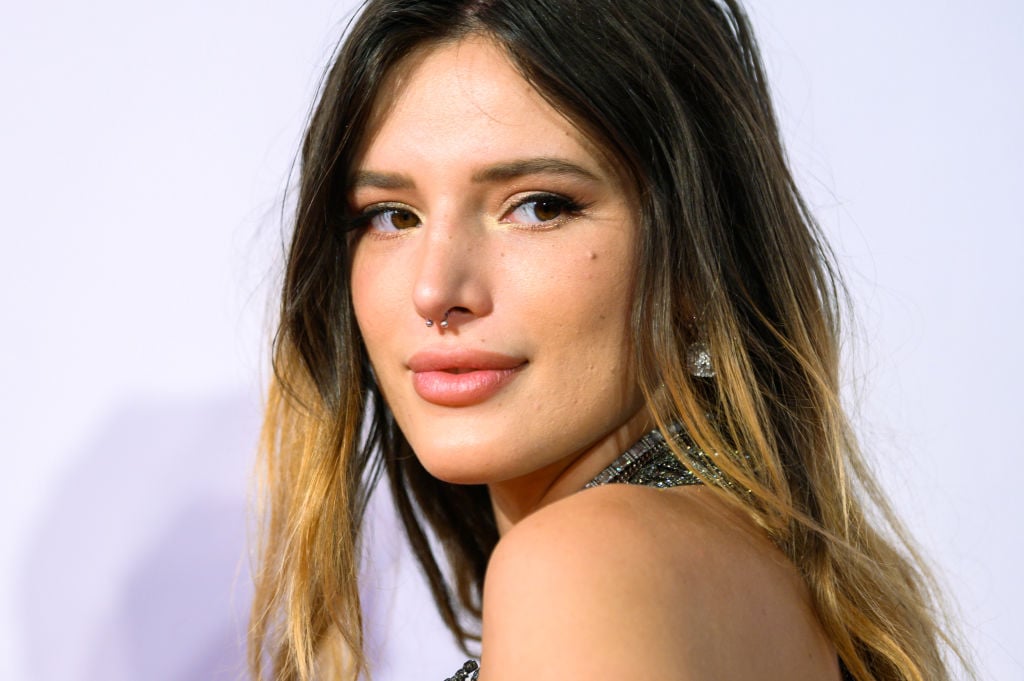 Given Brown's past and Thorne's daring makeup, Thorne's followers seemed to link the two together with some inappropriate jokes. "It looks like u went on a date with @chrisbrownofficial," one follower wrote. Another added, "Can't believe you went to Halloween with Chris Brown." And another wrote, "Chris brown could've done this for free."
Others, however, weren't fond of what they were seeing. "This trivializes domestic abuse," one of Thorne's followers wrote. Another added, "Omg this actually scared me."
Joking about domestic abuse is never OK, and the Brown commentary was likely not well-received from many of Thorne's followers who read over the comments in the post. It's certainly not the first time the abuse jokes have been made regarding Brown's past, either. TIME reminds us Snapchat ran an ad for a game that gave users the option to either "slap Rihanna" or "punch Chris Brown," and Rihanna took to her Instagram Story to share how inappropriate the ad was at the time.
We're not sure if Rihanna will pay Thorne's Instagram post or comments any mind. But there's certainly good reason for Thorne's followers to be upset by both the makeup she chose to present and the Brown comments that followed.
Check out Showbiz Cheat Sheet on Facebook!