'Below Deck': Brian de Saint Pern and Courtney Skippon Continue to Argue About Their Date
Although it was filmed months ago, Brian de Saint Pern and Courtney Skippon from Below Deck continue to argue about their date that aired on the show.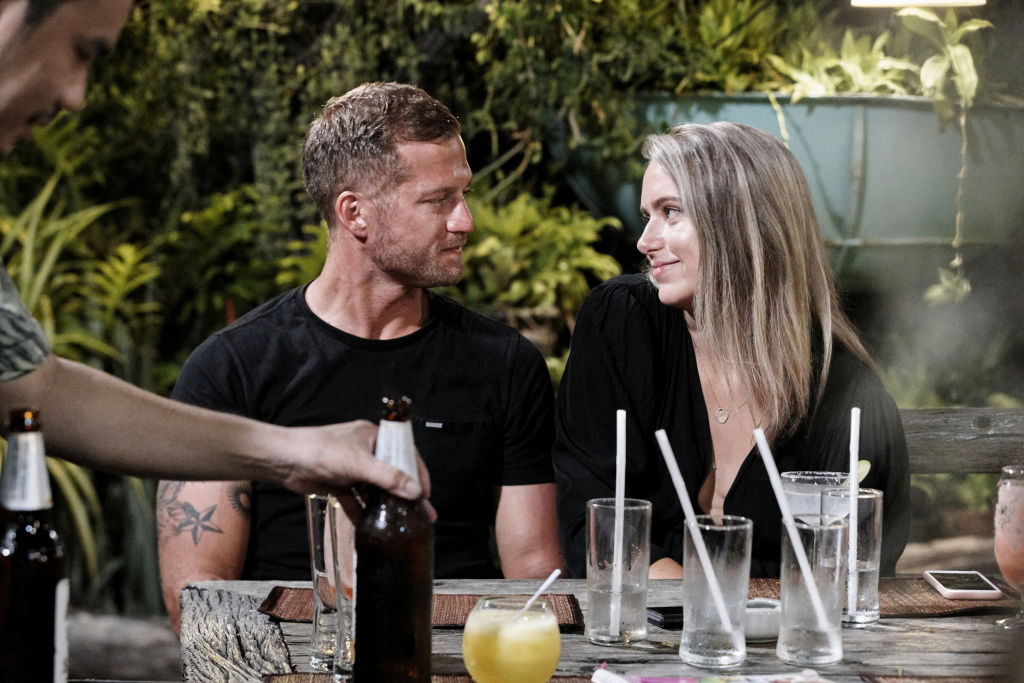 The blossoming couple embarked upon a mini-date before the crew went out on the town. Although Skippon agreed to join de Saint Pern for drinks prior to the outing, she was flustered and exhausted when it came time to leave. She shared in the Below Deck After Show she was not only wiped out, but she had a few issues getting ready for the date. "It had been a pretty long charter, I hadn't washed my hair in three days," she recounts. "I have a lot of leg space to moisturize before I can wear a dress. My other dress fell in the toilet."
She promptly expressed to de Saint Pern she was feeling grumpy at that point. He tried his best to change her mood but Skippon wasn't having it. Since the date aired, Skippon and de Saint Pern have snarked at each other about what happened. Clearly no love is lost between the two either.
Fans think Skippon should have canceled the date
Bravo shared the After Show clip on Twitter and some fans wondered why Skippon didn't just cancel the date. One fan asked why Skippon didn't just embrace the moment and try to be present. But Skippon wasn't buying it. "Why didn't he: Plan better? Engage in any conversation other than to ask me what drink I was having? Feel like I had to entertain him?Why did I feel like I had to constantly apologize for being too tired to drive the conversation? Why do you feel like I have to apologize for that?"
But de Saint Pern snapped back at her remark. "Excuse me? Hahaha are you for real? We spoke to you about Alot of other topics. Do you not remember??? They just didn't show it on the episode. Why do you keep lying on Twitter about this stuff to make yourself took better and me look worse?"
Skippon responded, "I suppose the question is: don't you remember? Because you're the one who said on the episode that I shouldn't have come on the date and you shouldn't have put so much time and effort into it. If you're speaking about what happened in the first 5 minutes of the date, so will I."
Taking heat for the date?
Following Skippon's response, de Saint Pern asserted that she's let fame go to her head. "Out of everyone you were the last Person I'd expect the fame get to their heads. You know what happened on the show and what didn't, yet you speak like you didn't care and we both know thats not true," he wrote in the thread.
But Skippon shot back that fame has nothing to do with the date. "Firstly: fame? Secondly: we both left the date happy, so to hear you say it was a waste of your time and I shouldn't have come isn't speaking to what happened on the show. And I am speaking to that," she wrote.
"I'm talking about how you are acting Now! If you were 'happy' after the date then why are you giving me so much Sh*t on Twitter?" de Saint Pern responded. Skippon replied, "So you can have poor opinions abt me but I can't have opinions abt your poor opinions of me? I haven't said anything abt you that wasn't in retort to something you said or expected from me. The above tweet was simply explaining that it takes two people to make a date good or bad." She added, "Consider how all of it was put into play by a narrative that you created before you get mad at me for speaking up about it."