'Below Deck': Captain Lee Addresses Rhylee Gerber's Assertion She Was Not Tipped
Fans had a lot of questions after Rhylee Gerber from Below Deck shared that she wasn't given a tip for working half of her first charter on the boat.
Gerber spoke with Colin Macy-O'Toole on his podcast Radio Check and said Captain Lee Rosbach told her the minute she boarded Valor, she would not be receiving a tip."The minute I get on the boat, which they didn't show this, one of the first three sentences Captain Lee said to me was, 'Just so you know, you're not going to get a tip this charter because the guys have been doing all the heavy lifting.' So immediately, I was taken aback by that. But my reaction was, 'Ok, yes, sir.' Understood," she told Macy-O'Toole.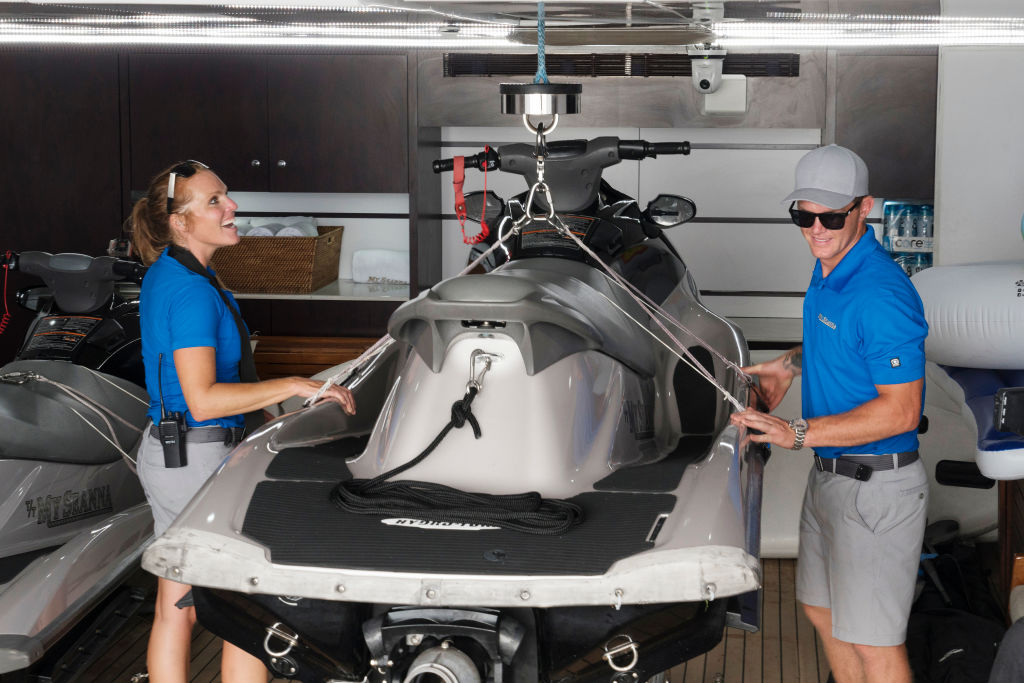 She added that every boat has different rules when it comes to tipping, but her understanding was that Rosbach tipped his crew members, even if they were sick or injured during the charter. "Captain Lee, his words verbatim were, 'I wouldn't have it any other way.' Brian [de Saint Pern], we see is having a knee injury," she said. "On this charter, he's down for half the trip." Both de Saint Pern and deckhand Tanner Sterback were sick or injured but still received tip money.
Despite the flurry of social media activity surrounding the incident, Rosbach has remained silent about the question. But he finally addressed one fan on Twitter, offering his response to the ongoing question.
He won't break his contract
Although Rosbach addressed the question, he didn't exactly answer why Gerber wasn't tipped. "I am not allowed to comment on what wasn't aired on the show, so I will honor that contract unlike some of my crewmates. So that question will continue to be one for the ages, but let me tell you things are not always as they seem," he replied to a fan.
Leading up to Rosbach's reply, Gerber continued to address the question on Twitter. A fan wanted to clarify she wasn't tipped. "Nope," she shared on Twitter. "Lee made it clear i was not to be getting any since 'the boys did all the heavy lifting'."
But another fan thought Gerber was tipped since she was at the tip meeting. "I saw a pile of money right in front her of at the tip meeting too. It wasn't the big stack that he starts with, it was the smaller one like everyone else got. Doubt Lee would put it there then take it back again?!"
Gerber responded that even though she was at the meeting, it didn't mean she received any money. "You're right. He wouldn't i wouldn't think however we are all sitting next to each other in a crammed booth and i am not a liar so, continue to discuss amongst yourselves and I'll continue to advocate why i have no respect for my 'superiors.'"
Gerber says 'no tip' set the tone for the season
Gerber told Macy-O'Toole she was optimistic about the season until she realized she wasn't going to be treated equally. "Inwardly knowing this is exactly what's happening now," she said. "This is the tone, it's right in front of Ashton [Pienaar] he's saying this. Kate [Chastain] was there too. This is how it's going to be. My value on the boat is going to be devalued from the get-go," she says. "And it comes straight from the top."
She also addressed the number of comments she receives about being so outspoken. "People want to know why I have such disdain for these crew members I work with? And why there's a lack of respect on my part for them? It is directly, specifically, correlated to how I am treated on board."