'Below Deck': Captain Lee and Kate Chastain Live Tweet About Chef Kevin (And It Isn't Good)
The mounting tensions between chief stew Kate Chastain and chef Kevin Dobson from Below Deck have now spilled over onto Captain Lee Rosbach.
Rosbach calls Dobson into the wheelhouse to ask about Chastain's earlier complaint that he was being unreasonable. While the exchange was civil, Dobson explains his position and then continues to talk as he dismisses himself. Needless to say, Rosbach is flummoxed at how Dobson simply walked away when they were having a conversation. Plus Dobson's own dismissal violated rank.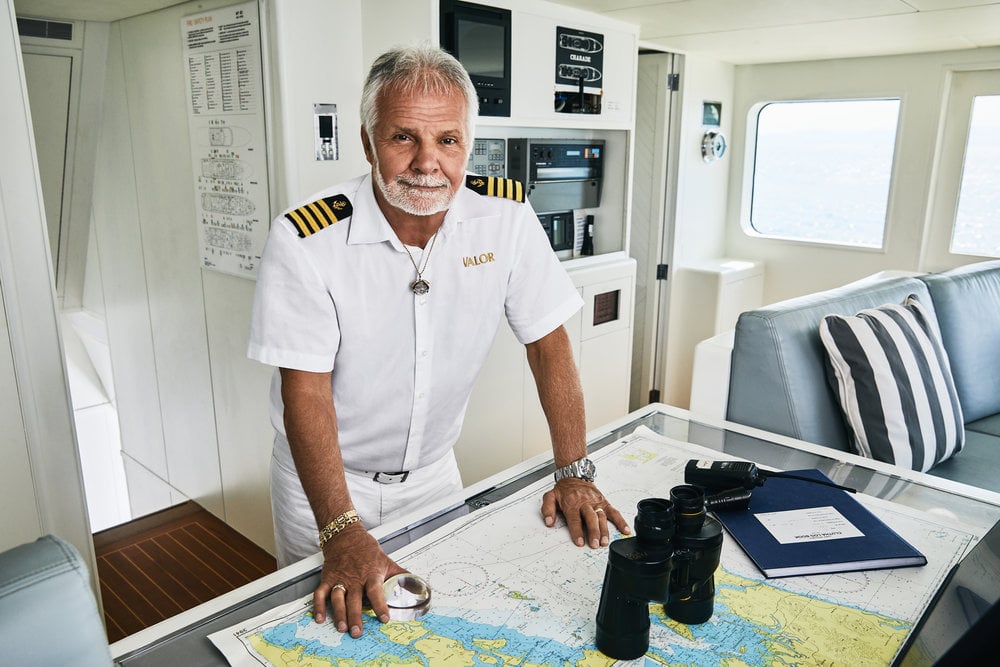 Then, when Dobson makes another attempt to impress the guests with dinner, he forgets to count Rosbach at the table. He samples the dish that was intended for Rosbach, telling Chastain Rosbach simply doesn't get that dish. Again, Rosbach is angry but keeps his cool during dinner. "He forgot an entire main dish for the captain," Chastain says in a confessional. "For a chef who is so particular, he served his mistake to his boss on a silver platter." While Dobson seemed contrite, he didn't attempt to replace the dish for Rosbach either.
He could have at least given Rosbach a bowl of Cheerios
Twitter lit up after the dinner service scene. Rosbach tweeted, responded and retweeted about the moment. Rosbach wrote, "Oh, I don't get an entree, I get the garnish. Wow? Really. Same chef who turned his back on me and walked out. Oh was that the extravaganza with no Vaganza."
One person who knows Rosbach loves his morning Cheerios wrote, "Kevin could have at least brought @capthlr a bowel of Cheerios." Another person observed how sad Rosbach looked munching on a few greens during dinner too. "You are correct, that was THE look. I love it. We get it," Rosbach responded.
The next morning, Rosbach called Dobson into the wheelhouse to ask what happened. Dobson came clean, admitting he ate the fish and didn't realize he didn't have enough. But Rosbach sipped his coffee, likely too angry to continue speaking. Dobson says in a confessional, "I messed up last night but I don't expect someone to not even address me or look at me."
During that moment on the show, Rosbach tweeted his response. "You don't deserve looking at or acknowledgment for that performance." Chastain had an obvious observation. "Ummm maybe Captain Lee didn't look at you Kevin because he was DRIVING THE YACHT."
Did he really say that?
During the tip meeting, Rosbach complimented the entire crew … except for Dobson. "Hey Kevin. Remember that time you insulted the interior in front of the entire crew and captain at the very first tip meeting after the guests left very happy? Let's call me going to captain lee a 'karmavaganza,'" Chastain tweeted.
Dobson looks surprised (and maybe a little embarrassed) during the meeting but then says this in a confessional. "But you know, good at being a 'C' and that's not 'C' for captain," he says. Rosbach tweeted, "Did he just call me what I think he called me?"
Chastain's response was more direct. "Kevin just called captain lee 'a C' because he didn't compliment him after failing all charter. I've got some letters for you Kevin: F U." During charter, Dobson remarks in a confessional that he doesn't like Chastain, which is reminiscent of the relationship she had with chef Leon Walker. "Wow, almost makes me long for the days of Beef Cheeks Leon," one person tweeted. But Rosbach replied, "Uh, not yet, but………….."