'Below Deck': Caroline Bedol Slams Courtney Skippon for Having Kate Chastain's Back
Former Below Deck third stew Caroline Bedol lashed out on social media about the support chief stew Kate Chastain is receiving from a current cast member.
The season, which shows half of the crew turning on Chastain, is a departure for the chief stew. Although she's had drama with crew members in the past, this is the first time cameras catch her in tears. She also briefly quits mid-season too. Last season Chastain and Bedol had one of the most contentious relationships in Below Deck history. When Bedol quit the show, Chastain and second stew Josiah Carter were filmed taunting Bedol from outside her locked door. Bedol left the boat in tears.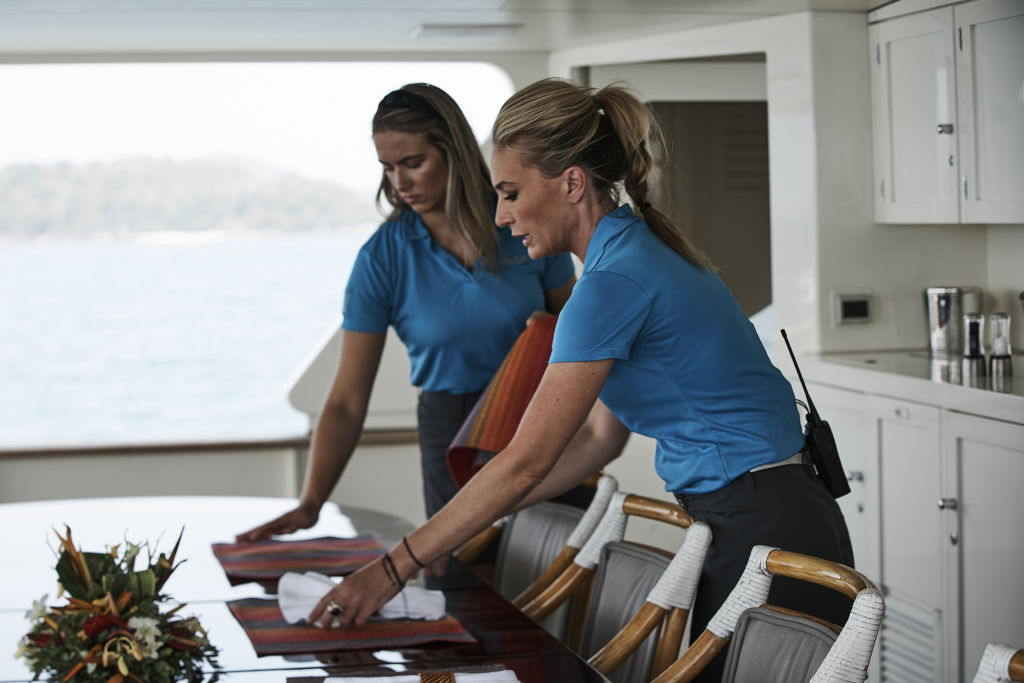 The tables seem to be turned this season and stew Courtney Skippon has Chastain's back. She is also defending Chastain on social media and tweeted about what was really occurring on Valor. However, Bedol took issue with her comments, likening some Below Deck cast members to the impeachment hearings.
Where is the drama coming from?
During a recent episode, Skippon tweeted about where the drama was created. "One of the trends I saw most consistently this season was people deciding @Kate_Chastain was going to create 'drama' and in doing so would create the 'drama' themselves and then blame her for it and say they don't like 'drama'," she shared. "Is anyone able to identify a link between the occurrence of drama which was extremely avoidable with people who proudly proclaim there is nothing in life they hate more than 'drama'?"
She continued, "When people proclaim how much they are X, the more likely they are not-X; or the louder they state they hate Y, the more likely they are to exhibit the traits of Y. This applies to the whole season."
Several people agreed with Skippon and her assessment of the crew. However, others felt as though this season was karma for Chastain. "The greatest of this season so far was seeing Kate cry! Finally she got it, yes the crew now and all your previous crews 'hate you!' I can't tell you how many times I rewound my recording just to see her cry! Now we are waiting for Courtney's turn to cry, it's coming!" one person responded. Adding, "It's about time she gets a taste of her own medicine! She's made so many others miserable in their six weeks. She should be thrown overboard! Captain only drives that boat Kate runs it and poisons it. Every series Kate is in she's hated by the crew."
Bedol responds on Twitter
Bedol responded to Skippon's Twitter thread. "A narcissist knows who will assist them. Flying Monkeys are just as guilty as inflicting abuse because THEY WATCH IT HAPPEN AND DO NOTHING." Comments were split with several people begging Bedol to let this all go. "Kate isn't perfect and obviously you had a tough time on the show-which legit sucks. But your continued obsession with this is misguided and doesn't help your case. You reek of toxicity and resentment, makes me wonder who the real narcissist is," one person responded.
Others though agreed. "So true and last night Kate and her flying monkey reaped some of her bad karma. [Was] hard to watch!" Bedol then later tweeted about Below Deck, comparing the crew to the impeachment hearings. "Everything to know about #ImpeachAndRemove as depicted by this season of #Belowdeck. •@Kate_Chastain as "the Donald;' •@capthlr as 'Rudy;' •& introducing @courtneyskippon as Chf. Justice Roberts."