'Below Deck': Chef Kevin and Kate Chastain Seem to Be off to a Rough Start
The chief stew and chef on Below Deck have to maintain a concise, cohesive working relationship in order for charters to go off without a hitch. Chief stew Kate Chastain has had a strong working relationship with chefs like Ben Robinson, Adrian Martin, and Matt Burns.
However, when it came to chef Leon Walker, Chastain and Walker could never seem to find their groove. He made it abundantly clear he did not like Chastain and she struggled to try to find common ground with the chef.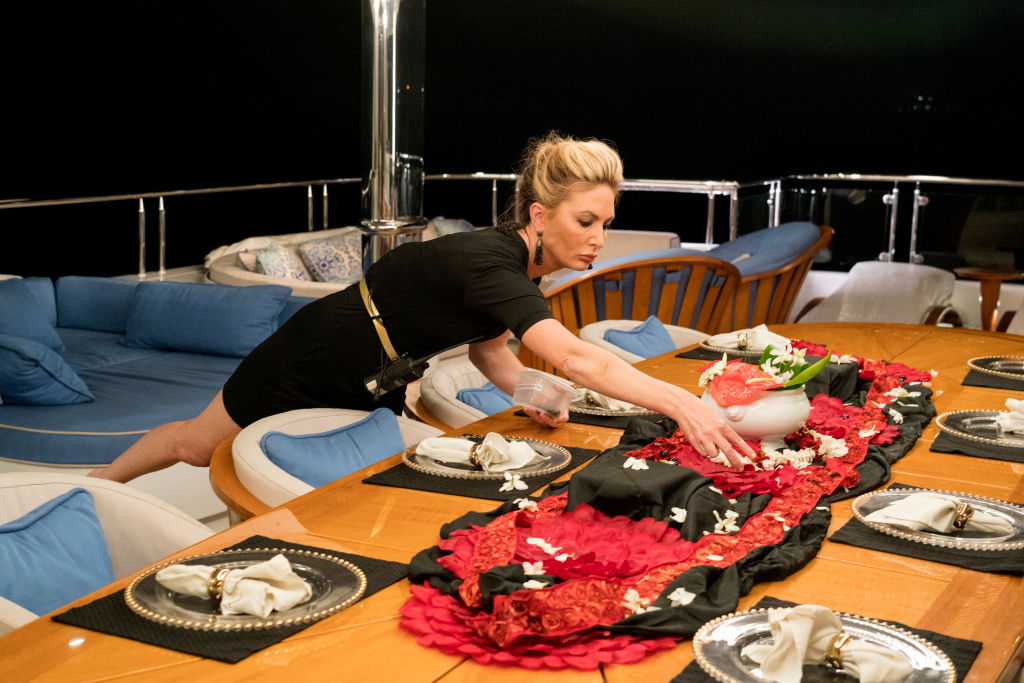 Once again Chastain is working with a new chef. Although those early days during the season can be a little trying, the first few moments on the yacht with new chef Kevin Dobson don't look overly promising.
Dobson and Chastain are having some growing pains
Every chef and the chief stew has their own way of working together, which often takes a little time to build. Communication is key so when Chastain goes to change into a different uniform and the guests ask for lunch, Dobson gets anxious.
In an episode one clip, the guests ask the stews two times about lunch. Dobson is seen chopping and looking concerned in the galley kitchen. When second stew Simone Mashile asks Dobson when will lunch be served, he says whenever the guests are ready. "I was just waiting for Kate's call," he says. "I'm ready to serve."
Mashile looks a little uncomfortable, telling him that it is fine and she'd just let them know. But then third stew Courtney Skippon shares with Dobson that Chastain was changing. "I'll wait for Kate to change and come back," Mashile replies.
But then Dobson gets frustrated
Things heat up when the guests return again asking for food. The primary asks Skippon how much longer they need to wait for lunch. Dobson is seen in the background watching the exchange looking a little annoyed. "If it's going to be a long time, I was just gonna ask for a cheese plate," the primary says to Skippon.
This seems to get underneath Dobson's skin. "This is where it's all chill it's fine and then boom," he says to the stews. "This is the first lunch," he says in a confessional. "I'm embarrassed where the f**k is Kate?"
The stews frantically search for Chastain as they both almost seem lost inside the yacht. Meanwhile, Dobson appears to be melting down as he is mixing a salad, still waiting for Chastain to appear.
Chastain hints of a rocky relationship
In an interview with Hollywood Life, Chastain said it isn't smooth sailing with Dobson. "I just never knew what to expect from him at any time," she said. "Personality, chef-wise, he was just full of surprises, and the only thing that wasn't surprising was that he was nuts, but just like every other chef. It was just like a different flavor of crazy." 
Plus, Captain Lee Rosbach said he wasn't overly impressed when the season kicked off. "He wasn't performing up to his abilities," he said. "He was, and then he wasn't."
Get ready as Below Deck season seven sets sail tonight at 9/8 central only on Bravo.