'Below Deck': Comedian Leslie Jones Is Not Happy With Ashton Pienaar
Below Deck superfan, Leslie Jones from Saturday Night Live is definitely "Team Kate Chastain." The comedian recently tweeted about the latest episode and didn't hold back when it came to blasting bosun Ashton Pienaar.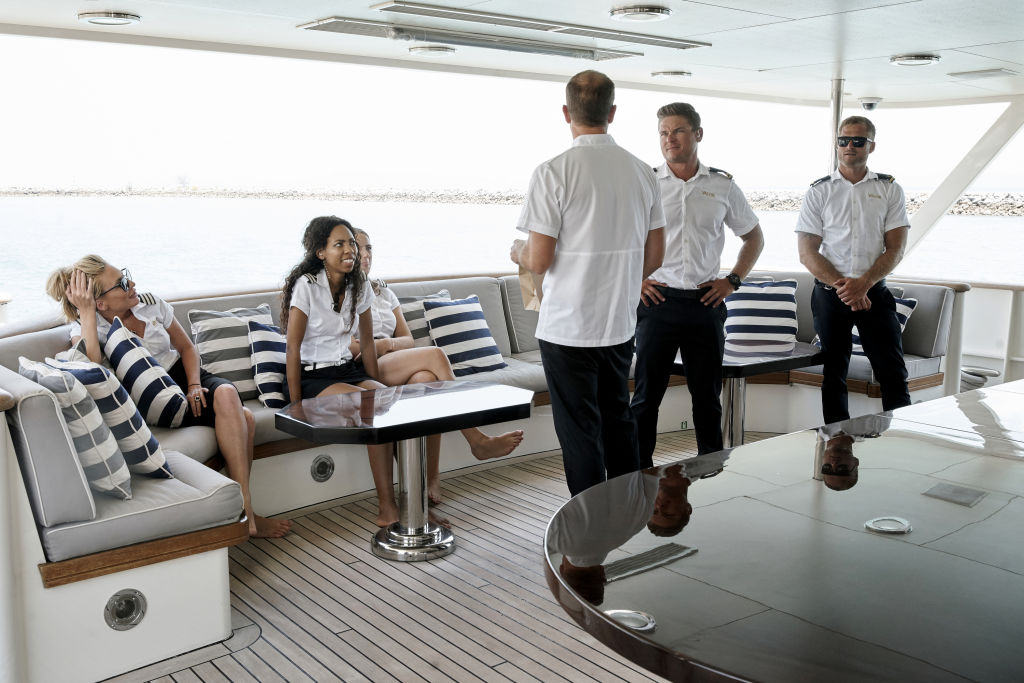 She filled her Twitter feed with ongoing (and pretty hilarious) commentary about the last episode and calls it as she sees it too. She also included a video clip of each scene she was watching on her television as she remarked about how annoyed she was with Pienaar. Like deckhand Rhylee Gerber and Chastain, she also shared that the season is filled with far too much testosterone and misogynistic behavior.
Jones previously professed her loyalty to Chastain too. Apparently she was a closeted viewer, but recently "came out" as being a loud, proud Below Deck fan. "Ok I've been secretly watching @bravo Below Deck  @Kate_Chastain  @capthlr is my fav. #igetsickassoonasisteponaboat," she shared. Chastain shared Jones' tweet, commenting that "This is amazing." 
Don't mess with Jones' favorite chief stew
The latest episode showed a division beginning between the men and women on the boat. From the onset, Jones was fired up after Pienaar spoke angrily about Chastain. "Ok This show," she tweeted along with a video. "Ugh the behavior of the men is terrible but I can not stop watching . And Aston I'm about to come find you and whoop your ass Over @Kate_Chastain she is high ranked and y'all coming at her. And to get you are children seriously!!"
But when she saw Chastain crying she became pretty mad. "Ok I'm about to go on that boat! lol y'all made my girl @Kate_Chastain cry!! Not cool! @capthlr you better tell them!!" Jones also called out deckhand Brian de Saint Pern for overreacting to being called a yachtie too. "Ugh men can be such bitches sometimes! Don't get mad at her cause you acting out! Kate obviously was f**king with you about yachty s**t. Grow some balls cause to me that was a laugh off moment not a moment to call her a bitch I'm really mad at Brian."
When Pienaar apologized to Chastain for his behavior the night before, Jones wasn't having any of it. "What a d**k!!! So arrogant so wrong!! Check yourself SMASTON!! If I was @Kate_Chastain I wouldn't even talk to that idiot and let his ass know if he touch me again I'm whoop his ass!! Ugh @capthlr man if you don't… @BravoTV#BelowDeckThailand"
She continues to roast Pienaar but takes a few shots at the other crew members too
Clearly this episode got to Jones. She didn't like how the crew were treating her girl and made it known on Twitter. Jones first called out stew Simone Mashile for complaining about Chastain to her mother. She tweeted, "Simone why you lying to your mom!! You ain't telling her how bad you are at service!! Everyone mad at @Kate_Chastain but ain't looking at their own behavior! CHILDREN!! Kate ain't got to prove s**t to you!! Get better!!"
But she also wasn't going to let deckhand Tanner Sterback get away with two-timing on Mashile either. "Ugh so disgusting these men!! Seriously!! Tanner you want your cake and eat it too," she tweeted. "And your cause is a baby cake cause you are a f**king child ugh these men suck!!"
But bottom line, Jones got heated over pretty much all the men on the boat. "Seriously the misogyny on this boat is just too much!! Like take it down a notch! Brian you are to offended yachty!So annoying!You supposed to be the nice and you really are chauvinist! It very disheartening to see this s**t!!"