'Below Deck' Crew Members Find Glimmers of Hope in the Bahamas
The crushing devastation in the Bahamas is breathtaking in the wake of Hurricane Dorian.
Approximately 70,000 residents are left without homes, as food, water and shelter become a top priority, CNN reports. Aerial footage of completely destroyed communities shows massive amounts of rubble and debris on Grand Bahama and the Abaco Islands. One resident told CNN, "It was like an atomic bomb went off," after surviving the Category 5 storm. Thus far, 43 are confirmed dead. Officials anticipate that number to increase as debris is removed.
The humanitarian response has been massive. A number of organizations, including individuals from Bravo, immediately mobilized. Although the devastation has been immense, two Below Deck crew members have uncovered areas in the island chain that did not sustain significant damage.
Most of the Bahamas were spared
Captain Lee Rosbach from Below Deck shared a map of the Bahamas to his Facebook. He pointed out a good amount of the area was not hard hit like Grand Bahama and the Abacos.
He was concerned that after seeing reports of the devastation, many people would be too overwhelmed to help. "Most of the Bahamas were spared, please don't stay away. They need our help," he tweeted.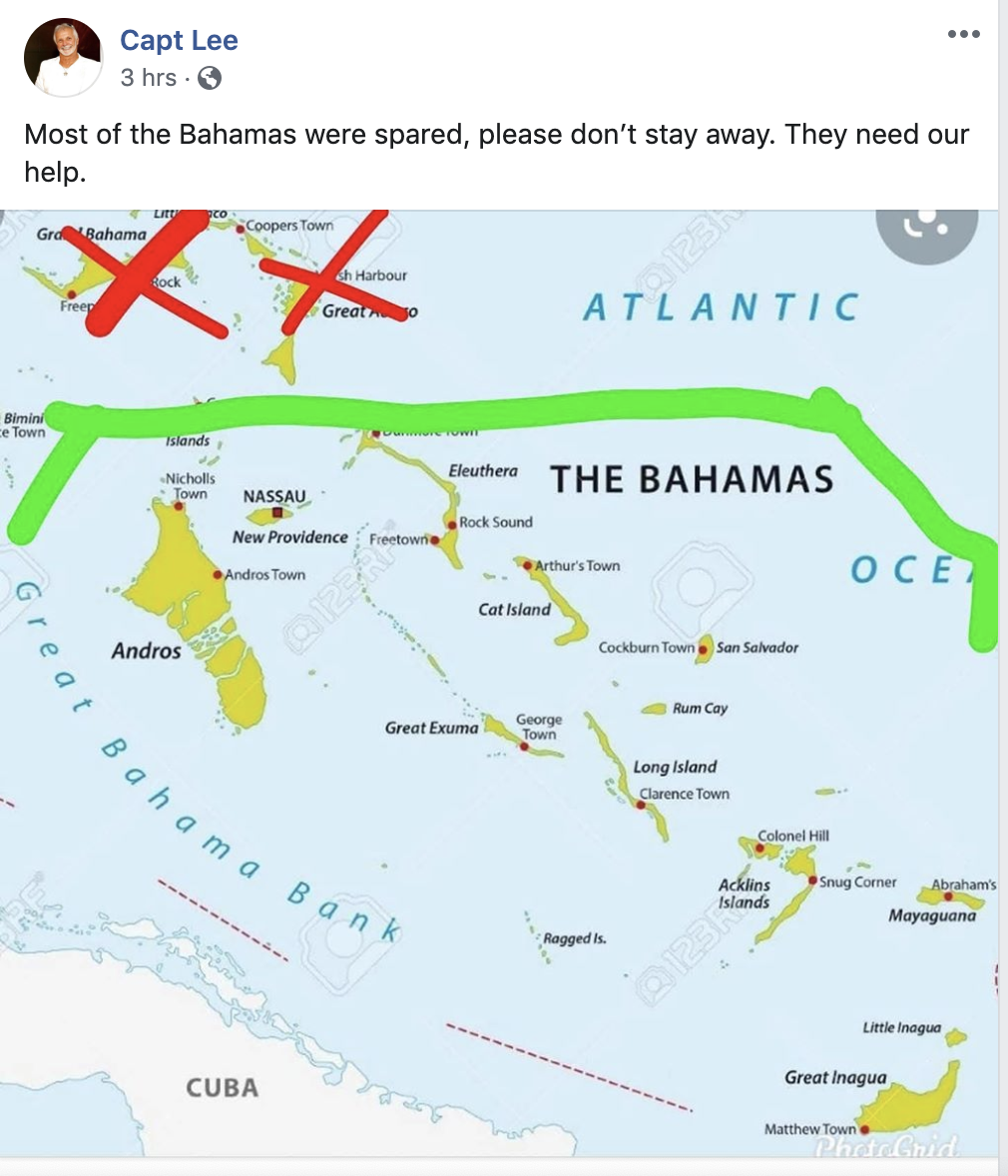 Rosbach shared a map from an individual in Nassau, Providence. It clearly shows the areas that are still open for travel. "For my foreign friends…Bahamian islands affected are marked in RED. All islands below the green mark are unaffected for the most part. The Bahamas is not destroyed," according to LaShawn Cooper.
She's personally exploring the area
When former Below Deck chief stew Adrienne Gang learned the monster hurricane was headed for the Bahamas, she journied directly into the storm.
While Dorian was still pummeling the island chain, Gang shared how she managed to arrive safely. "We are set for a 12pm arrival at Emerald Bay. The ride was uneventful. We went south to Cuba and cut under the storm. No damage yet, but I'll keep you as posted as I can as we head north. our plan is to depart Georgetown & head up the Exumas ending in Nassau by Saturday."
Although Gang was concerned about the serious damage she witnessed, she is also sharing areas that are still up and running. "The Exumas are fine," she shared with Showbiz Cheat Sheet. "I just went all the way up the chain. Not much damage and everyone is in good spirits. So many amazing people doing everything they can. @flytropic @YachtNerd @YachtAidGlobal and so many more."
She also posted several pictures of the Exumas. Staniel, Highbourne, and compass. Gang added they are all big stops for yachts. Today she planned to head over to Nassau.
More good news
Immediately after the storm hit, Gang was concerned about a friend who she hadn't heard from. But after a few days, she was thankfully able to connect with the friend. "Lots of happy tears as I report that we have spoken to Cynthia Cusack and she is ok. Shaken up and still in Treasure Cay, but she is alive. So grateful to everyone who reached out and offered help. Cynthia, we love you," she tweeted.
As she traveled around the area, more glimmers of hope became apparent. "More good news! First yacht to arrive at Staniel Cay post hurricane Dorian and it's in great shape! Couple dock boards need to be fixed, but they are in business!"
She also shared, "No damage to report here @HighbourneCay! Everyone is in good spirits! " While good news can be found, considerable help is desperately needed. Donations continue to be appreciated. João Franco from Below Deck Mediterranean is spearheading efforts. Plus, chef Ben Robinson posted this Go Fund Me on his Instagram page.