'Below Deck': Did Captain Lee Side With Chef Kevin or Rhylee Gerber After Their Fight?
After a rough charter and being given a subpar tip, the Below Deck crew from Valor headed out for a night on the town. Most crew outings between charters begin with dinner and end at the bar.
Usually crew drama occurs after several cocktails and typically at the bar. But the latest incident began as the crew placed their order at the table. Chief stew Kate Chastain suggested chef Kevin Dobson order for the table. However, deckhand Rhylee Gerber asked if he could include a paleo option in the order. For some reason that produced a sarcastic remark from Dobson and the two began to argue.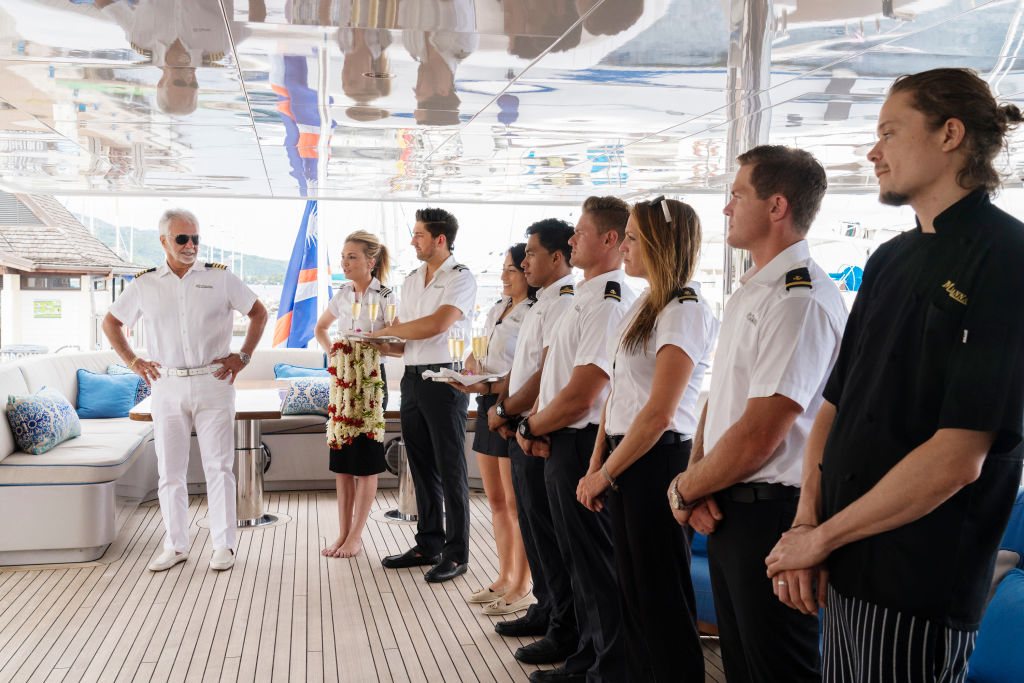 Their argument escalated into a full-blown fight at the table. Eventually, the crew walked away but the fight followed. Bosun Ashton Pienaar, who is Gerber's boss ended up siding with Dobson and told Gerber she looked foolish. Captain Lee Rosbach was not at the dinner but later watched the episode and shared his thoughts on the exchange. Whose side was he on?
Rosbach doesn't understand why there was a fight
Rosbach shared that he couldn't figure out why the entire scenario escalated into a fight.  "As far as I'm concerned if you go to a restaurant, you should be able to get what you want if available," Rosbach wrote in his blog. "Whats the problem. Kevin and Tanner, I don't get it, why poke fun because she wants something different. Uncalled for."
Rosbach also thinks that Dobson made the wrong move by attacking Gerber. "Then Kevin says you annoy me like the rest of the crew," he continued. "Really. Kevin obviously if you wanted Paleo would you have ordered it? After all you are in a restaurant that caters to the guest needs and wants. You know, the ones that pay the bill. I think you guys took it too far at this point. It was a simple request that you blew out of proportion."
Dobson is later seen on the beach complaining to the guys. Rosbach wrote, "Lets get to one of Kevins quotes here. It's a s**t charter, followed by a s**t tip, Kate is pissed off at me and I have Rhylee on my back as well," he observed. "Poor poor Kevin. You have no problems sir that you have not created for yourself. It seems that your solution to everything so far, including me, has been, go f**k yourself."
Rosbach also calls out Pienaar too
Pienaar speaks to Dobson and the rest of the deck team on the beach. He tells the guys he's not going to allow Gerber to break up his "happy existing family" and seems angry only with Gerber. She confronts him and then they get into a fight.
As far as Rosbach is concerned, Pienaar made the wrong move in this scenario. "Ashton, I think you were out of place here," Rosbach said. "If she had said she wanted stuffed artichokes, would Kevin had made such a big deal about it. I think not."
"But you automatically do not defend who is right at this point in time, critical wording here, and go with the good old boy network," he shared. "She didn't have a full on go at one of your crew members here, Kevin is not even one of your crew, and yet you totally disregarded her point of view for just wanting something different. Kevin pushed the buttons and Rhylee was not out of place."