'Below Deck': Does Tanner Sterback Think Kate Chastain Is a Cougar?
Deckhand Tanner Sterback from Below Deck had his eye on chief stew Kate Chastain from the minute he stepped foot onto Valor.
During dinner service, he remarked about how lovely she looked in her black dress. Plus, he made no bones about wanting to hook up with Chastain from day one. "I wanna hook up with Kate. I just think she's sexy as f***," he said, Decider recounts.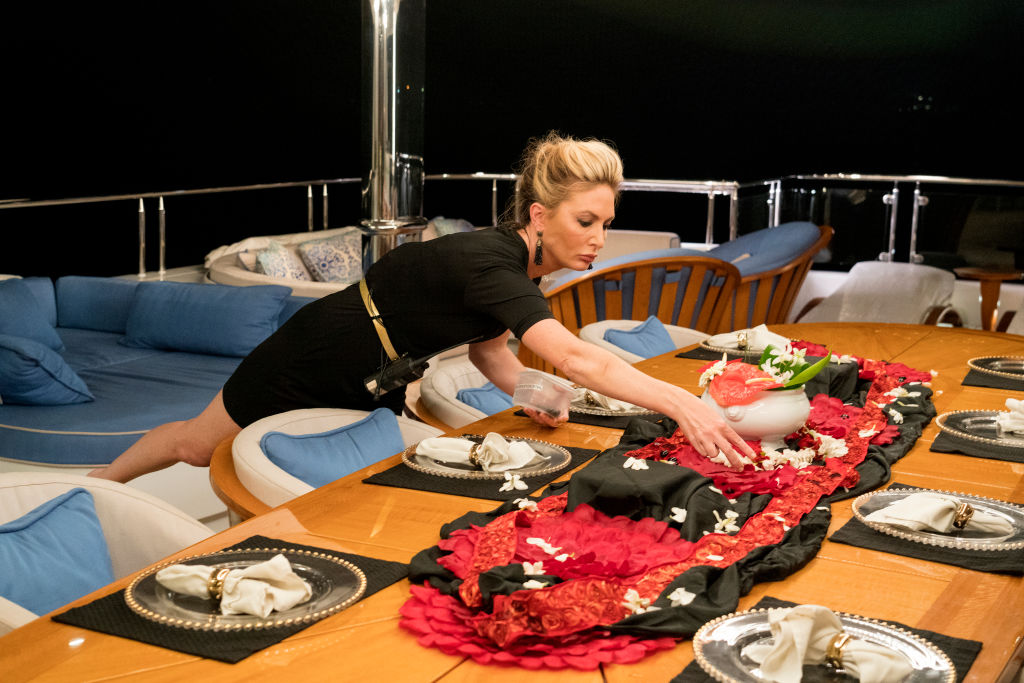 "Kate has caught my eye 100%," he added. "She's beautiful, smart, funny, and I tend to lean towards older women." Sterback even threw this nugget out there for the rest of the crew (and viewers) to chew on too. "The oldest woman I've ever been with is 58. I was playing darts, one thing led to another and the next thing you know she was driving me to work the next morning."
Sterback has referred to Chastain as being an "older (hot) woman" on a number of occasions. And while he's also been candid that he's hot for Chastain, does he understand she's only 10 years his senior?
He likens her to his 'friend's sexy aunt'
When Sterback and Chastain are left to clean up a beach picnic he can't help himself. He suggests the two split a bottle of wine the following evening. "I think that's so rude, I'm taking my own," Chastain quips back in a clip. Sterback then suggests they just crack out two bottles and call it even.
"Kate is like your friend's aunt," Sterback says in a confessional. "She's sexy and beautiful. You never know. You gotta roll the dice." As he struggles with the chairs, Chastain seems unphased trying to get the picnic cleared so she can move onto the next task.
Is Chastain actually a cougar?
When Sterback referred to Chastain as an "older" woman, his comment was a little diluted with his reference to hooking up with some close to age 60. After all, Chastain is only 36 years old. And while Sterback is 26, and a 10-year difference may sound vast, is Chastain considered to be in the "cougar" category?
For some, Chastain actually makes it (barely) into "cougar" status. According to ThoughtCo., "Cougars are defined as older heterosexual women (typically ages 35–55) who pursue sexual relationships with men who are eight or more years younger."
Beyond the definition, a cougar is someone who looks younger than her chronological age. "She maintains a youthful physical appearance, either by exercise or by cosmetics or cosmetic surgery," ThoughtCo. reports. "She is comparatively wealthy, or at least financially independent, and she expresses her sexuality by publicly pursuing younger men for casual relationships or sexual encounters." 
So do Chastain and Sterback ultimately hook up? "When you hook up with somebody on a yacht, you've got to choose wisely," Chastain says in a confessional. "Boatmances don't end. You have to ship out." Cameras catch Chastain relaxing in a bikini as a man comes in for a kiss. Is it Sterback? Stay tuned. Below Deck airs every Monday at 9/8 central only on Bravo.