'Below Deck' Fans Finally Get a Massive Reunion
Below Deck Mediterranean fans cried foul when the wildly popular series did not end with the usual reunion show. Cast members shared that the main reason there was no reunion was that the series shot the most episodes ever and included an episode rather than a reunion show.
But Below Deck fans seemed a little let down with the season 6 reunion too. The season was nominated for an Emmy and fans could not get enough of the drama and crazy antics in Tahiti. While Real Housewives reunion shows typically include two or three installments, Below Deck gets a single evening in the Watch What Happens Live Clubhouse.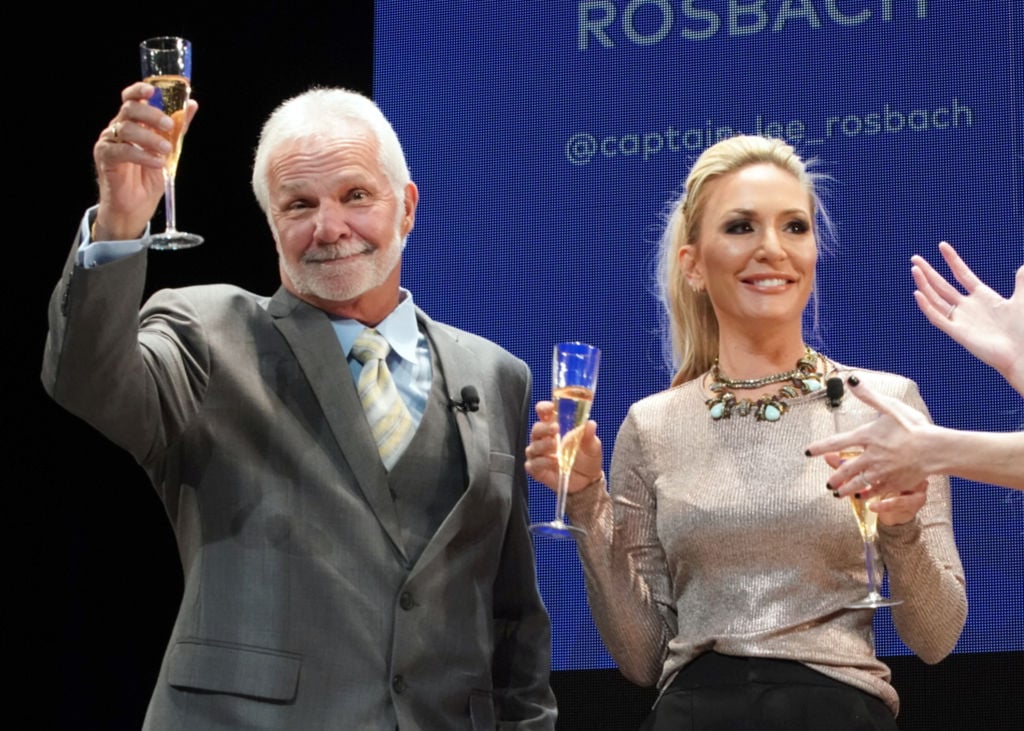 The last reunion left fans wanting, which was likely why so many Below Deck viewers were not happy that Below Deck Mediterranean was left with no reunion. But now, perhaps, Bravo is making it up to fans with a huge reunion to celebrate the series' 100th show.
100 episodes in the making
Bravo recently shared that Below Deck will have a huge reunion show in the Clubhouse on Monday, January 6 at 10/9c. The episode will be a special WWHL tribute to the series. Joining Captain Lee Rosbach and Kate Chastain are chef Ben Robinson, Eddie Lucas, Kelley Johnson, Amy Johnson, and Nico Scholly.
However, more crew members may make an appearance as Bravo teases that more guests may arrive during the reunion show. Host Andy Cohen, Rosbach and Chastain will travel down memory lane, spanning over seven seasons of the wild crew and even wilder guests.  
Rosbach tweeted about the big reunion show too. "Check this out, this huge. You won't want to miss it," he shared. Although fans seemed excited, some still want their Below Deck season 7 reunion show. "That is great! I can never get enough of Captain Lee! Does this mean that there will not be a reunion this season? We really need one," one fan replied.
What have some of the 'Below Deck' alums been doing?
In addition to Rosbach and Chastain, Robinson has been a regular on the series. He recently appeared in Below Deck Med and made an appearance at BravoCon too. However, some of the other guest yachties have moved on since leaving the show.
Kelley Johnson has amassed a gorgeous collection of photography. Plus, the bosun also created a YouTube series, That Military Guy designed to help viewers managed stress. Former bosun Eddie Lucas has been quiet since his last season on the show. He was a fan favorite who had a soapy undercover romance with stew Rocky Dakota. Today Lucas seems to be currently working for Moran Towing Corporation out of Baltimore, Maryland. The company offers a variety of maritime services including towing, marine transportation and docking.
Scholly is currently working for his family's business. He also continues to support the foundation his family created in memory of his brother. The Tristen Scott Foundation NFP was designed to bring awareness to organ donation. ​"Our Families mission is to bring awareness to the importance of being an organ donor and to not forget the heroes' families, who are left with nothing but memories during their tragic loss," according to the site.