'Below Deck': Fans Think This Deckhand Will Replace Abbi Murphy
Captain Lee Rosbach made a mysterious phone call after deckhand Abbi Murphy's departure from Below Deck. After only a few charters, Murphy realized that motor yachting wasn't for her and bowed out.
Although she quit mid-charter, she agreed to finish out the charter so the deck team wasn't left a man down. However, Rosbach needed to replace Murphy and get it done quickly. Rosbach is filmed calling another deckhand, someone who he seems to know and has worked with in the past.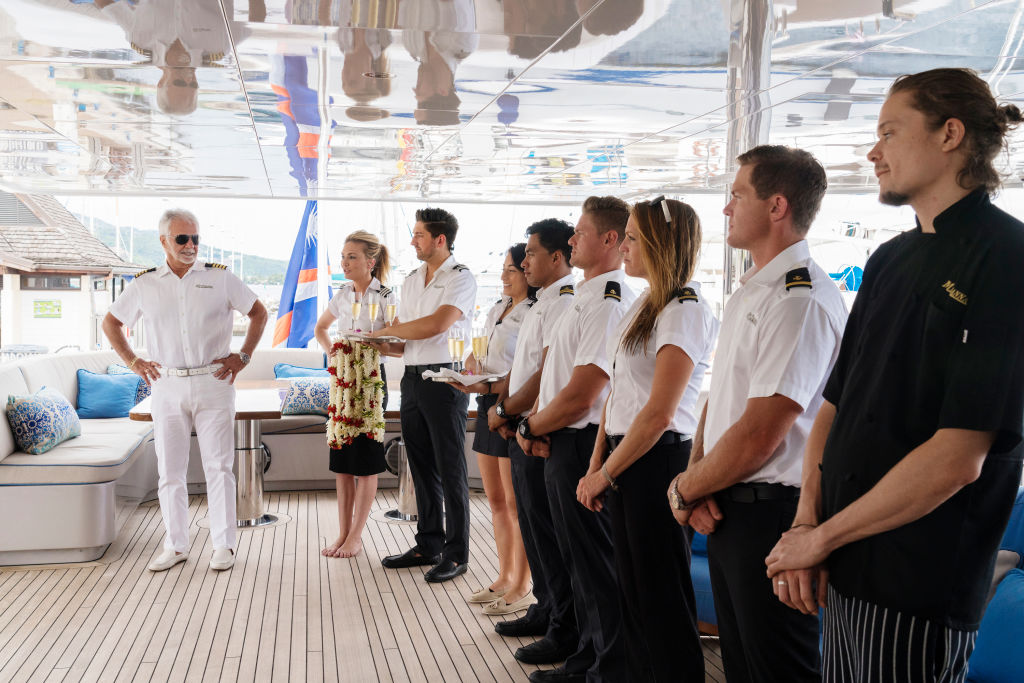 Bosun Ashton Pienaar is curious about who will be joining the deck team. When he asks Rosbach for the deckhand's CV, Rosbach cryptically tells Pienaar that it is someone he already knows.
Viewers start to speculate
Viewers started speculating almost immediately after the last episode. Quite a few people hoped Below Deck would do a second crossover with Colin Macy-O'Toole from Below Deck Mediterranean. "I hope @ColinMacyOToole is the new deckhand on #BelowDeck," one person wrote. Below Deck has only had one person, chef Ben Robinson, who has worked on Below Deck and Below Deck Mediterranean.
Fans also hoped to possibly see another deckhand who was more about the fun rather than the drama. Deckhand Connie Arias was also a favorite for Rosbach and many viewers. She is also close with chief stew Kate Chastain."I really hope the new/ returning deckhand will be Connie, she was hilarious," this person tweeted.
Some viewers reached way back into the Below Deck archives. A few asked for bosun Eddie Lucas to return. Others hoped perhaps Below Deck would bring back bosun Kelley Johnson. "If Bravo love me, they'll bring Kelley back to the boat to replace Abbi and there will be some sort of hookup episode with him, Ashton, Tanner… just spitballing here," a person joked on Twitter.
Fans have their own idea of who will be on deck
Even though fans are speculating, several feel pretty confident that bosun Ross Inia is going to join the deck team. Pienaar and Inia had a strong friendship last season and Rosbach also seemed to enjoy working with Inia too.
Reality TV Bliss posted a Twitter poll asking which deckhand would return. The choices were Inia, Johnson, bosun Nico Scholly or bosun Chandler Brooks. Thus far, Inia has a healthy lead. Several people were pretty confident Inia will be making his Below Deck return too. "It sounds like Capt Lee calls Ross, bc he said Ashton knows him," one person shared. "Would love to see Dave or Eddie make an appearance though!"
Although deckhand Rhylee Gerber wasn't included in the poll, several fans are convinced the fiery redhead will be back on deck. "Oh my gosh Its Rylee!!!" this person concluded. Another viewer caught something about how Rosbach delivered the news to Pienaar too, which may have been a tip-off. "Hey #BelowDeck people! Ok, so…the new deckhand coming aboard… it has to be Rhylee, right!? The way Cap says, "oh you know her already." It's gotta be her. RIGHT?"
Find out (hopefully) who is the new deckhand when Below Deck airs on Monday, November 18 on Bravo at 9/8 central.