'Below Deck': Has Captain Lee Ever Hooked Up with a Crew Member?
Below Deck and Below Deck Mediterranean hookups are legendary. A number of crew members have started a "boatmance" but usually, the heat fizzles shortly before or after the crew leaves the boat.
Although the crew is often seen hooking up, a Watch What Happens Live with Andy Cohen caller wanted to know if Captain Lee Rosbach ever hooked up with a crew member or a guest. The caller also wants to know if the hookup was good.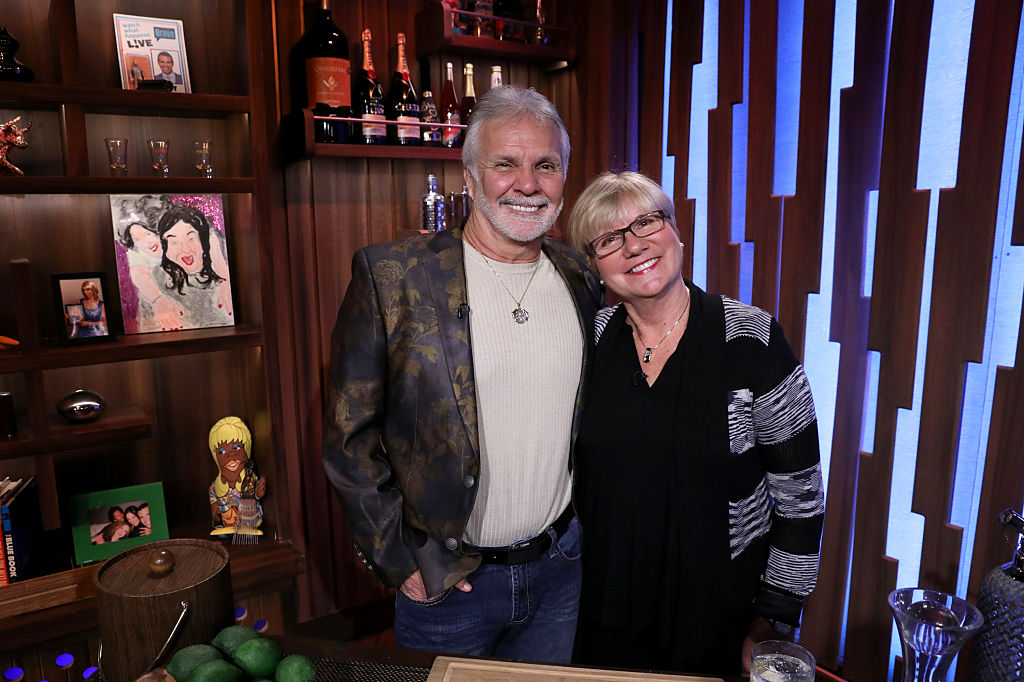 Rosbach smiles as the caller asks her question as host Andy Cohen leans in for this answer. "Yes," he says. "My wife," he says. "She was my chief stew." Cohen looks delighted. "She was your chief stew! That's so romantic."
She's the only crew member for Rosbach
Rosbach continued by saying, "And the only one [he's hooked up with]." Cohen wanted to confirm Rosbach hadn't hooked up with any guests too. He affirmed no guests, but yes, his wife when she was his chief stew.
Rosbach has spoken lovingly about his wife Mary Anne for seven seasons. His love never seems to wane or waiver as he keeps her picture near when he's on charter.
Mary Anne Rosbach has made a few appearances on the show. During season five of Below Deck, Rosbach shared his secret to a happy marriage with bosun Nico Scholly. "For a relationship to last a long time you have to work at it," he said. "I care more about making her happy than what I want for myself. If she's got a smile on her face my day is complete." 
They've celebrated more than 42 years and counting
Rosbach shared the story of his romance with his wife in a Bravo show highlight. "After putting up with me and five kids, she has the patience of a saint. I happen to be one of those guys who got to marry their best friend." 
The couple met when a friend introduced them. "We all went out one night and I met Lee but he doesn't remember me," Mary Anne told Scholly at dinner. "But then we went out again maybe a month later. And after the second time that was it." Rosbach looks uncomfortable and remarks, "How can you hold me responsible for something I don't remember," he asks. "That's not fair."
The Rosbachs reside in South Florida and have five children, two who work in the yachting industry. "It's kind of a unique situation," Rosbach told Bravo's The Daily Dish. "Two of my sons have been involved in yachting. And Mary Anne, my wife, actually asked one of them, she said, 'Did you watch Dad's show tonight on TV?' And he went, 'No.' And she goes, 'Why not?' He says, 'Mom, we all worked for Dad, we know who he is, and it's like watching home movies, and we're not in them.'" Tragically, Rosbach's youngest son, Joshua died at age 42 from an accidental drug overdose.
Crew members find their relationship inspirational
Chief stew Kate Chastain sees the uniqueness in the Rosbach's relationship. "Captain Lee doesn't change at all when he's around his wife," she said. "At first I was like, 'I mean, you could be a little more romantic.' But I actually think it's kind of sweet because it truly shows that she's his best friend. They're just friends, they're buddies, and they're cute."
Chef Ben Robinson told Chastain that Rosbach and his wife are actually the same person. "Chef Ben [Robinson] pointed this out to me a couple of years ago, and I didn't really get it or agree at the time, but I do now. He's like, 'They're like the same person, Captain Lee and his wife.' I think they've been together so long, and they're such, kind of like when you notice people start looking like their dogs," Chastain observed. "But Captain Lee and his wife have kind of been together so long that they are kind of like one. It's sweet."