'Below Deck': Is This the Comment That Makes Ashton Pienaar Explode?
A playful, drunken discussion about deckhand Tanner Sterback's mother turns violent in this evening's episode of Below Deck. Bosun Ashton Pienaar is filmed becoming extremely upset when chief stew Kate Chastain asks about his mother.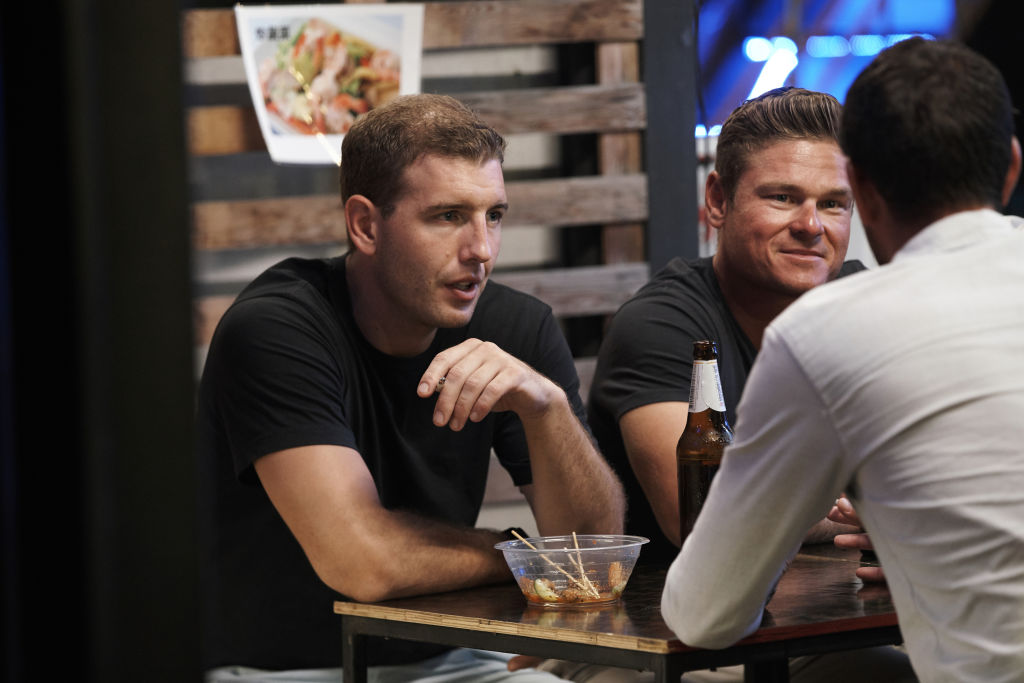 Previews show Pienaar in a van getting so heated he bashes the side of the van's interior with his fist. But up until now, viewers never knew what triggered the angry outburst. In a clip, the crew is seen returning home from a night out on the town. The van carrying stews Simone Mashile and Courtney Skippon are very relaxed. Deckhand Brian de Saint Pern sits in the backseat with Skippon, while he hands out roses to Mashile and deckhand Rhylee Gerber.
However, the tension in the other van reaches a boiling point after chef Kevin Dobson, Pienaar and Sterback joke about how much Sterback's mom calls him. Chastain makes a casual comment, which creates an unexpected and savage response from Pienaar.
It starts with this discussion
Dobson and Pienaar joke about how Sterback's mother says "Oh Tanner," in a clip shared by E News. The group is clearly very inebriated as Sterback jokes about his mother begging him not to get anyone pregnant. "I f***ing love Tanner's mom," Pienaar says.
But Chastain says, "What else do you want to talk about besides Tanner's mom?" So Chastain opens the discussion to other families. "Ashton, what's going on with your mom?" In a split second, Pienaar's face drops. He looks concerned and confused as he asks, "Really?"
Adding, "That was such a f**king weak blow," he says. "You were talking about Tanners' mom so hows your mom," Chastain returns. But Pienaar is clearly upset. "If you think you're such a f**king better person," he says as he tries to get to Chastain in the backseat. "For calling my mother out. And bringing it up as f**king Tanner's mom …"
Pienaar then explodes
Pienaar tries to get in Chastain's face while they are in the van. She says, "No no …" But he says, "Hold on, get the f**k over yourself, Kate." Although Dobson is seen grinning, he and Sterback realize the situation could escalate and become violent.
They try to get Pienaar to calm down. Sterback says, "It was just a mom comment." As Pienaar sits back in his seat, Dobson tries to get Pienaar to relax. "That's my family bru," he says pointing at Dobson. But Chastain points out, That's his family," gesturing toward Sterback.
Pienaar's face is red as he is seen stewing. Dobson continues to try to soothe the bosun. But Pienaar turns around again, trying to get to Chastain in the backseat. Chastain adds, "Psycho." "What gives you the right," he says. As he gets in Chastain's face, Dobson knows the situation could get ugly. He urges the van driver to pull over immediately. Meanwhile, Pienaar is hammering away at Chastain asking her what right she has to bring up his family. The guys continue to tell him to calm down. But Pienaar is so furious he punches the interior of the van.
Check out the entire explosive encounter tonight on Below Deck at 9/8 central only on Bravo.