'Below Deck': Kate Chastain Admits She Was Extremely Nervous to Film Her First Season
Kate Chastain from Below Deck admits that those first few days of filming nearly gave her a panic attack.
The chief stew chatted with Taylor Strecker on her podcast, Taste of Taylor and shared she was actually nervous when she first appeared on the show. Chastain came in for season 2 after chief stew Adrienne Gang did not return. Some of the crew members like Captain Lee Rosbach, Kat Held, bosun Eddie Lucas, and chef Ben Robinson already knew each other from season one.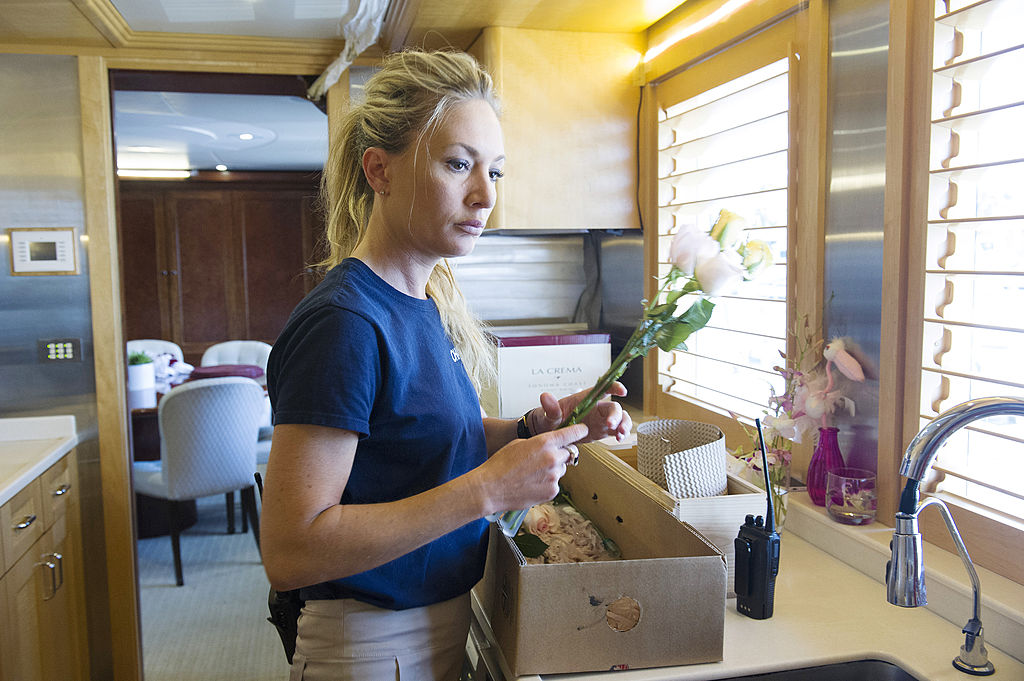 But this time it was Chastain who was new to the crew and she told Strecker she was pretty terrified. She shared the one thing that saved her and offered some advice to quell any nerves about being on a reality television show.
She was close to having a panic attack
Strecker shared that she is going to be a bridesmaid in Stassi Schroeder's wedding on Vanderpump Rules. But Strecker added that she was nervous about going on camera for the wedding even though she normally feels comfortable on her radio show and on the set. Chastain shared her story about going into a panic when she first started season 2 of Below Deck.
"I don't have anxiety. I don't get nervous about much, but my first time walking up on my first season, it was the closest to a panic attack I think I've ever had," Chastain shared. Also, "I had my MacBook with me, and I had all of production looking at me, all these cameras looking at me, I don't think they used the footage, there's no way they could because I was like a crazy person."
"I was just opening and closing my MacBook and I don't even think I was turning it on!" she recalls. "I was trying to look professional. We were meeting at a bar, meeting everybody before we went on the boat. But I was like opening and closing it. They were like, 'Why does she keep opening her laptop?'" I was so nervous."
How did she eventually calm her nerves?
Fans were none the wiser as Chastain looks calm and cool during her first moments on the show. She shared with Strecker that being on Below Deck provides the cast with a quick and easy way to get over any nerves.
"At least on Below Deck, you have so much work to do," Chastain said. "So I was nervous until we got on the boat. And I was like, 'Oh sh*t, we've got guests coming tomorrow and I got a lot of work to do. I don't have time to [be nervous].' I had other things to think about and I was almost like, 'Move out of my way camera guy, I've got to get to the stew pantry. And then that was kind of a good distraction."
She had some advice for Strecker's upcoming appearance. "I don't know, imagine the camera guy in his underwear? I have a tip. Did you ever do home family videos when you were younger? I bet you were such a ham. So I become friends with the camera guys. When the cameras are on me, I turn it into that childhood ham. Think of the camera guy as your friend, your cousin, brother, sister."