'Below Deck': Kate Chastain and Connie Arias Reunite and Party
Even though they worked in different departments, chief stew Kate Chastain and deckhand Connie Arias from Below Deck formed a close friendship after their season ended.
Both from the Space Coast of Florida, Chastain and Arias developed a fun friendship and would often get together when Chastain still lived in Florida. However, since Chastain moved to New York City, she likely hasn't seen much of Arias until now.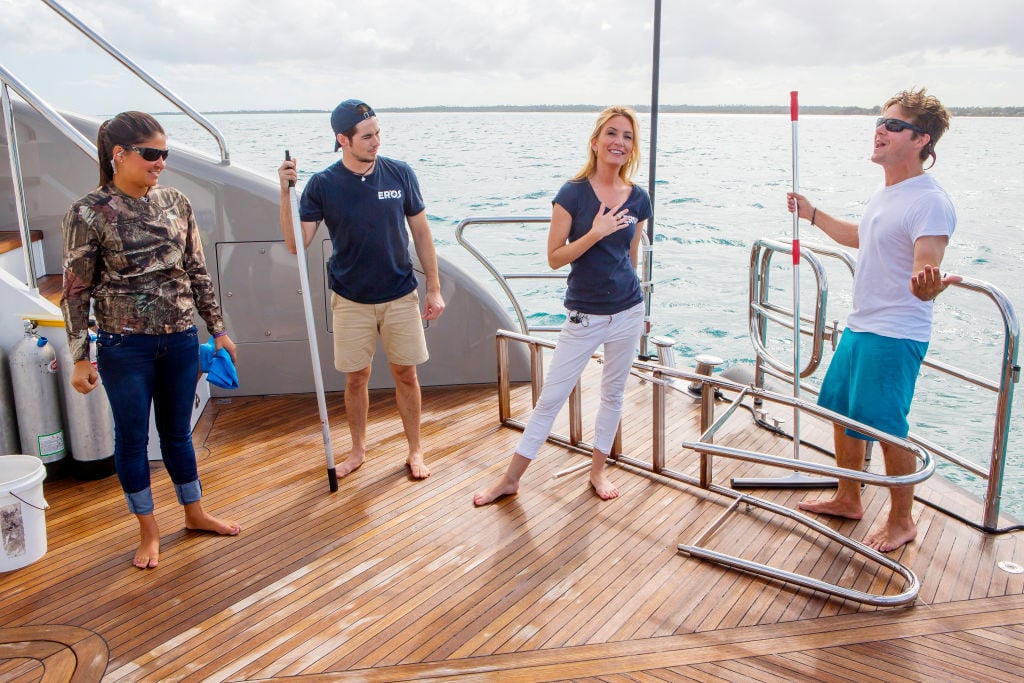 The two team up with Captain Lee Rosbach every year to celebrate Winterfest in South Florida. The annual holiday event kicks off with a black-tie gala, followed by the traditional Fort Lauderdale Boat Parade the next week. Chastain seemed excited to return home for the event. "My favorite thing about the holiday season is that it's socially acceptable to wear sequins more often," she tweeted before the black-tie soiree. Plus she shared to her Instagram story that she was heading to the airport in full evening makeup too.
Rosbach and his wife Mary Anne attended the event in the past and this year. He shared a photo of the dashing couple."Me and my Bride at Seminole Hard [Rock] Winterfest Black Tie Gala. What an event with some special friends." The special friends included Arias and Chastain. Arias and Chastain were also each other's dates both this year and last year.
'Some things never change'
Chastain shared a photo with Arias and Rosbach from the event. She captioned it, "Some things never change." Arias shared the same photo but divulged a little more about what was occurring. "My life story, always in trouble for my mouth… Absolutely LOVED my night out with @captain_lee_rosbach and @kate_chastain !!"
The photo features Rosbach looking a little surprised at Arias. He looks like he's ready to laugh but definitely taken aback, which makes the photo even funnier. The trio took a photo during last year's Winterfest gala too. "Thank you @captain_lee_rosbach and @kate_chastain for an amazing night!!" Arias wrote. Rosbach recently shared Arias was definitely the biggest prankster on the show too.
Chastain shared another photo with just Arias. The friends look like they are having a great time. Chastain captioned it, "Raise your hands if you're from the space coast and born on January 2. Photo cred: @captain_lee_rosbach." Last January 2, Arias marked the duo's birthday too.
They have always had a fun, playful friendship
Last December Arias and Chastain also hosted an event for Genesis House, which is a women's shelter in their hometown, Bravo's The Daily Dish recounts. Chastain and Arias hit the bar and decided to bartend too.
"Connie and I jumped behind the bar last night for a bit to help out at the @MainstreetPub Genesis House benefit last night," Chastain tweeted. "Thanks to everyone who came out! My dress is from my store @GenesisShop321 where all proceeds go to @GenesisHouse321#BelowDeck." Chastain is seen pouring a beer. "Do you like a lot of head," she asks a customer.
The customer is heard in the background, "She loves head." Chastain exclaims, "Who doesn't? Who doesn't? That's perfect!" Chastain admires her handiwork as the beer is poured to perfection. Arias looks on laughing.