'Below Deck Med': Colin Macy-O'Toole Shuts down Rumors Chef Ben Will Return
Just when fans thought there was no chance Chef Ben Robinson would make an appearance on Below Deck Mediterranean, the familiar, "Hello, lovelies,"  is heard in an upcoming clip.
After the cast spent months telling fans that Robinson would not replace Chef Mila Kolomeitseva Below Deck Med dropped the bombshell clip that got fans buzzing. Immediately fans took to Twitter to announce that Robinson is coming back.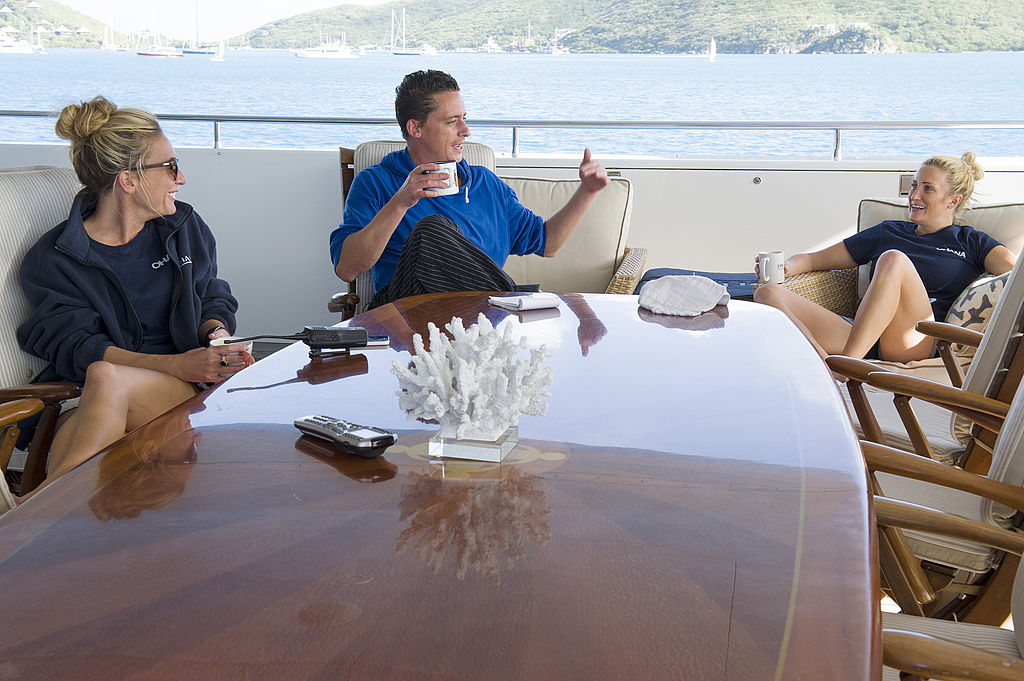 One fan tweeted, "So who's leaving on Below deck Med? Obviously Ben Robinson is coming back!!! Love love love him!! Hear that voice and saw that walk! Cleaver if leaving out the face." So is the fan right? Is Robinson coming back?
Not replacing Chef Mila but…
One fan suggested that the crew was correct in saying that Robinson won't replace Kolomeitseva. But, what about replacing Anastasia Surmava, who took over when Kolomeitseva was fired?
Upcoming clips show that Surmava struggles in her role as chef, which made fans think perhaps Robinson swoops in to save the day. Guests not only send back undercooked food, they tell Captain Sandy Yawn the food was not five-star.
Plus, Surmava seems to be feeling a little full of herself in the role. When Yawn asks about guest food requests, Surmava seems to brush off the observation. She says the guests already knew to make requests.
So what is the final word on Robinson?
After significant speculation, Distractify asked deckhand Colin Macy-O'Toole point-blank if Robinson steps in. "No, absolutely not," Macy-O'Toole said. "Anastasia stays on and does a really good job." 
He echoed what other cast members have said about why Robinson makes a cameo on the show.  "During one of the weeks we were there filming, there was a boat show in Monaco that wasn't very far from where we were stationed," he said. "So we actually all got together, on one of our day or night gatherings and sort of caught up. That's what it was."
Macy-O'Toole adds that Surmava's time as the chef isn't totally smooth sailing though either. "It's a hard position because she's not a great chef, she knows that but she's good enough to kind of — I don't want to say fake it, but you know, surprise with some of the dishes that she puts out and she's done a really good job at it." 
Robinson has been busy too
Meanwhile, Robinson has been busy filling his Instagram with plenty of food porn. He recently cooked for a private party in California that included mouth-watering dishes and breathtaking views.
Last month he shared an image of one of his amazing dishes. "Great party last night, tortellini too…," he wrote. He also posted a picture of an easy-going dinner party he threw too.
He also shared where he plans to be in September. "Ok so I'm trying something new … I'll be spending the weekend of Sept 13 at @campbigforadults in North Carolina – meet and greet, signing aprons, and a big food demonstration. They tell me there are many other activities as well from archery to zipline and you're invited to hang with me."