'Below Deck Med': Did Captain Sandy Just Recreate 'Cash Cab' in Her Car?
Although Captain Sandy Yawn from Below Deck Mediterranean is Bravo's "can-do" captain she's also the captain of fun too.
Yawn recently shared a hilarious video of how she and girlfriend Leah Shafer pick up guests when they visit in her new Denver home. And the pick up was nothing less than spectacular. She posted a video from her car to her Instagram story. Shafer is riding shotgun and their visitors are sitting in the backseat.
But of course, Yawn can't just pick up friends without her signature sparkle and shine. So instead, she turned the inside of her car into what contestants experience on the show Cash Cab and everyone had more fun than ever.
It's a disco car!
Yawn, Shafer, and guests are filmed laughing as she has the entire interior of her vehicle busting out in brightly colored disco lights. "How we pick up our guests in Denver, Colorado," she wrote. Shafer exclaims, "This is how we pick up our guests in Colorado." The women can't stop laughing as the multi-colored lights dance across the ceiling of the car.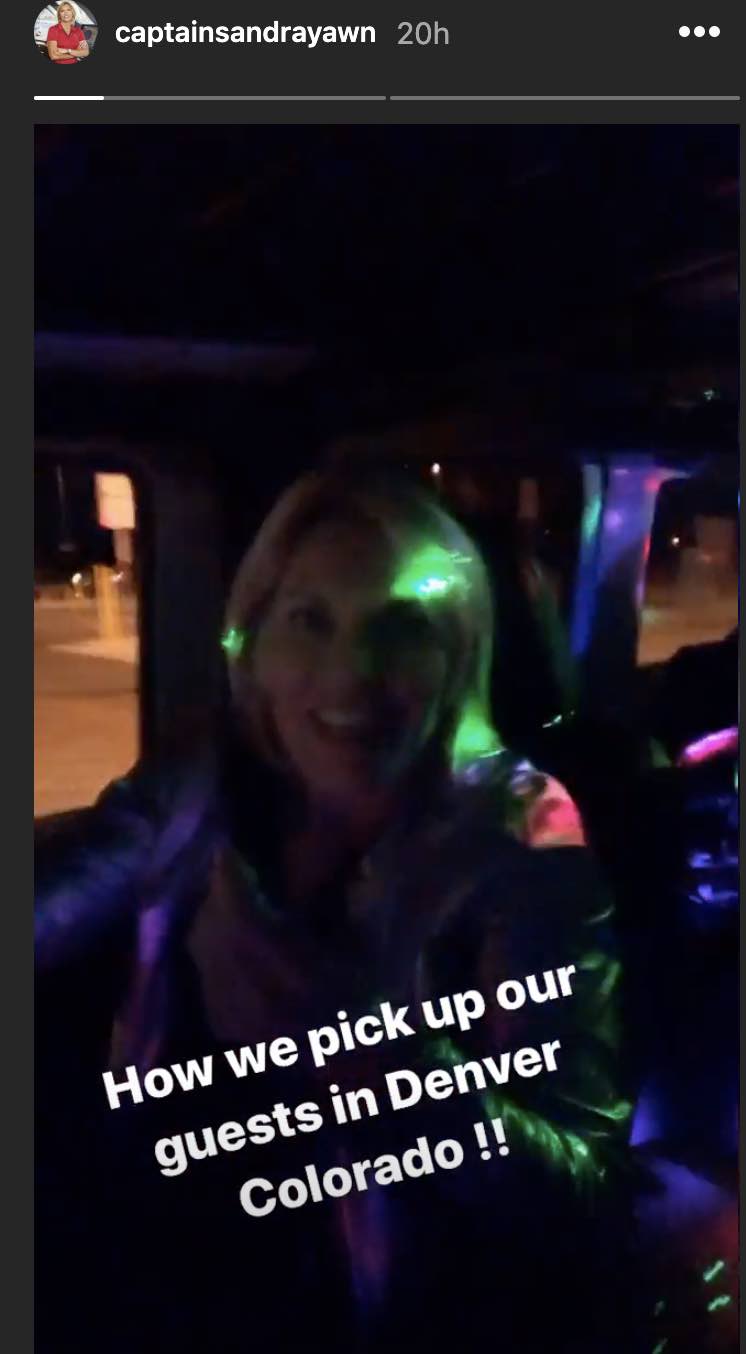 The guests in the backseat play along and pretend to dance. A small disco ball is affixed on the ceiling of the backseat, which provided the illumination and fun. Shafer then says, "OK, bye" as she ends the video.
Yawn didn't share what she used to light up the backseat. However, Amazon offers this cute "Car USB Atmosphere Light, USB Disco Ball Party Light." The video shows the same effects as seen inside Yawn's car and it retails for less than $10.  
Captain Sandy loves 'Cash Cab' too
Although she didn't seem to be holding a trivia game in the car, Yawn is a huge fan of the Bravo show Cash Cab. Cash Cab contestants learn they are on the game show on the go when the disco lights turn on inside the cab, which is a lot like the effects Yawn provided for her guests.
When Yawn made a guest appearance on Cash Cab she posted a clip to social media. Yawn shared the moment where she helps contestants and they turn to social media for help. Cash Cab on Bravo went live with this question. "We're LIVE from the Cash Cab! Can you help the contestants get the right answer? What Dutch artist studied actual architecture before creating the physically impossible staircases of his lithograph 'Relativity'?"
Yawn is seen asking for help. "Please help us," she asked viewers. As responses flood in, Yawn and contestants read them and finally come to an agreement. "Ok! We agree," Yawn says. The answer to the question ended up being MC Escher. 
Cash Cab debuted on Bravo this fall. Comedian Ben Bailey returned as the host and several Bravolebrities made guest appearances. Contestants ride in the Cash Cab and make money by successfully answering trivia questions. But three wrong answers mean the contestants get booted from the cab.