'Below Deck Med': How Common Is Heavy Drinking Amongst Yachties?
When deckhand Travis Michalzik takes his drinking a little too far on Below Deck Mediterranean, the crew feels awkward and even a little angry.
During a crew outing, Michalzik gets so hammered he tells a restaurant server to f**k off when he insists on opening a wine bottle himself. The crew looks on with horror as Michalzik clumsily tries to uncork the wine. "I'm genuinely embarrassed," chief stew Hannah Ferrier is heard saying off-camera. Ferrier initially seemed interested in dating Michalzik … until she saw him get pretty drunk in the middle of the day.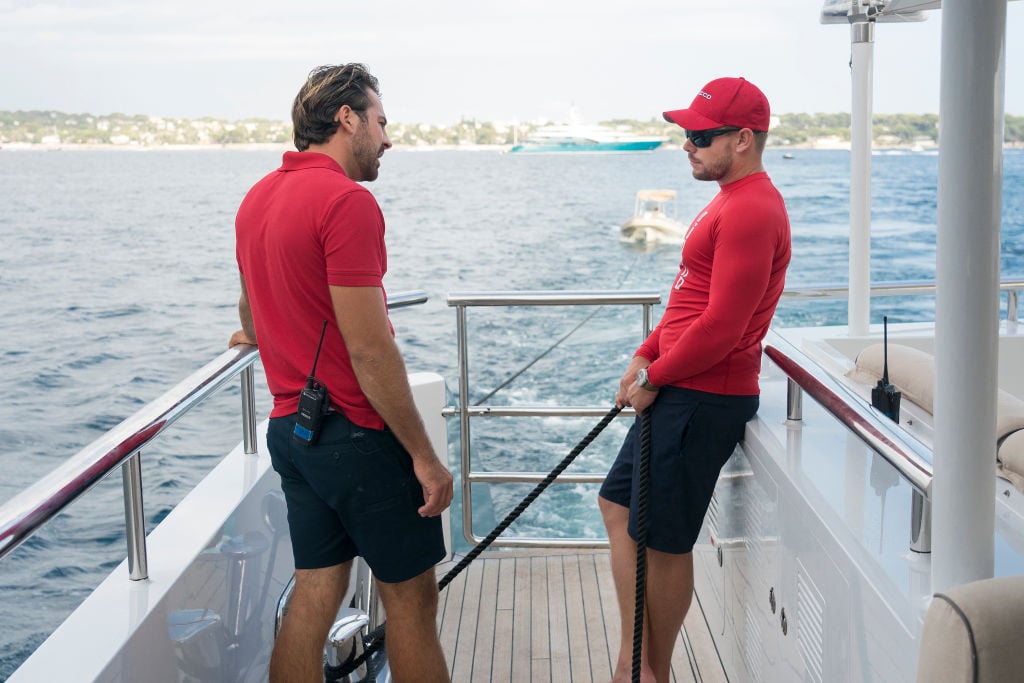 Deckhand Colin Macy-O'Toole, who is usually pretty chill becomes angry with Michalzik's behavior, even asking to switch seats at the restaurant with stew Aesha Scott. Plus, according to the preview clip, it appears as though Michalzik's relationship with alcohol becomes problematic. While most of the crew from the franchise likes to work hard and play hard, how commonplace are crew members who have a problem with alcohol?
A 'hard-drinking' industry
According to Dockwalk, yachting is a "hard-drinking industry." Dockwalk polled yachties about their personal drinking habits. At least 22% of respondents said they drank booze daily. But most yachties report that they don't drink on charter. "I don't drink when I'm working, obviously, but I do go out in the evenings on weekends and drink a bit," a crew member said.
About 50% of yachties are more in line with working hard (and sober) but then drinking like a fish when they are off. Younger yachties tend to tie one on more often than older crew members too.
One reason why drinking alcohol may be prevalent is that many yacht managers report that crew booze is included in the provisioning. "Beer and wine are provided in the crew provisioning," Captain Axel told Dockwalk. "To be honest, most of the time, if we're in a foreign port, I'd rather have the crew drink on board rather than go off the boat and be mugged or something." About 63% of the polled crew said booze was included in provisioning.
What is the typical policy about drinking and yachting?
For the most part, drinking on charter is frowned upon. But what about a formal policy? Almost half of the crew in the Dockwalk poll said the rule was no drinking on charter but the crew could indulge when guests were not chartering the yacht.
Captain Axel's policy seems to be similar to what Captain Lee Rosbach and Captain Sandy Yawn employ. "My policy has always been, you're representing the boat," he said. "Go and have fun, but drink responsibly. If you're on vacation and away from the industry, what I don't know, I don't know. But to me, a crew event is an industry function and I don't want to see my crew wasted in the pages of Dockwalk."
Is there a problem?
Some yachties in the Dockwalk survey think alcohol abuse is a problem in the industry. "I think some [crew members] do," one crew member told Dockwalk. "There's no doubt about that, but I find that the people in the industry who've been around the longest know how to handle their alcohol – people in their thirties and forties who really want to make a career out of yachting. It's the young twenty-something kids that are out drinking too much."
Another yachtie agreed."I used to drink every night, but now I have more responsibility and have to set an example for the rest of my crew. Plus, I just can't handle doing that anymore."
Captain Axel thinks the crew really does overindulge. "Personally, I do think crew drink too much," he said. "It's become part of the accepted culture. It seems that quite a lot of crew spend their downtime drinking. Our crew [on MITseaAH] are very athletic. We like to go mountain biking and do watersports and take advantage of what we have. I try to organize things like that for them."