'Below Deck Med': How Did Captain Sandy Get Glammed Up for BravoCon?
Captain Sandy Yawn from Below Deck Mediterranean sizzled at BravoCon wearing one of her signature fitted jackets and smart boots.
Yawn appeared at BravoCon with girlfriend Leah Shafer and sister Michelle Dunham by her side. Shafer shared with Showbiz Cheat Sheet that a number of Bravolebrities arrived with their glam squad in tow too.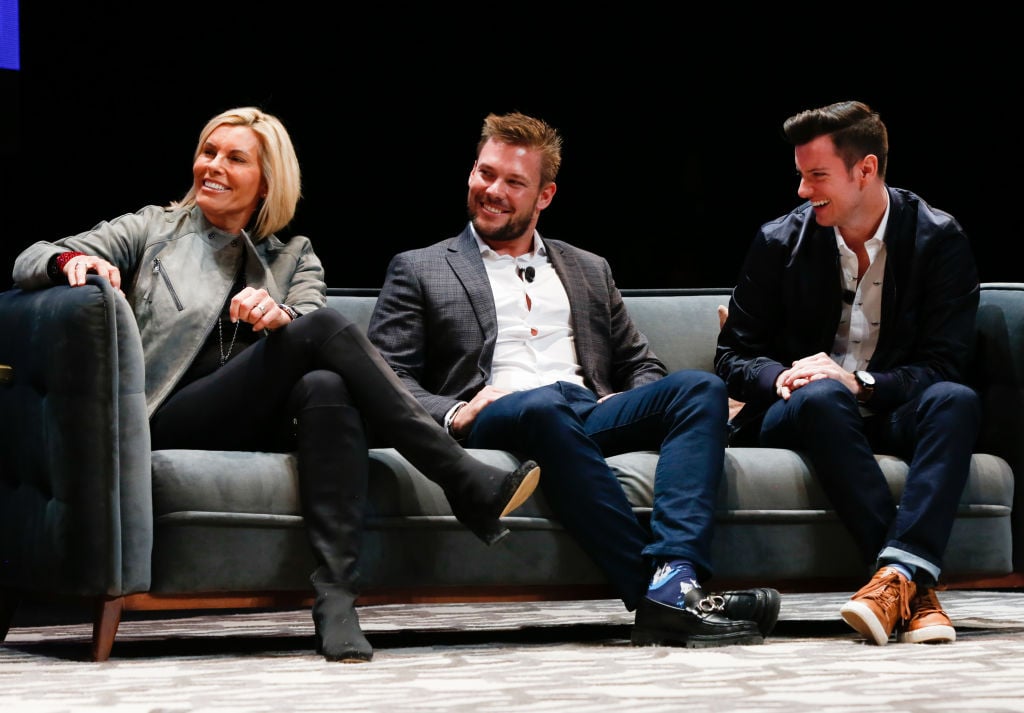 But Shafer said, "Funny that everyone came with their glam squad except me and Sandy. We did our own hair and makeup." Shafer who is also a beauty expert and the owner of Skin by Leah added that Yawn isn't a huge fan of wearing a lot of makeup and hair products. But a number of people remarked about how good Yawn looked. "Sandy got a ton of compliments on her skin," Shafer shared. She added that she has Yawn on the perfect skincare routine, which allows her natural beauty to shine.
You don't have to spend a lot of money to achieve the same glow
Shafer revealed the biggest health and beauty move she and Yawn make every single day. "It's all about hydration from the inside out and proper exfoliation for constant cell turnover," Shafer told Showbiz Cheat Sheet in July. How much water should you drink? "I always say it's by body weight. But 64 ounces [per day] is ideal."
Because Yawn doesn't drink alcohol, her skin remains supple, Shafer added. Money saved on alcohol expenses can certainly offset adding a few vital skincare products to your repertoire too.
Shafer suggests talking to a skincare professional rather than running out to the drug store and spending money on just any skincare product. "We are all unique and different," she said. "Our body chemistry is all different, so what may work for one person may not work for another." But generally, everyone should wash their face nightly and daily. Also using the proper serums and moisturizers is helpful.
Yawn applies the CE Ferulic serum daily. "This is a patented daytime vitamin C serum that delivers advanced environmental protection," Shafer shares. "Plus it improves the appearance of fine lines and wrinkles, loss of firmness, and brightens skin's complexion. I also love the Image Hydraboost. This gives your skin a drink of water and a drink of vitamin C."
She also recommends these noninvasive procedures too
Visiting an esthetician can help maintain a youthful glow during aging. "As we age we stop cell turnover and we need to trick the skin to reproduce new cells for the youthful appearance," Shafer said. "From microneedling to Laser Genesis, we need to do a controlled wound to the skin to force collagen production which plumps and tightens the skin."
She said that Yawn is a huge fan of the HydraFacial with the custom boosters. "And of course beginning each service with a dermaplane which removes facial hair and dead skin," Shafer said. "She has the growth factor booster and uses an amazing hyaluronic to keep water in the skin."
Shafer added, "It gives me such joy when I transform skin and just make a difference in their daily lives with skin," she says. "Using good at-home care is crucial. It's not different than working out and then eating a cheeseburger. Work out and then use good stuff on your face."