'Below Deck Med': Jessica More Describes COVID-19 Precautions Yachts Are Taking
From bosun Malia White to chef Hindrigo "Kiko" Lorran, many Below Deck Mediterranean crew members are currently working on yacht charters during the pandemic.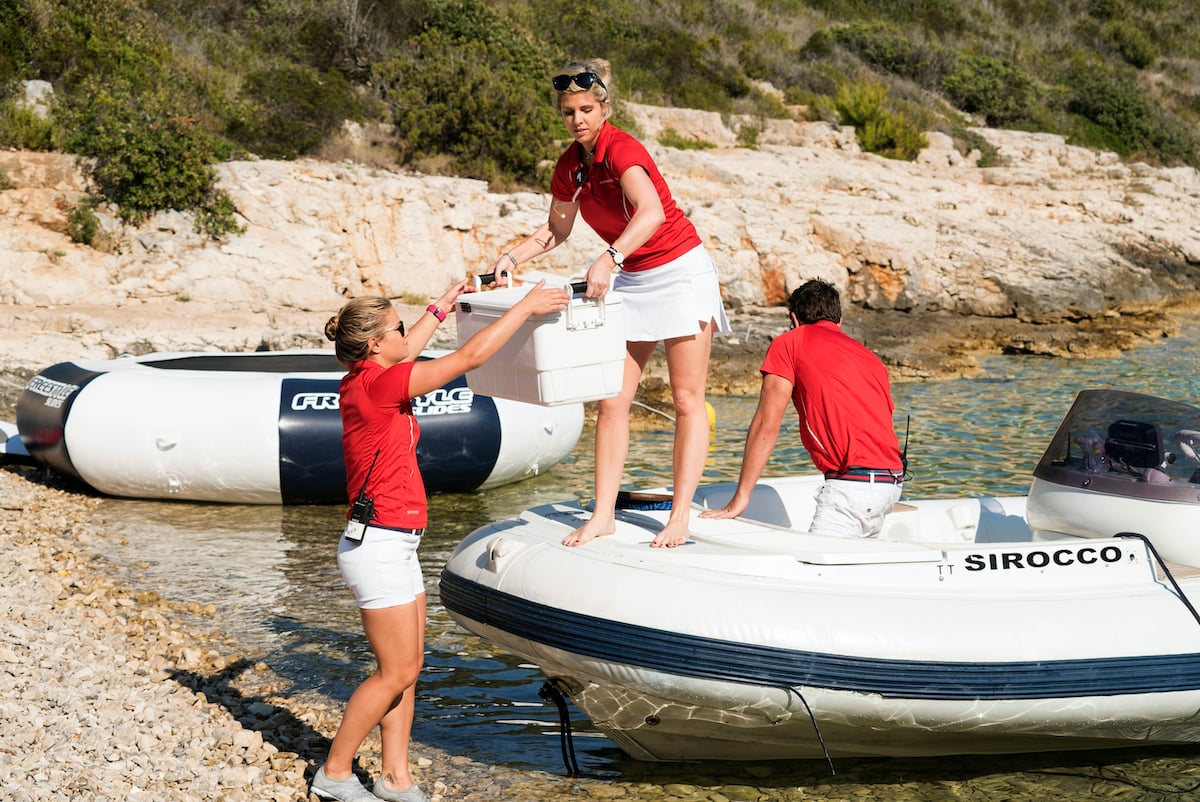 While the rest of the world is relegated to a road trip vacation, the rich and famous are still chartering private yachts. But is it safe? Third stew Jessica More is also still working in yachting and shared with Colin Macy -O'Toole on his Radio Check podcast how private yachts are keeping guests and crew safe.
More is working on yacht in Newport, Rhode Island and was flipping the boat in preparation for a new charter. So what does it take in COVID-19 times to ensure a safe charter?
Jessica More says there's more cleaning than ever
"Definitely being more precautious on the cleaning aspect of it," she said. "And I will say our last charter, one of the guests … we didn't know if she was really hungover or if she was sick or not. So it definitely was a weird feeling when the guest asks me for a thermometer. My heart sank immediately."
"So it's kind of more of an emotional preparation also just trying to sanitize and disinfect everything as much as possible," she added. "We have the gun thermometer thing or whatever. So we have that. We have masks. We have gloves. So this next charter I know they're a little precautions about the whole situation. So, the last charter we didn't wear masks. But we have to be wearing masks, we have the thermometer gun to check that."
RELATED: 'Below Deck Med': Did Robert Westergaard's 'I Love You' Scare Jessica More Away?
"And for us it's kind of figuring it out as we go," she continued. "It's really weird."
The show must go on
Below Deck fans will be pumped to know that most shows plan to shoot during the pandemic. Colin Macy-O'Toole told Showbiz Cheat Sheet he heard that both Below Deck Sailing Yacht and Below Deck Med were scheduled to film in 2020.
"What I've heard is [Below Deck] Sailing [Yacht] should be leaving in like two weeks," he said. "I can't tell you where but that's what I heard. And I'm assuming [Below Deck] Med will be able to leave when they leave in September. I believe Sailing was a little delayed because they film in May. So it'll be in July and August." The regular Below Deck season cut filming short but was able to complete the majority of the season.
When the pandemic struck, Macy-O'Toole was skeptical about how producers would manage to get seasons filmed. He recounted the logistics of how the show would make it work. "You have to find a yacht. You have to find a marina, you have to find hotels," he said on  The Happy Traveler podcast. "There's so much that goes into our show. It's not like you can just pick up a camera and go, not like most shows on TV. There's a lot that goes into Below Deck. So they're definitely hurting and they're struggling to put together their final project."
RELATED: 'Below Deck Med': Colin Macy-O'Toole Says Filming Upcoming Seasons Are Going to Be a Challenge
"Some [seasons] have been recorded already," he added. "But there's post-production. Editors have to deal with [it] and not being able to really contact or film afterward, it's hard."