'Below Deck Med:' This Is One Big Reason Why Chef Mila Could Get Fired Soon
Although the Below Deck Mediterranean crew is only two charters in, one thing has become abundantly clear: the chef is struggling hard.
Uncovering strengths and weaknesses typically takes some time as the crew gets to know each other and individual working styles. While hints of who is going to be a leader at their job or who is likely to stumble are usually in the air, Chef Mila Kolomeitseva's ability to carry the cuisine seems to be in serious doubt.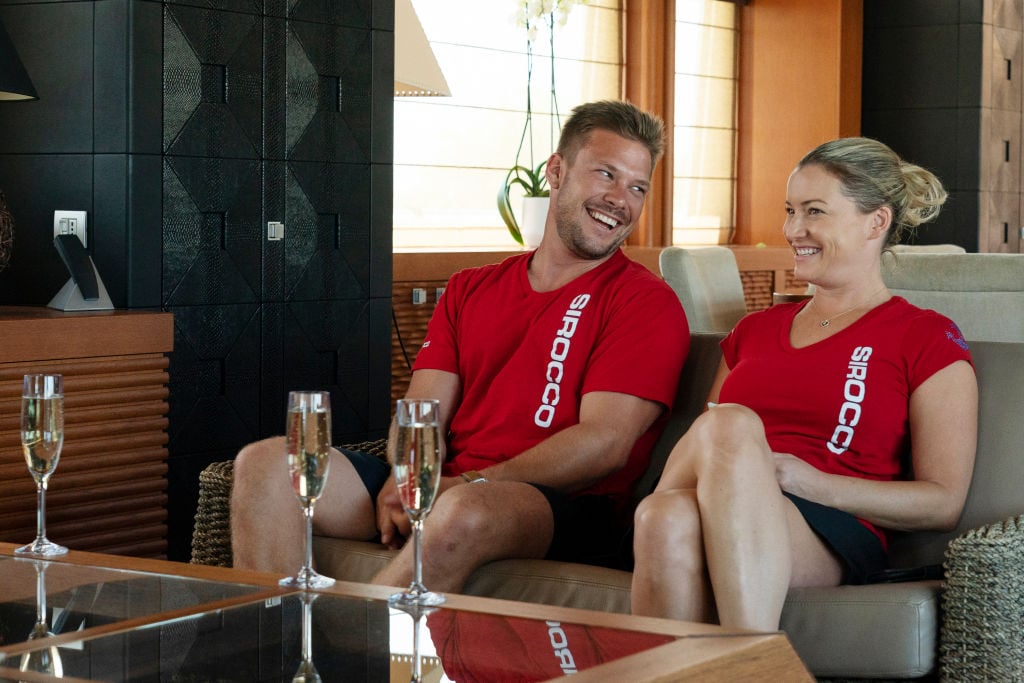 Now Bravo released a sneak peek clip where bosun João Franco and chief stew Hannah Ferrier discuss Kolomeitseva. And they offer one important hint as to why Kolomeitseva's time on Sirocco could soon be over.
Why is everyone so concerned?
Viewers are only on episode three and they are already shocked and concerned about Kolomeitseva's ability. Unfortunately, she boarded the yacht with food poisoning, which put her behind in her preparations for the first charter.
Although she rallied in time for the guests to arrive, the crew (and producers) were shocked when Kolomeitseva served guests food from a box. Her version of nachos was so wrong, Ferrier refused to serve them to the guests. Ferrier said in her nine years of yachting, she's never done that before.
Kolomeitseva was also filmed licking a raw steak before microwaving it for guests. While the crew tried to give her a pass for the first charter, she's off to a bad start for the second charter. Captain Sandy Yawn's friend Dr. Jennifer Berman is aboard so Yawn is expecting exceptional cuisine. Instead, the guests are served slimy seafood from a can.
The crew was also upset about this too
Of course, another reason why the crew is horrified are the comments Kolomeitseva made about homosexuality. She expressed her views to some of the crew members saying she did not believe homosexuality was normal and she didn't want her son seeing two men kissing.
The crew was shocked and angry. Including Franco who revealed he lost a very close family friend who was gay to suicide. But he added the crew needed to still work together.
Replacing someone during charter isn't as easy as it looks on the show. Yawn explained why on Twitter. "It's not easy to find replacement crew in a busy charter season," she wrote in response to a question about hiring the crew. "Add to the fact that they also need to be screened & pass security clearances for filming can make it more difficult. You can't just pull anyone off the dock to work on a yacht & film."
A poor tip could do her in
Ferrier and Franco discussed the end of the second charter and voiced their concerns. They wonder what their tip will look like in light of the second culinary fail. "What do you think the tip is going to be like, "Franco asks Ferrier. Ferrier says the only saving grace on the tip is that the guests are Yawn's friends.
But if the guests left nothing, 'You think she [Kolomeitseva] might get fired," Franco questions. "I think at the end of the day the chef, they do carry at least 50% of the work on the boat. They're single and it's all about the food."
Ferrier adds, "The tip needs to be divided amongst the rest of the crew that have f**king done their job." See what happens when Below Deck Mediterranean sets sail every Monday on Bravo at 9/8c.