'Below Deck Med': This Unaired Footage Of Jack Stirrup Is 'Next Level Lazy'
Deckhand Jack Stirrup has managed to charm the crew on Below Deck Mediterranean. The Liverpool born lad has shown his smarts on the show from time to time. But clearly prefers to kick back with the perfect cup of tea than work.
Of course, Stirrup's ability to dodge everyday tasks frustrates bosun João Franco to no end. Franco has tried nearly everything to motivate Stirrup to work. He's talked to him, he's threatened to get him fired … not much pushes the happy-go-lucky deckhand to put his nose to the grind.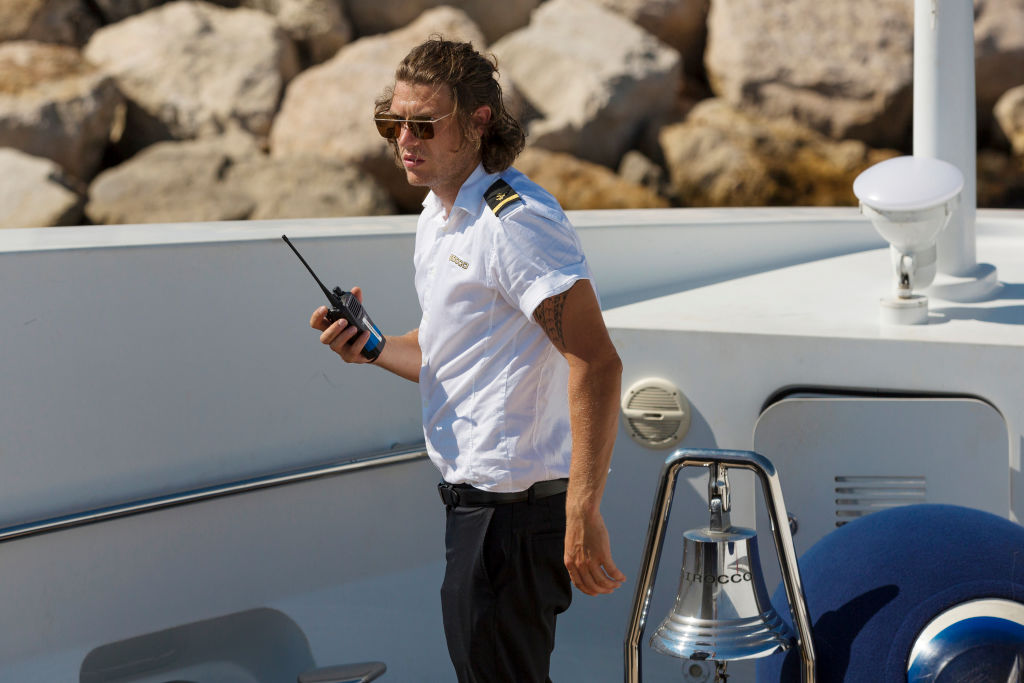 Although viewers have gotten a taste of how overly relaxed Stirrup is, the Below Deck Med After Show reveals that Stirrup did something considered to be "next level lazy," according to second stew Aesha Scott.
Jack of all slack
Stirrup is often filmed pretending to work. The After Show includes a clip of Stirrup avoiding actual work. The deckhand saunters across the deck, casually allowing his shammy rag to brush over various railings. Meanwhile, Franco and Captain Sandy Yawn watch the action go down from the bridge.
"Is he just finding half things to clean as he walks off," Franco wonders. Yawn orders Franco to "go get him." Franco confronts Stirrup who smiles and giggles because he's been busted. But Stirrup becomes serious when Franco warns him he's going to be fired because of his lackadaisical behavior.
Deckhand Colin Macy-O'Toole recalls how bad things became at one point. "It got so bad where João was literally hand writing one to five or one to 10 things that Jack had to do by the end of the day," he says. Franco, who sits next to Macy-O'Toole laughs. "That's how bad it was. It was like he was basically like a child that you physically had to write a list for Jack to do in order to figure out how to work." Chief stew Hannah Ferrier comments that Stirrup is so lazy but doesn't care. Yawn just laughs and shakes her head.
He will go to this length to avoid work
Scott recalls an instance where Stirrup went to an entirely new level of slack. "The funniest part of Jack slacking was when Hannah was like, 'Oh do you guys know where something is?' And Jack is like, 'No I don't remember sorry,'" Scott recounts.
She says Ferrier spent a good amount of time looking for the item but meanwhile Stirrup knew exactly where it was. "He says to Trav, 'I know where it is but I don't want to go and help do I?' So he's pretending he didn't know so he didn't have to help," Scott laughs.
Third stew Anastasia Surmava sits next to her, mouth open hearing the story. "Oh my God," she laughs. Scott says he remarked that if you say you know things, they'll just ask for help. So just pretend you don't know. "I was like, whoa, that is next level lazy," Scott says.
Yawn has her own "Jack Slack" story too. "I'm on the bridge and we're cruising at night from St. Tropez," she recalls. "I wanted Jack on the bridge with me because João was having a difficult time. So I was like, 'Take the binoculars, go out on the bow of the boat and scan the waterline. And let me know if you see a buoy.'" Meanwhile, she witnesses Stirrup with the binoculars looking at the stars. "That's Jack," she says laughing.